We're getting some GREAT nominees for our All-Time Favorite Garage Band Poll ... but we've ALSO received some nominations that have surprised us.
For example ...
The Beau Brummels

...
Garage Band??? I've always thought of them as more of a Folk / Rock combo.
Garage Band??? I've always lumped these guys into the Bubblegum craze in my mind.
The Critters

...

The Cyrkle ...
Garage Band??? Or soft rock / pop artists???
The ORIGINAL Guess Who's recording of "Shakin' All Over", maybe ... but the other stuff???
Paul Revere and the Raiders

...
I can kinda see this one ... I mean these guys DID go toe-to-toe with The Kingsmen over "Louie Louie" ... but they were a pretty slick-sounding pop group after that.
Tommy James and the Shondells

...
Well, they probably started as a garage band ... but technically EVERY band EVER put together started as a garage band ... practicing in the basement or the garage was about the only option for a 13, 14 or 15 year old rock-star wanna be. (Except maybe for The Monkees ... ALSO nominated ... who learned their craft on a soundstage while filming their television series!) "Hanky Panky" maybe ... but Tommy James developed his own sound SO quickly after that, embracing SO many different styles of music along the way, that it's hard to classify them as any one type of artist. (In all fairness, they scored very highly on our All-Time Best Psychedelic Songs Poll, too, with "Crimson And Clover" ... a far cry from the three-chord basics of "Hanky Panky" to be sure!)
C'mon ... these guys were Blue-Eyed Soul all the way ... and before that, they were playing twist hits at The Peppermint Lounge!

The Turtles ...
Their earliest roots were as a surf band ... then a brief stint in the rock protest song arena before scoring pop hit after pop hit with classics like "You Baby", "Happy Together", 'She'd Rather Be With Me", "Elenore" and "You Showed Me" ...
I really can't classify ANY of these as garage band-sounding records.
The Troggs

...

The Yardbirds

...

Them

...
Did they have British garage bands? I suppose so ... and if they did, there probably isn't a better example of one than The Troggs ... but The Yardbirds were fully vested in the blues, a far cry from the garage band sound we're talking about here. As for Them ... well, they did do the ORIGINAL version of "Gloria", right??? That ought to be worth a vote or two!
As we go to press this morning, we've got a little over 1600 votes tabulated.
Would any of these artists make YOUR list???
Watch for more suggestions in the days to come ... and then cast YOUR vote for your favorites.
I mentioned to Paul Revere that we were receiving several votes for them in our current garage band poll ... and asked him if he would have considered themselves a garage band when they were just first starting out.
Here's what he had to say:
Dude, we absolutely were a kick ass garage band, although they didn't call it that back then.
But we really slammed it in the early days. Once Terry Melcher got involved and we started having hits, it did change the band quite a bit and we got a lot more slick. What could we say? We were having big hit records and were happy to evolve into what most people think of when they think Paul Revere and the Raiders.
If you checked out the "Louie Louie" link I sent earlier this week, you will see there is tons of "Louie" information that Eric Proedehl has gleaned over the decades. I did extensive chart research for his film project. The SONG charted for many years in a row locally. From mid-63 thru 1966, I chronicled its local chartings. Certainly, 1963 and 1964 had many and 1966 also had a resurgence, but in '65, it became a biggie top 10 on KOMA in OKC (Larry, remember?) and in So-Cal also! Oddly, 1967 did not hold it, but I give the option that 1967 DID give us the VERY similar hit "Beg, Borrow and Steal" by the Ohio Express, so the Louie is always in transition, it would seem. What a true garage rock gem for the ages. Maybe it should be the first SONG entered into the RNR Hall of Fame??
I have lots of chart data, but am not finding it presently. All of the above info I have charts for, but need my written data to locate the correct stations.
The most telling for the Raiders early victories over the Kingsmen is this KIDO chart from 9/1/63 showing the Raiders' Columbia release (earlier released on Sande). Most early chartings for the Raiders or Kingsmen are from October 1963 or later, but the Raiders I believe hit first. The staying power of the song was evident early on in Boise, Idaho. If you look closely below, you will find this chart of 9/1 amazingly early for the song's play by either group, yet look closely and see that it is in its FOURTEENTH week on the KIDO chart, making its' debut week at June 2, 1963!!! Amazing!!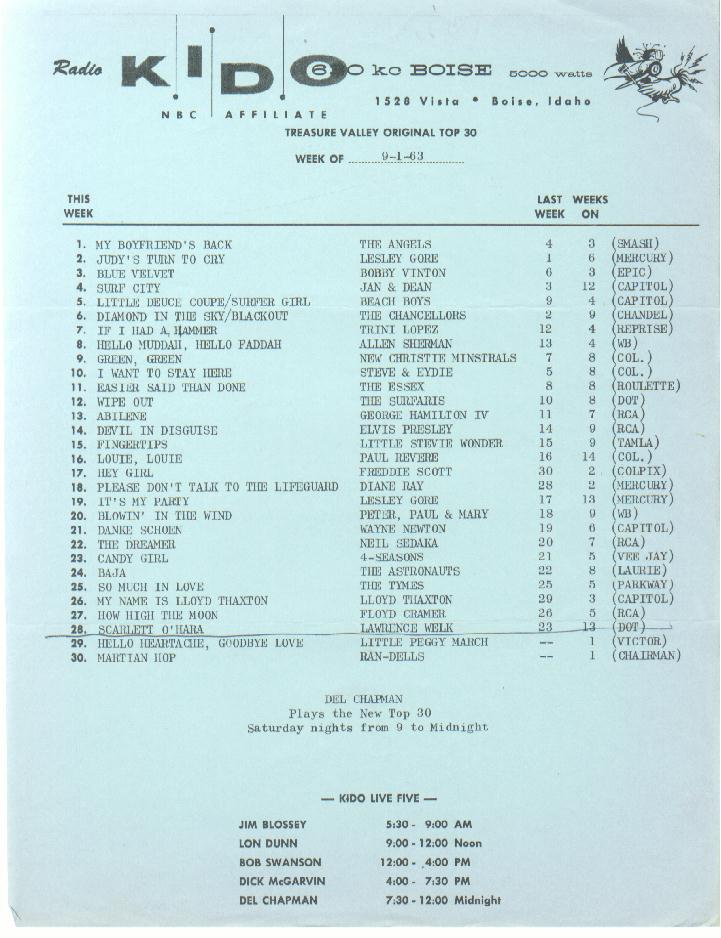 A battle of the "Louie"'s today in Forgotten Hits ... BOTH deserving of your votes. The Kingsmen won the national battle hands down ... but as you can see from the KIDO / Boise, Iowa, chart above (from Paul Revere's home town), The Raiders were the ones charting with this hit in certain sections of the country.
Meanwhile, here's one of MY Favorite, Forgotten B-Sides ...
"The Legend Of Paul Revere", where the group tells their own story in song.