re: LOVED YOUR CONCERT REVIEWS!:
It was great meeting you at the Rick Nelson Tribute. That was one heck of a show. He would be so incredibly proud of his sons ... they are quite the showmen let alone fine musicians. Keep the Forgotten Hits rolling ... and thanks again for all your effort.
Scott from McHenry
I was at two of the same shows you were last weekend - Three Dog Night and the Ricky Nelson Remembered Show (which is where I met you after Ron Onesti introduced you on stage.)
Actually I had talked to Ron Friday Night. This was my first time out to The Arcada Theater - what a beautiful place to see a show.
Out by me we have The Rialto Square Theater in Joliet -- very high end and about twice the size of the Arcada - but they can't ever seem to get the acts there - not like Ron can anyway. (We saw Tommy James there recently - and the place was half empty - they just can't seem to fill the seats - and it's a real shame because it's a beautiful theater and a great place to see a show.)
I told Ron that he ought to do bookings for the Rialto, too - maybe have an act come out to St. Charles to play and then the next time have the same act appear at the Rialto for all the fans that live out that way.
I sure wish they had the magic that Ron seems to have in booking these acts - it's just a seem to see such a beautiful place go to waste like that because they can't get the bookings.
Anyway, it was very nice to meet you - and I'm sure we'll be out to the Arcada again real soon - great place to see a show and you're right - very much a rock and roll weekend for us, too!
Joe
The Arcada has quickly become THE venue in the midwest to see great shows like these. Ron will be expanding the theatre in the near future, too ... and he's committed to bringing in the very best in entertainment to his venue. Just check out the line-up on the website and you'll see that you could easily see three or four great shows here every month! And there's lots more to come! (kk)
Kent,
Looking forward to our long awaited summit meeting at the Paul Revere and the Raiders show.
It's amazing how one big night can "up" the brand of a promoter, his venue and his link with an audience.
I saw it happen last Saturday when Ron Onesti mixed and matched the Chicago 6 with "Mama's Boy" Otis Wilson, "Danimal" Dan Hampton and Steve "Mongo" McMichael. They were a blast to watch. Their harmony
was surprisingly good. I would love to see the "6" add "Heard It In A Love Song", the Marshall Tucker classic, to their set list.
I didn't realize the genius of Bobby Kimball, the former Toto vocalist. Bobby found himself in a tough spot. He had to follow three beloved Chicago Bears while the crowd itched to hear Eddie Money. But Bobby
reminded the house of just how prolific Toto was "back in the day." His voice dripped with passion and energy.
As for Eddie Money, it was a pleasure to chat with him back stage before his gig and found him remarkably sociable. The veteran rocker, who actually had his eyes on becoming a New York cop before he kick started his musical career, hasn't got the range he had 20 years ago but who does? What Eddie has is a marked degree of charisma that frankly leaves the audience in the palm in his hand. I loved his sax solo and his vocal range on "I Wanna Go Back. "...but I'm feeling so much older and I can't go back no more." The song is passionately emotional and Eddie delivered the goods. I thought he was great.
Would love to see Ronnie run a tag team with George Thorogood and Eddie somewhere down the road.
The bottom line: the show generated a ton of social media interchange, a credit to the promotional genius of Mr. Onesti. I'm honored to call Ronnie a friend and enormously proud of his success.
The guy is a pro's pro.
Chet Coppock
Kent ...
You sound like a kid again. I think it is so nice that you got to do all of that. Anyone that is as passionate about music ... artists, oldies and such ... deserves to have the kind of weekend you just had. Few people could appreciate it more. I totally enjoyed your reviews of the shows ... made me feel like I was there, too.
Thanks!
Stacee
kk -
Great picture of you hangin' with The Nelsons! You look like you guys know each other a long time. Glad you had a great time!
Sandy
Nope ... first meeting ... and I wished I had a chance to talk with them a little bit. I am such a HUGE fan of their father and, having seen him six times, think they might have enjoyed hearing a story or two about these shows. (I saw Rick Nelson at various highs and lows of his latter-day career. Ironically, one of those shows was on a New Year's Eve, probably somewhere around 1980 or 1981 at the then VERY prestigious Park West Theater in Chicago. A few years earlier I saw him as part of a double bill shared with Tommy James in what amounted to an old pizza parlor converted into a banquet hall!!! Funniest thing about THAT night was three girls grabbed me as I came out of the men's room because they thought I was Rick Nelson!!! Remember ... we were ALL quite a bit younger then!!! lol) Plus, I wanted to ask them about the story I ran last week saying that they were recording brand new vocals and adding them to their dad's last recording sessions in the hopes of a release of in honor of the 30th anniversary of his death next year. One thing I can say for sure ... they put on an INCREDIBLE show and are INCREDIBLY talented musicians, performers and song-writers. Their dad would have been VERY proud of his sons. (kk)
One of the things I enjoy most about Forgotten Hits is the fact that we can always rely on you to give an honest review of a show you've seen. I know you've received some flack for that in the past but the truth is that you see these shows through the eyes of a real music fan. Congratulations for sticking to your guns and consistently calling them as you see them.
Rick
I have to do that ... or why do it at all? By the same token, my opinion is simply that ... MY opinion ... and it certainly shouldn't be taken as the be all to end all when it comes to these things. We all see things differently and have different tastes and expectations when it comes to music. But I have to call 'em as I see 'em. (One thing I forgot to include in my Eddie Money review was the fact that I found it EXTREMELY annoying that Money found a way to work "St. Charles" into his lyrics 23 TIMES during the course of the night!!! C'mon, man ... we get it ... you're trying to "bond" with your audience ... but it was overkill that was actually turning us off! (There ... I feel better now that I've gotten that off my chest!!!) lol - Thanks, Rick! (kk)
Hi Kent,
Great reviews of all the shows.
I would have especially loved to see the Nelson Brothers show. It really sounds wonderful. I've seen 2 Dog Night and Eddie Money and would agree on all your points about them.
I'd love to see the Dogs again.
Thanks for taking on that very trying challenge of going to those shows. I'm sure it was a real hardship. <grin>
Congrats to Ron Onesti for doing such an incredible job of putting shows together. Folks in other cities could certainly learn a few things. Imagine how cool it would be if you had Oldies stations to advertise on -- then again it seems like they are doing just fine.
I wish he had a place in the Twin Cities.
Bill
The lack of a REAL oldies station here is the biggest challenge ... there just isn't a viable way to market some of these shows. (I think Ron and I need to START an oldies station ... one would help drive the other ... and the fans would totally benefit from such an arrangement. I can probably chip in ten dollars ... as long as I can pay you next week! And therein lies the problem.)
But there's no question he's doing a HELL of a job with what he has to work with ... and I am SO happy to help out in any way I can. Meanwhile, there's at least another twenty shows I wanna see ... and the hits just keep on comin'! (kk)
I'm jealous!
REAL jealous!
Man, we NEVER get shows like this out on the east coast. Maybe Ron Onesti should consider opening up a theater out our way!!! (I'm sure we could fill it up for him!)
Anyway, it sounds like you had a GREAT weekend - wish I could have seen those shows - and half the other shows he's already got booked through the end of the year!
I hope you all appreciate how lucky you are.
Sherry
Kent -
Carl Schreiber here from Cadillac Casanovas. Just got a chance to see your weekend review, and I can't thank you enough! I'm sure when Rick and Tracy see it, they will be as humbled as I am!
The music biz can be a real meat grinder, and it discourages people more than it encourages them, and trust me - it's very easy to get discouraged. We work really hard to do this music the right way, and to get the kind of response we did Sunday night, well, it helps to re-focus your attention on why you do it in the first place.
So glad you and Frannie enjoyed our show. We do a LOT more material, all of which I'm sure you would enjoy. If you get a chance and you can fit it in your busy schedule, we'd love to see you out at a show soon. Please feel free to check out
our website (

www.cadillaccasanovas.com

) for our performance schedule, and our FaceBook page for show updates, pictures, and general mayhem!
The nicest thing you could do for us is

help us increase our fan base. We're at a point where the only thing holding us back is our ability to put more people in the seats. Your help in 'getting the word out' is invaluable, and we would appreciate any support you might be able to provide. We would like nothing more than to do the kind of events we did with the Nelson boys (and what nice guys!). And yeah - a once-in-a lifetime opportunity! We'd MORE than welcome an opportunity to back them as you envisioned!
Once again, I thank you for the kind words, and on behalf of the band - we want you to know we sincerely appreciate it as well as your support.
Keep Rockin'
All My Best,
Carl Schreiber
on behalf of Cadillac Casanovas
Always happy to turn fans on to the good stuff, Carl ... and you guys are the real deal. Locals should check out their website link above and catch these guys live in concert ... it'll make for a REAL fun night of entertainment. (You'll also find a brand new video clip posted there of The Cadillac Casanovas performing "You Know What I Mean" with The Nelson Brothers, from their concert at The Arcada Theatre last weekend.) kk
Kent,
Incredible line-up at the Arcada Theater -- you are lucky to have a venue that features consistently, impressive entertainment like that -- great for fans, great for entertainers.
2 Dog Night is still very good after all these years aren't they, especially considering the energy and demanding material they sing -- it's not as if they are singing "I Left My Heart In San Francisco!" Too bad the bridge is burned between 2 Dog and Chuck Negron.
A friend of mine that is in radio in Denver and just returned from a cruise raved about the Cowsills, I had seen them on Youtube and they still sound VERY IMPRESSIVE. Have always wanted to see Eddie Money and hope to catch his act when he is in the area. Thanks for the candid concert reviews, appreciate the honesty!
Peace,
Tim Kiley
When I heard that Ron Onesti had added The Cowsills to the bill as the opening act for Micky Dolenz I was THRILLED ... especially after seeing that Showtime documentary / family profile. I couldn't wait to see them ... and I'm really bummed that I'm going to have to miss that show. (Our daughter got the lead in "Beauty And The Beast" ... as Belle, not the Beast

[

for all you wise guys out there!] ... and May 2nd is her final performance EVER in a High School Musical ... so we just can't miss it.) I'm hoping that the show is a rousing success ... then maybe Ron'll bring 'em both back again! (kk)
re: THE SATURDAY SURVEYS:
Du

de, you should know better!

Did you really look at the 1968 Chicago Chart to pick your songs?
The Jackson 5 at #30 -- two years before America found them
The Mills brothers with their final big hit
Archie Bells and the Drells with Tighten Up
The forgotten Dells song
Now feature THOSE songs, because I guarantee you no radio station will play any (maybe Tighten Up) of those songs :) Rich
Actually, we featured "Cab Driver" not that long ago in Forgotten Hits ... but you're right ... this one came COMPLETELY out of left field when it was released as a single in 1968 ... and I loved it, too. (Boy, so did my Mom ... she played it CONSTANTLY back then!!!). But my guess is you're not going to find a whole lot of radio stations playing "I Will Always Think About You" by The New Colony Six, The Cryan' Shames' version of "Up On The Roof" or Georgie Fame's hit "The Ballad Of Bonnie And Clyde" either as you search up and down the dial and internet ... so I stand by my choices. (I will admit that I DID miss that early Jackson Five release ... but I honestly don't think I have a copy to share! I will feature "Cab Driver" again, though, just because it's SO damn cool!!! (kk)
Best Saturday surveys so far. I would not have minded if you could have made room for all 40 on the 1970 chart. I did like the ones you chose. It is interesting to see these charts and think about where you were and who you were when these were the most popular songs. April, 1970 ... finishing junior year in High School. April, 1976 ... three weeks from the birth of my son ... man I was fat

!
Thanks, Kent!
Stacee
LOL ... yeah, it's fun to look back. That chart from 1970 amazed me ... SO much good much back then. It's hard to remember a time when you could turn on the radio and love just about every single song you heard ... and not get enough! (kk)
re: 50 YEARS AGO THIS WEEKEND:
Hi Kent:
Saw that the Searchers were on Ed Sullivan 50 years ago. I remember that show as a little kid. They did "Needles & Pins" solidly, just like the record. The version of "Ain't That Just Like Me" was a kick-ass cool version that was better than the record. I had to go to my record shop on Monday and pick it up. Great memories!
Obviously a solid memory for a few of you. (I honestly don't remember it at all! Maybe I simply never saw it!) But check out the email below ... and then click on the link to re-live that special, magic moment. (kk)
I found it interesting that besides it being my 8th birthday on April 4, 1964, AND the Beatles holding some big record event, that you mentioned Ed Sullivan had the Searchers on that weekend. It got me thinking about some of the Brit Invasion gimmicks that were not happening much here in the states. Yeah, we had groups soon doing leg kicks and walking under raised swinging guitars and little dance steps and all that, but something often caught the eye when Brit groups showed up. The fabs with their shaking of heads and "Woos" got it going. Remember these things that stuck out when you saw them? Gerry Marsden always held his big guitar way up high on his chest. Bill Wyman (correct?) held his guitar almost upright when playing. Freddie Garrity ... well you know what he did. Mike Smith of the DC5 stood while playing the organ. Most did not, as I remember. On Sullivan that night, I saw a VERY strange one. The Searchers' drummer being lead singer on some songs STOOD while playing drums! I found that not only odd to look at, but almost painful to think of playing that way. Others that I don't recall??
http://www.youtube.com/watch?v=eHnIeSX-3Y4
re: THE ROCK AND ROLL HALL OF FAME:
Linda Ronstadt announced last week that she will not be attending The Rock And Roll Hall Of Fame Induction Ceremony, yet another "no show" for this less and less prestigious honor. Linda explained that her career has never been about the awards ... and that she doesn't consider herself a "rock singer" ... it's just one of many different styles of music she has performed (to pure excellence I might add!) over the course of her career. (Forgotten Hits has LONG campaigned for Linda's inclusion in The Rock Hall ... she certainly deserves a spot there and in my mind, it's about time they finally recognized her for all of her legendary contributions.) She also cited the obvious health reasons.
Ronstadt will be inducted by Glenn Frey, a member of her back-up band just prior to starting The Eagles. Her songs will be performed that night by Carrie Underwood, Stevie Nicks, Bonnie Raitt, Emmylou Harris and Sheryl Crow.
It was also revealed that Peter Asher will induct Beatles Manager Brian Epstein at the ceremony. (Rolling Stones Manager Andrew Loog Oldham will also be inducted.) And, (this week anyway), Cat Stevens now says that he WILL attend the ceremony.
Could this be the answer? Sirius Satellite Radio has been playing some mega hits that I haven't heard in years. My husband and I were having dinner yesterday and the music was so good in the restaurant that we didn't want to leave. Instead we just wanted to see what song would be played next . We like to compete and see which one of us can guess the name of the tune first and who sang it and yes, what year did it come out. (I usually win) We asked the waiter and he said it was Sirius Satellite Radio. There's the answer ... if you want good music again you have to pay for it. It's not free anymore. American greed?
And millions ARE paying for it, in order to get the music they want ... yet free, terrestrial radio STILL can't pick up a clue from this competition and has made absolutely NO effort to make radio more fun and interesting and listener-friendly. American greed? Maybe ... but also the most likely place to hear The American Breed! (kk)
Funny to get THESE two emails back-to-back! (lol) kk
Thanks for mentioning KISN. I, too, am enjoying their format and the tunes. I can work and listen to the radio just like the good old days. KISN will become part of my regular listening routine.
Thanks a lot for posting my shameless plug for KISN on FH!
By the way, the last couple days we've had major Comcast trouble at KISN HQ causing periodic stream outages. Right on schedule it seems! Sometimes a little publicity is the kiss of death. Ever notice all it takes to make a computer crash is to beckon someone over and say "Hey look at what I just found." Works almost every time!
Scott
I've been listening a little bit this past week, too ... here's that link again so that others can join in on the fun ..
Kent ...
Here's the scoop on Week Five of the Scott Shannon Show on WCBS-FM ...
Monday = Brooklyn Decker, model & actress + "Soul Man", Sam Moore. Sam was about to appear on a tribute to Paul Simon at Carnegie Hall. Sam is going to sing "I Am A Rock".
Tuesday = Andy Kim called in. He told us that Scott Shannon was the first U. S. disc Jockey to play "Rock Me Gently." Andy was about to give up and go back home to Canada. After Scott started playing it, it went to # 1 on the Billboard Charts. September will be the 40th anniversary of "Rock Me Gently" reaching the # 1 spot on the charts.
Thursday = Singer Josh Groban called in to talk about his second appearance on the TV show "The Crazy Ones." Josh said his first break was when he sang a song on "Aly McBeal." He was 18 years old.
Friday = Actor William H. Macy talked about the season finale of "Shameless " on Sunday. I liked him in the movie "Fargo."
I notice that once a show Scott refers to himself as Michael Scott Shannon. Scott was talking about having a 30 day anniversary show, next week. Thumbs down. He changed his mind when they told him that the last time they tried to do an anniversary show it was for Micky Dolenz. That was the same day they shut down WCBS-FM and brought in JACK-FM.
Frank B.
Actually Sam Moore sang "Loves Me Like A Rock" (different Paul Simon "rock" song) ... and brought the house down with it ... reportedly one of the highlights of the Paul Simon Tribute Show. (Speaking of "Fargo", I'm looking forward to the new FX Television Series, starring Billy Bob Thornton ... looks like just the right amount of weird craziness to make this one a hit!) kk
Kent,
Spread the word ... help us raise some funds for the Hit Parade Hall of Fame.
Larry Lujack's trusty typewriter for sale on e-bay.
http://www.hitparadehalloffame.com
About once a year I rotate the buttons on my car radio (just another one of my idiosyncrasies!!!). I reach this decision based on my evaluation of the odds that the stations on my list will most likely be playing a song that I'll actually want to listen to once I randomly push their button in my CONSTANT rotation of button-pushing while driving, trying to find SOMETHING worth listening to on the dial here in Chicago.
I am happy to report that, as of yesterday, Button #1 now belongs to 95.9, The River. (They ranked at #2 last year). Moving up to the #2 spot (from #10) is 93.9, My FM, a station that for the most part plays all contemporary music but with a fun mix of music that just sounds good during my commute. (This is the station formerly known as "The Lite".) Sadly, they are SEVERELY lacking in on-air personality ... but the music's enough to break up the day with a touch of variety.
The rest of my list is as follows:
#3 - WLUP (97.9) , also #3 last year, and more fun than ever with Maxwell in the Morning ... they JUST missed the #2 spot. (Maxwell's team of players are VERY entertaining in the morning ... about half the time. When they're "on", they're the best thing happening in Chicagoland radio right now. But when they're "off", NOTHING makes me push the button faster!
#4 - The Drive (97.1), down from #1 ... I just don't like the larger selection of "deep tracks" being featured ... their special programming is still the best on the dial ... Rock And Roll Roots, the A-Z library spins (although I'm a bit concerned that these, too, will soon take on a totally different balance with this new mix of music that they've been featuring of late), the Thursday Artist profiles and twin spins ... One 45 at 1:45 ... Lost and Found ... GREAT stuff ... but they've lost me with their new brand of "regular programming.
#5 - K-Hits (104.3), #6 - WLS-FM (94.7) - both holding their own from before ... with WLS down considerably from their old berth at #1 since switching to their Classic Hits format ... now playing the EXACT same music as nearly every other station in town instead of the far more interesting mix available when Scott Shannon was still involved.
#7 - B96 (96.3), #8 - Kiss-FM (103.5) - the two current "Top 40" stations ... while I probably only like about 50% of the music, the jocks at these stations still provide "fun radio" with their patter and subject matter. It's the closest thing on the dial to radio as I remember it, growing up in the '60's and '70's.
#9 - 100.3 - previously known as Rewind 100 and Love-FM, playing a mix of music "from the '80's thru today". And #10 - 103.9, now calling themselves The Fox and playing MORE Classic Rock than any listener in Chicago should ever have to be subjected to. (They used to be my #2 station back in the oldies / greatest hits of all-time days when Jim Shea and Jeff James were still on board.)
re: CANADA:
Hello, it's me again from the fringes of the things you and your generation are talking about. Latest fringe is Canadian artists. I can't recall whether anyone mentioned Percy Faith who, in addition to a long, long career in the easy listening instrumental world, had that huge "Theme From 'A Summer Place'" hit and an earlier (1952) number one hit "The Song From Moulin Rouge" aka "Where Is Your Heart."
And I KNOW no one mentioned jazz giant Oscar Peterson, so I might as well.
Percy Faith recorded two iconic instrumental themes and you mentioned both of them. I was curious how these did back home on the Canadian Charts but my only resource for this (The CHUM Chart Book) kicks off in 1957 so "The Song From Moulin Rouge" is missing. "Theme From 'A Summer Place'" (which topped the US Chart for NINE WEEKS in 1960!) is listed, however ... but incredibly it only reached #4 in Percy's homeland. (kk)
re: THIS AND THAT:
Great story behind the new Carole King Musical "Beautiful", courtesy of FH Reader Tom Cuddy ... man, now I want to see this more than ever! (kk)
Olivia is taking up residency in Las Vegas, where she'll be performing in her own theater. And maybe ... just maybe ... she'll be gracing The Arcada Theatre here in St. Charles this summer, too! (Stay tuned!) kk
You've seen Darlene Love's name in our Forgotten Hits pages quite a bit lately ... much of it tied into her spotlight performance in "20 Feet From Stardom" ... but now comes word that Oprah Winfrey is making a Darlene Love Bio-Pic for her own OWN network. This from FH Reader Tom Cuddy:
Oprah producing TV movie about Spring Valley's Darlene Love
Music icon Darlene Love has an amazing story to tell, so Oprah Winfrey is going to help her tell it.
A TV movie about the Spring Valley resident's life will air in December on Oprah's OWN network. "My Name is Love: The Darlene Love Story," is executive produced by Winfrey and filmmaker Morgan Neville, who first highlighted Love's career as a backup singer and uncredited lead singer in his Academy Award-winning documentary "Twenty Feet From Stardom."
Love will also serve as an executive producer for the film, which will be OWN's first original movie.
The network promises to share the highs and lows of Love's career, from being discovered by producer Phil Spector right out of high school, to singing with legends including Elvis Presley, Frank Sinatra and Aretha Franklin. Viewers can expect some dishy moments as well, including the time Love was hit on by Presley and her relationship with Bill Medley of The Righteous Brothers.
Singer Toni Braxton will star in the title role.
And The Rock Legends Cruise has just added former Eagle Don Felder and War to the line-up for this year's cruise. Check out this line-up:
The Doobie Brothers,
Alice Cooper,
Paul Rodgers, .
38 Special,
The Marshall Tucker Band,
Don Felder,
WAR,
Dave Mason's Traffic Jam,
Blue Oyster Cult,
Uriah Heep,
The Outlaws,
Molly Hatchet,
Rik Emmett,
The Edgar Winter Band,
Ten Years After,
Kim Simmonds and Savoy Brown,
Pat Travers Band,
Royal Southern Brotherhood,
Melvin Seals & JGB,
The Artimus Pyle Band,
Swamp Da Wamp,
Steve Rodgers,
The Blue Lords
FOR MORE INFORMATION ON THE CRUISE, INCLUDING CURRENTLY AVAILABLE CABIN OPTIONS, PLEASE SEE
WWW.ROCKLEGENDSCRUISE.COM
>>>I was never a big Beach Boys, 'Surf Music' guy, I am east coast all the way I guess. I enjoyed the more simpler Beach Boy songs. Fun Fun Fun, California Girls, Surfin' USA, The Little Old Lady From Pasadena, All Summer Long, 409, Barbara Ann (their version). When they became more famous and were challenged by their record label to compete with the Beatles, they lost their innocence so to speak.

I guess we can agree to disagree on this one.

(

CharlieOFD)
You sound like John Milner in "American Graffiti" ("Man, I HATE that surfin' shit"!!! lol) ... as The Beach Boys play ... TWICE ... in the background. One thing lost on this music is the memory of how fresh and new it was at the time ... nothing like The Beach Boys ... or Frankie Valli's soaring falsetto ... had every been heard in pop music before ... so when these two artists burst on the scene (at virtually the same time), it was all new and exciting ... and the kids ate it up. I'll agree that not much measures up against their earliest tracks ... but they were inventing it as they went along. Once the competition got stronger and more creative, Brian jumped in head first (something he NEVER would have done in the ocean! lol) and gave ALL of the other artists a real run for the money with all of his creative juices flowing. (kk)
Have you seen this? This is a fantastic piece of history.
I have not ... but have heard very good things about it. Wonder if this will show up on cable now that the DVD is available. (kk)
Interesting story
Thanks to my friend Kale Davis of the excellent Hacker Newsletter for reminding me about this topic. If you work in technology in any capacity, you should check out his weekly newsletter, too! - Dan
Take Me Out to the Mayhem

On July 12, 1979, the Detroit Tigers were in Chicago to play baseball against the White Sox. They were going to play two games -- Major League Baseball had scheduled a doubleheader, where fans show up in the mid-afternoon and are treated to two games, the second starting an hour or so after the first. Unfortunately for White Sox fans, the word "treated" was a charitable use of the term. The White Sox weren't a very good team that year, winning fewer than half their games for the second straight year. Ownership, therefore, wanted to find ways to sell more tickets and keep fans engaged. For the 1979 White Sox, "ownership" was a man named Bill Veeck, known in baseball lore as a showman who pushed the envelope when it came to such promotional efforts. Some promotions were so grandiose, they overshadowed the games themselves.

And in this case, the promotion blew it up. Literally.

The idea is one that, in retrospect, sounds like a really bad one which could cause obvious problems. In 1977, the White Sox held a "Disco Night," trying to ride on the wave of disco-mania. Disco was popular but, ultimately, divisive, with many anti-fans who not only preferred other genres of music, but specifically singled out disco as the focus of an odd, raging ire. By the summer of 1979, the anti-disco movement in Chicago, comprised mostly of teens led by a radio DJ named Steve Dahl, had even occupied a discotheque in the suburbs, hoping to eradicate the noise being played there. Another anti-disco protest turned into a near-riot -- all over otherwise non-controversial music. The whole thing was kind of nuts.

But where most saw danger, Bill Veeck saw opportunity. He and his son Mike, then the promotions director for the White Sox, decided to hold a counter to their Disco Night two years prior. They called it "Disco Demolition Night." Fans were invited to attend the two games of the July 12th doubleheader at a discounted price -- 98 cents (a promotional price referencing Steve Dahl's employer, radio station WLUP 97.9) and one vinyl disco record. The records were to be collected and, during the intermission between the two games, Dahl was going to blow them up in center field of Comiskey Park, in front of all who attended the games.

Only about 15,000 fans had been attending White Sox games leading up to the doubleheader. Dahl didn't want the promotion to fall flat, so he talked about it often on his radio show during the days leading up to the event. He did a great job -- an estimated 60,000 to 70,000 people, mostly anti-disco teens, showed up to the ballpark. Unfortunately, that was more than the roughly 45,000 that Comiskey Park could accommodate, so the Veeks reassigned security to the gate in an effort to keep latecomers from jumping the turnstiles. This created a noticeable lack of security inside the park in some sections, and as the New York Times reported, gave baseball-ambivalent anti-disco-ers an opportunity to cause all sorts of chaos. The Times quoted Tigers pitcher Jack Morris, who claimed that "whiskey bottles were flying over the dugout." Outfielder Rusty Staub said that he suggested fielders wear batting helmets because of all the flying objects -- mostly records, but also some glass as well. Somehow, though, the two teams competed the first game, and at 8:40 that evening, Dahl made it onto the field. After riling up the crowd a little more, as he was supposed to do, he blew the records to kingdom come.

And then all you-know-what broke loose.



Disco-haters stormed the field, lighting records on fire, tearing up the outfield grass (which already had a sizable hole in it due to the Dahl-driven explosion moments earlier), climbing the walls and foul poles, stealing bases and bats, and, as a coup de grace, starting a bonfire in the outfield. A few minutes after 9 P.M., Chicago police showed up in riot gear to disperse the crowd, and the handful of disco-agnostic baseball fans in the crowd cheered. (Many tried to leave prior to this, but to prevent gate jumpers, security had locked all but one gate -- and, in doing so, had unintentionally prohibited many of the fans from leaving.) The 5,000 to 10,000 rioters cleared out rather quickly, with only a few dozen arrested.

Unfortunately for the remaining fans, though, these die-hards would not be able to watch their beloved White Sox lose. The White Sox lost -- that's for sure -- but did so in perhaps the least enjoyable way possible. There was no second game that evening. Even after an hour of cleanup, the umpires ruled that the field conditions were too dangerous to allow players to take the field, and the White Sox were forced to forfeit the second game. The only thing that suffered a worse defeat? Disco. On July 21, 1979, only a week or so after the disaster in Chicago, six of the top 10 songs in the U.S. were disco tracks. By September 22 of that year, there were none.
Ironically, I was just talking to somebody about this the other day. I was home watching the entire thing unfold on tv. Normally during a double header, the cameras break away and show you something else between games ... and this was the case that night, too ... until all hell and mayhem broke loose! Then you couldn't get away from it ... it was on EVERY channel all night long ... all over the country! (First time a major league baseball team ever had to forfeit a game!!!) What a mess!!!
It made Steve Dahl an even bigger star overnight ... he was the hottest thing happening on radio once this hit the news.
We covered this AGES ago in Forgotten Hits ... unfortunately in the pre-website days. If I can figure out some way to resurrect it, maybe I'll run it again on the official 35th Anniversary. (Hey, it took place on 35th Street right??? That could make for a cool tie-in!) kk
re: HERE'S ONE HELL OF A DEAL!:
Special Savings for you, Kent,
through April 8, 2014.
Take an
extra
$10 OFF
on The Big 3 Bundle and
save $80!
At on
line checkout, enter case-sensitive promo. code
BADGERS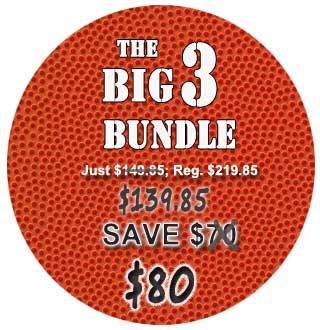 In celebration of our Wisconsin Badgers playing in this weekend's NCAA Final Four, we're giving our devoted email subscribers an extra $10 off our three big pop books through Tuesday, for a total savings of $80 with promo code: BADGERS
Score this great deal by adding "The Big 3 Bundle" to your shopping cart - do not add these three books separately - and entering promo code BADGERS (in all caps) at the online checkout.
- Top Pop Singles 1955-2012
- Cash Box Pop Hits 1952-1996
- Hit Records 1954-1982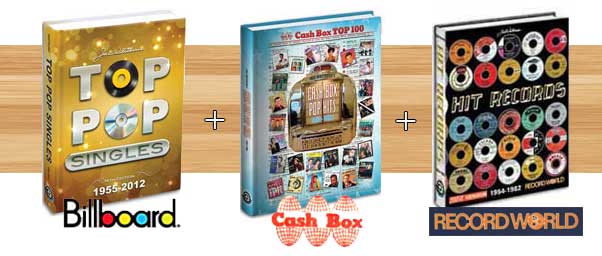 Order Now and Save $80! Your extra $10 Off expires 4/8/14.
Savings cannot be applied to prior orders.
These books belong in EVERY music fan's collection ... they just don't come any better ... and to be able to grab them all with an $80 savings to boot is a deal that just can't be beat! (I'm tempted to buy another complete set just to put one away and keep it in pristine condition!!!)
But this is a VERY limited time offer ... you MUST place your order by Tuesday, April 8th, in order to take advantage of this incredible pricing. Just click on the link above and head over to Joel's website ... and remember to enter your case-sensitive promotion code.
And, speaking of limited time offers ... and Joel Whitburn ... our latest Joel Whitburn / Record Research / Forgotten Hits Trivia Contest ends next week, too. We'll continue collecting your ballots through Thursday, April 10th, and then Joel will select a winner from all the correct entries and award that lucky Forgotten Hits Reader a copy of his brand new book "Top Pop Playlist, 1955 - 1969". Scroll back to last Sunday's column for all the questions and details.
And finally, you've only got a few days left to take advantage of Ron Onesti's Half-Price Ticket Offer to see Little Anthony and the Imperials (Saturday, April 12th) and Paul Revere and the Raiders (Sunday, April 13th) at The Arcada Theatre. Hop over to the OShows Website at
www.oshows.com
... order your tickets ... and then punch in the special promotional code FH2014 ... and you'll be able to purchase tickets at half price for both of these great shows! See you there! (kk)