re: TOUGH WEEK:
As expected, we received a ton of mail regarding the passing of Dick Clark, a television and music legend. Because of the enormous volume of mail, we will run our Forgotten Hits Tribute beginning tomorrow ... it's far too much to read at one sitting ... and far too poignant a message to risk anyone simply skimming it over as part of our Sunday Comments Page ... so please check back with us next week to read these glowing tributes.
Meanwhile, all week long we've been running a tribute to Robin Gibb of The Bee Gees, who lapsed into a coma late last week. Then, out of the blue, came the death of Dick Clark ... and the news that the family of Levon Helm of The Band publicly said goodbye to his fans the day before he succumbed to cancer ... all of which has made this a VERY sad week indeed in Forgotten Hits.
And there were more ... Jonathan Frid, the original Barnabas Collins of "Dark Shadows" passed away just weeks before the Johnny Depp remake will hit theaters. What a shame. A tough week indeed. (kk)
Dick Clark, Levon Helm, Jonathan Frid and Chief Jay Strongbow.
Bad day.
Eileen
Dick Clark -- Levon Helm -- Robin Gibb in a coma -- Jonathan Frid --
It's been quite a week for those of us of a certain age; for me in particular. To paraphrase something I recall Fred Vail saying, I believe, when Ray Peterson died, it's not the increasing aches and pains and infirmities of age that make getting older such a drag, it's the loss of friends and loved ones, or those whom we may never have met, but touched us in some way that makes life so occasionally sad.In its heyday, it's been reported that "Dark Shadows," the gothic, daytime soap opera of the late-'60s and early-'70s, had an audience of 50 million viewers. If that is to be believed, that means that a full quarter of the U.S. population at the time was tuned in to this low-budget cult favorite. Well, I was one of those 50 million, many of whom were school kids who raced home from the bus stop to catch the show every afternoon. And while I must confess that I was consumed with randy adolescent thoughts of good girl Maggie (Kathryn Leigh Scott) and evil temptress Angelique (Lara Parker), it was Jonathan Frid as the conflicted, blood-sucking vampire, Barnabas Collins, who was the star of the show. Such is its enduring popularity that a big-screen version of the series is being released next month starring Johnny Depp as Barnabas. Original fans will be delighted that the three original, aforementioned stars of the TV series, along with castmate David Selby (Quentin Collins) have cameos in the film.
Sadly, Jonathan Frid won't be there for the red carpet premiere next month. He died last week at the age of 87. I actually met him once over 30 years ago in Los Angeles, and I was shocked at how ordinary he was. He was a very nice man, not particularly attractive, and virtually no star aura about him. Later, I realized just how good an actor he was, for in character as Barnabas, he had that "it" quality that characterizes all stand-out performances. For all his rock star-like fame during "Dark Shadows'" original run on ABC, Jonathan Frid never worked much again in a major spotlight. I hope that he was happy in his later years and that he enjoyed all the residual fondness that we original viewers had for him and his fellow castmates.
Scott Paton
re: WE ALSO LOST LEVON HELM OF THE BAND THIS PAST WEEK:
And this one happened SO fast!!! Before we could even run the news of his family's heartfelt pleas to keep Levon in our hearts and prayers ... as he entered his final stage of cancer ... he was gone ... literally 24 hours later. How sad.
Some of the earlier mail we received acknowledged this sad announcement ... but, before we could even post your comments, Levon had already passed on. (kk)
Wow! We just lost another one ... American Music Icon Levon Helm to cancer.
Please keep Levon Helm in your hearts, as well.
The family of Levon Helm, legendary drummer with the band, announced Tuesday (April 17) that he "is in the final stages of his battle with cancer. Please send your prayers and love to him as he makes his way through this part of his journey. Thank you fans and music lovers who have made his life so filled with joy and celebration ... he has loved nothing more than to play, to fill the room up with music, lay down the back beat, and make the people dance! We appreciate all the love and support and concern." The 71 year-old has been force to cancel several dates. He fought throat cancer in 2007.
Remembering Levon Helm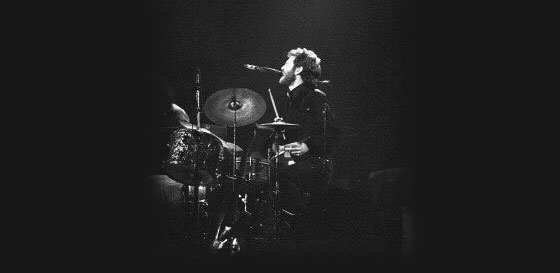 Levon Helm has sadly passed away at the age of 71. From his days as the backbone of The Band, to the last few years that centered around his Midnight Ramble experiences in Woodstock, NY, Helm made timeless music steeped in American traditions for half a century. It's sad to see him go; after putting so much of himself into the music for so long, we know he won't be forgotten.
Join us as
we pay tribute to Levon Helm
with a closer look at the man and music that has inspired so many people throughout his lifetime.
Sincerely,
I have great memories of Levon Helm. Levon visited us at WHN after the release of Coal Miners Daugther, in which he played Loretta Lynn's (Sissy Spacek) father. I drove him to his gig that night at the Lone Star Cafe and he was really spooked by the New York traffic and my driving. We used to play his Atco record "He Don't Love You" at the hops in Pittsburgh. The Hawks used to alternate with the Jubilee version of the Skyliners at a club on the Jersey shore.
Hope there's not a third to follow
Levon Helm
, the enigmatic drummer and baritone vocalist behind
The Band
has died at the age of 71 after a lengthy
battle with cancer
,
the Times-Herald Record reports
. Helm had been hospitalized at New York's Memorial Sloane-Kettering Cancer Center.
"We lost Levon at 1:30 today surrounded by friends and family and his musicians have visited him," Larry Campbell, Helm's guitarist and band leader, told the news paper. "As sad as this was, it was very peaceful."
After last weekend's Rock and Roll Hall of Fame inductions, speculation about Helm's health grew after former Band guitarist
Robbie Robertson
wished "
love and prayers
" to the drummer. The two had a falling out in the late '70s after the group broke up.
The Band drummer and singer Levon Helm succumbed Thursday to a recurrence of the cancer that cost him his singing voice.
Levon Helm
died Thursday at the age of 71, and a piece of the rich roots music now called Americana should be buried with him.
Helm, who was best known as the drummer for the Rock and Roll Hall of Fame group The Band, had been suffering from a recurrence of the cancer that cost him his singing voice a decade earlier.
Larry Campbell
, music director for the Levon Helm Band, said he died peacefully at Memorial Sloan-Kettering, "surrounded by friends and bandmates and family."
Helm won three solo Grammys over a 65-year career in which he blended all the music he heard as a youth in Turkey Scratch, Ark.: country, blues, bluegrass, gospel, R&B, pop and rock 'n' roll.
"He was just a great rock 'n' roll drummer," said his long-time friend and admirer, radio host
Don Imus
. "He was also a genuinely sweet person - a true angel. There was no one like him."
Helm and The Band played for 600,000 fans at the 1973 Watkins Glen music festival, but his focus the last decade was the intimate weekly jam sessions he called Midnight Rambles at his studio/ barn in Woodstock, N.Y.
Artists like
Emmylou Harris
and
Elvis Costello
often dropped in for the sessions, which were open to the public. Helm said he modeled them after late-night performances by the traveling medicine shows he knew as a child.
He continued the Rambles until several weeks ago, when he fell ill. His Band partner
Robbie Robertson
, from whom he had been estranged for years, sent "love and prayers" to Helm last Saturday night at the 2012 Rock and Roll Hall of Fame induction.
Robertson also made a personal visit to Helm's bedside over the weekend and called Helm "one of the most extraordinarily talented people I've ever known."
Helm decided he wanted to be a musician at the age of 6, he said, when he heard bluegrass icon
Bill Monroe
.
His career had several stages. He started in a great bar band, the Hawks, that backed 1950s rockabilly singer
Ronnie Hawkins
and often spent its summers playing cheap on the Jersey shore.
In the mid-1960s
Bob Dylan
recruited the Hawks to back him on some of his first electric tours.
After Dylan left the road, the Hawks started recording on their own as The Band, starting with "Music From Big Pink" in 1968. Helm sang lead on the record's most enduring track, the mysterious ballad "The Weight."
Their second album, "The Band," remains one of rock 'n' roll's elite recordings. It featured Helm on tracks like "The Night They Drove Old Dixie Down."
The Band broke up in 1976, at Robertson's urging and against the wishes of Helm. Their final concert was recorded as
Martin Scorsese
's "The Last Waltz," and while it was probably the best rock concert film ever, Helm later rejected its agenda of documenting the end of the group.
Helm and other Band members began playing and recording again and cut three albums in the 1990s without Robertson.
The group was inducted into the Rock Hall in 1994. Helm came to New York for the ceremony, but decided not to attend, he later said, because he didn't want to share a stage with Robertson.
After the deaths of group members
Rick Danko
and
Richard Manuel
, and his own battle with throat cancer, Helm downsized his career and launched the Rambles.
Helm recovered his own voice well enough to start singing again in 2004. He eventually recorded three solo CDs, all of which won Grammys.
The music on those CDs reflected his career. They mixed country with blues and rock 'n' roll, and the songs were a blend of new material and traditional tunes. Helm played mandolin and guitar as well as drums.
"That's the sound I've always loved to hear, so that's what I play," he said in a 1995 interview. "I don't try to be fancy or do flashy solos. I just try to keep the beat."
He did, and a little bit more.
He is survived by his wife Sandy and a daughter Amy, who often played with him on stage.
-- submitted by Gary Theroux
Levon Helm has sadly passed away

Thursday, April 19,

at the age of 71

after a lengthy battle with cancer

. From his days as the backbone of The Band, to the last few years that centered around his Midnight Ramble experiences in Woodstock, NY, Helm made timeless music steeped in American traditions for half a century.
He was born to music-lovin' cotton farmers and grew up in a town called Turkey Scratch, pickin' up the guitar by nine, blowin' harmonica by ten; he hit the drum kit at fifteen after seeing Elvis and his band create frenzy with limbs that danced to heart-pumping rhythm.
His palette was formed of African-American minstrels, rhythmic blues and bluegrass, Grand Ole Opry and straight up rock n' roll. Calling music, " … one of the foods of our lives," he ate and drank his fill, sharing a table filled with family and friends for more than sixty years.
In 1998, Levon (Lavon) Helm was diagnosed with cancer of the vocal cord and his soulful Southern voice became a whisper. No matter. He could still play drums, calling his drummer's stool "the best seat in the house."
The home he created for family was in Woodstock, New York – heritage of his humble beginnings with The Band and Big Pink. He used his house to stage "rent parties" in an effort to pay his mortgage and medical bills. The Midnight Ramble kicked off in the barn at 8:00 on Saturday night and shimmied 'til midnight, becoming a continued event and one of the most cherished musical venues in the country.
Levon's Midnight Ramble Sessions rejuvenated a creative spark, inspiring an ode to his family with Dirt Farmer, for which he received a Grammy for Best Traditional Folk Album in 2008, and Electric Dirt, which won the Best Americana Album in 2010.
"As long as you can keep music a part of your life, you've got a hell of a chance!"
For those with a passion for music, it is a vocation that makes most that pursue it self-employed. As Levon would note, "Most of us are self-employed. We get sick too and we have to pay those bills and it's quite a struggle at times."
" … Especially with aging musicians – a lot of them don't have any health care. A lot of musicians really tip their hats to MusiCares."
Levon's message of late was keeping his American roots music alive, and passing it on.
"The power of music just kinda kills all those ills; it cures everything and you've got more energy just from the music. And, I've never seen it fail. It's good for ya; real good for ya."
For a total music nut, I came to The Band awfully late in the game. When others were listening to new underground and free-form FM stations, I was glued to Top 40. I did hear that catchy "Take a load off, Fanny" refrain and liked it, but I didn't know that that tune was called "The Weight" until Diana Ross & the Supremes and the Temptations cut it for the soundtrack of their NBC-TV special. Still, I developed a peripheral awareness of The Band and certainly heard about "The Last Waltz," their star-studded "finale" concert in San Francisco in 1976. But that wasn't their last show.
I don't know why historical accounts of The Band fail to mention that the final performance of the original five-man line-up took place a year or two later at the Roxy Theater on the Sunset Strip in Los Angeles. Maybe it's because there were only a couple hundred people in attendance in the small club. But I know. I was there and I was transformed. The occasion of that evening's performance was a show by former Band member Rick Danko, who had just released a solo album. Fellow Band-mate and keyboard player Garth Hudson, I believe, was the first to sit in. But there was a buzz in the room, and after Danko knocked out the obligatory tracks from his new LP, other familiar faces began joining him onstage. Richard Manuel, also on keys; Robbie Robertson on guitar; and Levon Helm on drums. The set quickly became a "best of The Band" showcase. When they launched into "The Weight," Levon hollered to Danko, "Sing it, it's your show!" Rick responded, "It's your song!" And Levon delivered the goods in that classic, soulful voice that truly made him the heart of The Band, Robbie Robertson's role as chief songwriter notwithstanding.
That show ran later than any I ever attended at the Roxy. They played for hours. At 1:45 a.m. the drinks were removed from the tables. At 2:00 the lights were turned on. And at 3:00 a.m., having refused management's requests to wrap it up, the power to the stage was turned off. And that concluded The Band's final performance. It was among the best three or four shows I have ever seen. And I went to Tower Records on Sunset and purchased their entire catalog later that week.
Like everyone else, I heard that Levon Helm was near death when his family released a statement two days prior, so his passing was not a total shock, just a grave disappointment. Having battled throat cancer so valiantly for years, Levon skipped on out on a high note in his life. As he seemingly was recovering from intensive treatment, he cut two Grammy-winning LPs and, by all accounts, the Midnight Ramble series of summer concerts that he and his daughter hosted on his farm in upstate New York in recent years were the absolute greatest events for true music lovers. I will always curse myself for not trekking up there to attend one or two of them.
I didn't know Levon Helm. I met him once, briefly. I can tell you that he radiated the same joy in person that he did onstage behind the drum kit and on the microphone. And by the way, rent or buy the DVD of "The Last Waltz" and pay close attention to Levon on the skins. He was more than just a backbeat, his drumming was part of the melody. And to play like that and sing at the same time!? He has no peer in that regard. I cried for a moment when the official news of his passing came in. Anyone that embraces life with such joy and truly lives to impart that to others as he did is to be mourned and then celebrated.
Scott Paton
re: THE BEE GEES:
The Huffington Post is reporting that Bee Gee Barry Gibb has been singing to his brother at his comatose bedside ... ANYTHING to try and spark a reaction or response.
Robin Gibb has been fighting for his life since contracting pneumonia, which ultimately left the
Bee Gees singer hospitalized in a coma
. Gibb's family members, including his brother (and fellow Bee Gees member) Barry Gibb, have tried singing to him in an effort to bring him back to consciousness, his wife Dwina Gibb has said.
"His brother Barry, his wife Linda and son Stephen came over from America,"
Gibb's wife told The Impartial Reporter
. "Barry was singing to him. Thousands of people are saying prayers every day."
You'll find the whole article here:
It still blows me away that, as successful as the "Saturday Night Fever" soundtrack was, and how it was one of the first mega-selling albums ever, that the Academy Award committee refused to nominate any song off of the film for an Oscar, but yet "Last Dance", from a horrible film ("Thank God It's Friday") won an Oscar for Best Song. I remember being immensely pissed off at the time when the Brothers Gibb weren't nominated, with the Academy saying something about the songs not being worthy of other songs that had been nominated and won. It looks like Barry will be the only one left, so this should change, in my opinion. Regardless of how one feels about Disco or the Bee Gees (who were blamed for years and treated badly for popularizing Disco - never mind that there were other Disco groups and songs that had come before), the songs from "Saturday Night Fever" should be recognized. Later.
It was a major snub to be sure. Three brand new songs, written especially for the film, all went to #1, topping the charts for a combined 15 weeks ... not worthy?!?! "How Deep Is Your Love", "Stayin' Alive" and "Night Fever" have all proven to be timeless classics. (They've also proven that the Academy REALLY had their heads up their asses that year!) Barry has since said that the one thing missing from their career ... with all the awards and all the accolades ... is an Oscar ... and that they never gave up the hope or the dream to win one. In this case, they truly were denied ... and a great injustice was done. (kk)
>>>With Robin Gibb in a coma and near death,
we spent a good chunk of this weekend listening to the music of The Bee Gees and watching old videos and biographies of the band. We are truly saddened by the imminent loss of yet another member of the talented Gibb family. (kk)
Kent,
If a good cry purifies the soul, then I have cleansed mine over the last year.
Shelley
Kent,
In regards to your personal favorite song of the Bee Gees, my grandmother's first
name was Geneva, but everyone called her FANNY. I loved the song as well.
Since I have been in Las Vegas attending NAB this week and staying at the Excalibur, I found it ironic that Robin Gibb is in a coma and the leading show at the hotel is The Australian Bee Gees Show. I decided today that I had to check it out. Three artists representing the Brothers Gibb and a bass player and drummer with some pre-recorded orchestral parts. It was good, not great, but certainly brought back a ton of memories, especially with all the early hits. Even with medleys, 85 minutes passed by very quickly and it is amazing how many hits they performed and how many they couldn't fit in. Since I never had the opportunity to see The Bee Gees live, this is the closest I can get.
We saw a Bee Gees tribute band last year called Stayin' Alive who, for the most part, really nailed their sound ... not an easy thing to do with the tremendous range of material and vocal gymnastics required. With SO many tribute bands out there now saluting their favorite artists, The Bee Gees' sound has to be one of the hardest to capture live ... but, unfortunately, it's now the only way we'll get to see these songs performed. (kk)
Barbara Gibb is 91 years old and I can't truly contemplate the notion that she may have to bury the third of her four sons.
I'm a huge Bee Gees fan. All the backlash and critical brickbats surrounding their "disco years" is rubbish. Their records – from all phases of their career — are brilliant, and as songwriters in the Rock Era, only Lennon & McCartney, Holland-Dozier-Holland, Bacharach & David, Smokey Robinson, Dylan and Brian Wilson rival them for success and ubiquity.
I'm also a fan of the Gibb Family. I was a close friend of Andy's; his parents, Hugh and Barbara were always lovely to me, and I knew the three elder Gibb brothers slightly, and to varying degrees. Hands down, Maurice was the nicest, funniest and friendliest of the bunch. And like most families, they all had their issues, but fame and fortune aside, they are basically like any other extended clan you might meet. And this is why the seemingly imminent loss of Robin Gibb is so tragic.
This family has weathered so much. Andy's death at 30 sent his father Hugh into such an emotional tailspin that he died a few years later, poignantly, on Andy's birthday. Maurice was the glue that held the Bee Gees together. Not only their finest musician, he was close to both his older brother Barry and his fraternal twin, Robin, and frequently mediated disagreements between his two brothers, who often had a fractious relationship. When Maurice died, the Bee Gees, for all intents and purposes, were no more. Barry and Robin grieved in different ways and, as being in one another's company only reminded them of Maurice's absence, they rarely saw one another for six years. As their mother Barbara said, she almost grieved more for Barry and Robin than she did for her own loss.
But Barry and Robin had reconciled in the past year or two, and they looked forward to making music together again, as much in tribute to Maurice as anything else. Robin's cancer diagnosis in 2010 was a severe blow, but he battled the odds with great courage and the treatments seemed to be working. But he was just so damn weak, and in such a state, pneumonia is opportunistic. And now Robin seems to be at death's door.
He has such a unique voice and he has been a part of one of the greatest songwriting and performing teams ever, but my version of a prayer is that Robin will defy the odds and prevail, for his wife and children's sake, for his brother and sister, and especially for his mom. We've had so much loss this past week. If I am entitled to one miracle that I could pull out of a hat, I'd gladly grant it to Robin Gibb.
Thanks, Kent.
Regards,
Scott Paton
Hey Kent,
I just wanted to tell you that I agree 110% about EVERYTHING you've written about the Bee Gees. They were geniuses. They were trailblazers. They were one step ahead of everyone else. A couple years ago, I bought the "Ultimate Bee Gees" CD set, and what a wonderful listening experience it is, and what FABULOUS production of the songs!

It is SO unfair what the media has done to them, the last 25 years.

What you have said about what the industry has done to the Bee Gees is the American way, unfortunately. No matter, in the recording industry, radio, television, or motion pictures, if they have a hit maker on their hands, they milk it for all it's worth. Then, when it is worn out and the public is tired of it, they simply throw it away. We've all seen so much of this happen to so many great artists, over the years.




Have you seen the live concert they did, shown on PBS, a few years ago? It was a real treat.
And finally, thank you so much for the video of Lulu and Maurice Gibb singing their duet, from British TV. You wonder what was going through their minds when they performed together, after being apart for so long. She has aged very well, in both looks and singing! Without Maurice, the Bee Gees wouldn't have had all those brilliant arrangements. He truly was the unsung hero of the group.


I hope Barry Gibb is fortunate enough to read what you've said about him and his brothers.
Thank you.
-- John LaPuzza
We have several Bee Gees videos in our collection, including the "One Night Only" concert filmed at The MGM Grand in Las Vegas several years ago. You'll never see a better concert.
That Lulu / Maurice Gibb video is one of the most touching things I've ever seen ... I cannot watch it without getting choked up ... every single time!
I was fortunate enough to see The Bee Gees live a couple of times back in the '70's ... a millennium concert was always on our wish list but with Maurice gone now ... and Robin as sick as he is ... it just isn't going to happen. (Frannie and I have never seen them together and we both LOVE the group.) Did you happen to see the review we ran a few weeks back of Barry's solo show? That sounds like quite the treat, too ... but I wonder how much he'll do that now after yet another Gibb Family tragedy. Thankfully, we have the music ... and it truly is timeless. (kk)
FH Reader David Salidor reminded us of ANOTHER great Bee Gees DVD ... it's a career retrospective that we picked up a couple of years ago called "In Our Own Time" and it was released a few years ago on DVD the same week that it aired on the Biography Channel. (In fact, Frannie and I watched this one last weekend, too!) Check it out here ... a GREAT bargain at $14.98 ... and some vintage early days videos you won't find anywhere else!)
Salidor also professed himself to be quite The Bee Gees fan, too ... read on ...
I just wanted you to know that the Bee Gees "You Win Again" was a great, great record; in fact, that whole album ONE is just brilliant. I actually was given a copy in England, when I was there with Debbie Gibson, of all people, when it came out and still play it to this day.
I also loved THIS IS WHERE I CAME in and did see that documentary, which was brilliant. I am a HUGE fan. So sad this whole Robin Gibb mess ... so sad.
These video / career retrospectives are amongst the best ever done on this ... or any other band ... well worth checking out if you haven't seen them yet. (kk)
My new favorite song just hit #1. Thanks to a tremendous amount of exposure on "Glee", "American Idol", "The Voice" ... and his own appearance on "Saturday Night Live" last weekend, Gotye's "Somebody That I Used To Know" sold an additional 542,000 downloads this past week ... and has just reached the #1 spot on Billboard Magazine's Hot 100 Singles Chart. (Actually it was our daughter Paige who first turned us on to this song several weeks ago ... she came in and said, "Listen to this ... I think you'll like it ... it kinda sounds like The Police" ... and it kinda does!!!) A VERY clever video, too. And, here's a bit of rock and roll trivia for you ... DIDJAKNOW that Gotye is the first native Belgium artist to hit #1 on the charts since The Singing Nun in 1963?!?!? Strange but true! (kk)
If you haven't already seen it, you can check out the video here ... Click here: #!
Wanna feel a little out of touch? Nearly 167 MILLION people have already viewed this video before you!!! (lol) kk
And Lionel Richie, hot on the heels of his recent television special, has topped Billboard's Top 200 Album Charts this week, too ... his THIRD LP to do so! (Lionel seems to be everywhere again ... on TV ... on the radio ... on the record charts ... in the news for $1.1 Million due in back taxes ... and he has a new television series starting soon, too!) He remakes a number of his best known hits as country duets ... and it all works beautifully. (kk)
Meanwhile, David Beard (Endless Summer Quarterly and Beach Boys Examiner) tells us about the brand new Al Jardine release, "A Postcard From California" ... featuring a virtual Who's Who of special guest stars!
The guest artists include:
Brian Wilson
,
Mike Love,
the late
Carl Wilson
,
David Marks
,
Bruce Johnston
,
Glen Campbell
,
David Crosby
,
Neil Young
,
Steve Miller
,
Gerry Beckley & Dewey Bunnell
(America), actor
Alec Baldwin
,
Flea
(The Red Hot Chili Peppers) and Adam &
Matt Jardine
.
Get the whole scoop here:
Charlie Gracie "Fabulous" Special Edition coming to National PBS affiliates starting June 2nd ... here's the Charlie Gracie "Fabulous" Shop PBS link:
http://tinyurl.com/7y2n289
2nd Biographical Novel of
John Lennon now available on Kindle
Beatles expert and author
Jude Southerland Kessler has released the second installment of her nine book John Lennon Series for Kindle users.
Jude Southerland Kessler
is proud to announce that her book
Shivering Inside is now available worldwide for download on Kindle – a portable e-book reader from
Amazon.com
. Shivering Inside, released in paperback in October 2010, is second book in Kessler's nine book John Lennon Series and covers Lennon's life from December 1961 to the birth of his son Julian in April 1963.
Shoulda Been There
, the first book in the series,
was released in paperback in March 2008 and on Kindle in November 2011. The book follows Lennon's life from his birth in 1940 to Dec. 1961 when The Beatles form a managerial agreement with Brian Epstein.
Kessler
is currently writing her third installment, She Loves You, due for hardcopy release in October 2013.
Shivering
Inside for Kindle is available exclusively at:
http://www.
amazon.com/Shivering-Inside-ebook/dp/B007V9BFJS
For more information about
Jude Southerland Kessler and her books, go to:
www.JohnLennonSeries.com
(formerly
http://
www.ontherockbooks.com
)
Speaking of new books, Ingrid Croce (widow of Jim) tells FH Reader Bill Hengels that here will be a brand new, family authorized biography of Jim Croce released in June. We'll keep you posted on this one as more details become available. (Jim Croce was always one of my favorites!) kk
Local talent Debe Welch sent me a copy of her new song and video ... this one really hits home for those of us trying to keep our
heads above water each week ... you can check it out here:
Please like this on Youtube ... or at least view it!
Pretty Please?
Debe
http://www.youtube.com/watch?v=2UBXWxnecEE
Honestly, I DO like this ... quite a lot actually! Thanks for sending, Debe! (kk)
Thanks, Kent! Wish someone big would re-record it and make it a not forgotten hit :) By the way, t
hey can download it on iTunes, too :)
Deb
Hi
Gang!
Here is my official
"Bilco Three Stooges Movie Review"
OK, please hear me out on this ...
I HAD to see this movie.
I figured a matinee late on a Friday
Morning would be the best, so I pull into the movie theatre parking lot and to my dismay I see three empty school buses and I think OH NO, a bunch of screaming, buger-eaters spoiling MY movie! DAMN! (Great thing ...
is they went to see the Disney Flick "Chimpanzee").
So I spent over $10.00 on a small (stale) popcorn (no butter, I asked the guy ...
"Is that real butter"? and he said "No" ... so I said, "Then HOLD whatever that crap is!"), add a small coke and then, after going through the maze of the movie theatre complex, I find out to my utter amazement , I'm the ONLY person in the theatre to see this movie!
YES!!!! (Now
I can whoop and holler and scream as loud as I want!)
Please understand, I have been a Stooges fan since I was a little kid and thought how HORRIBLE this is gonna be. I'll tell you what ... I was NOT only surprised, I was FLOORED! It was the THREE STOOGES, 2012, it was incredible! The actors that played the Stooges were magnificent, Curly especially being spot on! The Farrelly Bros script was fabulous, the other actors were incredible and you could tell they all had a kick in the butt filming this.
A special hats off to Larry David, who played a nun at an orphanage and played HIMSELF throughout the entire movie in nun's garb. All I can say is GUYS, you will love it ... your girlfriends, wives ... maybe NOT! I laughed, I cried and laughed so hard I cried! From the very beginning to the ending credits, you were glued to your seat. It was the Three Stooges I remember, the Three Stooges I loved!!!
Then with the stale, pathetic popcorn and a watery coke remaining, I snuck into "Chimpanzee" that just started (and, except for all the kids in the audience, it was great as well) ... the sound was definitely SURROUND and for a jungle setting was GREAT ... you've got to love little "Oscar" the baby chimp ... how the guys from Disney filmed this is beyond me!!!
At the end of "Chimpanzee, I somehow, someway snuck into the end of the "TITANIC 3D" movie but didn't have any 3D glasses (the screen was blurry as hell), so I saw the "disposal" box that people could drop off their glasses at the end of the movie. Now I'm desperately trying to break into the disposal box to grab a pair of used 3D glasses, and finally get the lid off when an usher spotted me and immediately had me removed from the complex! DAMN!.
All in all it was a wonderful day at the movies.
The THREE STOOGES I give two thumbs up into the eyeballs and a sledgehammer to the head ... in other words 4 STARS!!
It's a winner ... you will LOVE IT!
YUK, YUK, YUK!!!
Wild Bill
http://youtu.be/Z4IoUo_ZJkY
... Three Stooges Movie Trailer
re: UP-COMING
OR RECENT SHOWS:
CSN at the Lied Center or Qwest Center? Sounds cool! Sounds reasonable. But NO.
Yeah, there have been concerts before at Pinewood Bowl in Pioneers Park, but this is DIFFERENT!! Can you believe Crosby, Stills & Nash at Pinewood Bowl? How about BB King and the Robert Cray band and Pinewood Bowl for night concerts?? It's TRUE! I find it hard to believe that these guys WANT to play in that venue. My God, BB is 87 years old and has diabetes and has to sit to play Lucille! It could be 100 degrees that night!!
Here's the particulars:
http://www.1011now.com/home/headlines/BB_King_Crosby_Stills_and_Nash_Performing_at_Pinewood_Bowl_Theatre_147840255.html
After going thru MANY websites to get there, I finally found one with PRICES!! CSN starts at $55.90 and the other price is $190.10!!! To sit in a packed in mosquito trap surrounded by evergreens and NO wind in August in Lincoln!! How much fun that is!!
BB is $55.90 and $167.55. CHEAP, right?? Capacity for PB is 8000. No coolers or blankets for these events this time. Just WALL TO WALL people, I assume.
Woodstock 3?? Sounds about like that kind of crowding event to me!!
Word has it that one of the acts performing at this year's Schaumburg / Septemberfest will be Grand Funk Railroad!
More details to come but we hear that contracts are expected to be signed this week! (Now here's an act I've never seen before!) kk
And The Doobie Brothers will be headlining The Drive's 11th Birthday Party Concert on May 11th at the Akoo Theater in Rosemont, IL. Opening act will be Dave Mason. (We were at one of the ticket giveaways on Saturday and heard Bob Stroud tell the crowd that he had only seen The Doobie Brothers once before ... and that that was WAY back in 1972 ... when they were the opening act for Billy Preston and T. Rex!!!)
I've only seen them once, too ... but it was in the early '80's at Alpine Valley in Wisconsin. I remember walking about a mile from the car to our seats in the theater, up and down all kinds of hills. This was the Michael McDonald-era Doobies ... and this time around they were the headliners. The opening act that night was Carl Wilson of The Beach Boys, doing a solo tour in support of a new album. (Seems he and The Beach Boys were on the "outs" because Carl wanted to record and perform NEW music ... and Mike Love seemed content to simply recycle all the old car and surf songs again and again and again! In fact, that night Carl performed only one Beach Boys song during his entire set ... and that was "God Only Knows".)
Anyway, although I've always liked The Doobie Brothers (the hits anyway), I wasn't a big fan of the Michael McDonald era ... despite the fact that my very favorite Doobie Brothers song of all-time is "Takin' It To The Streets". When they opened up the show with that one, I figured it'd be all down-hill from there!!! (lol)
Definitely looking forward to this year's birthday show ... the Tom Johnston / Patrick Simmons - led version of the band defines what the TRUE Doobie Brothers sound is for me ... and I can't wait to see them live in concert again this year. (And our FH buddies The New Invaders will be performing pre-concert music in the lobby, too ... so this should be a GREAT night of music!) kk
re:
THIS AND THAT:
Did you guys take part in "Record Day"??? The Fifth Annual Event promised new releases by Bruce Springsteen and Paul McCartney on vinyl ... as well as some very special limited releases, too.
Supposedly recorded by multi people including there being instrumental version, the first version of UNCHAINED MELODY I heard was by the Righteous Brothers, and that high-voiced sound. Heard it done while back on Toronto's 740 station, it sounded like it was done in the early 50s when putting FEELINGS into a song was almost forbidden. IT STUNK, to me.
As much as I am an ELVIS fan, I've watched the footage of him pounding the 88s and TRYYYYYYING to do them highs ... and simply NOT cutting it.
Watch the record spin for a couple on minutes while James Coe does "THE FOOL" in Elvis
fashion and enjoy it ... yet when Elvis put in on an LP, he ruined it. Picked up on YouTube Elvis, with a tape running, just FARTING around at Graceland and doing The FOOL. Had he done it as such FOR the LP, it could have been ok.
I Can Help ... Billy Swan does it, Elvis likes it, then Elvis released it ... and it sounds like he is trying to hard.
I do like Willie Mae Thortons Hound Dog, as well as Elvis' version
Handy Man ... LOVED roller-skating to that one by Jimmy Jones. Slow version by James Taylor SUCKS. BUUUUT, maybe to who ever hears TAYLOR'S version first, then Jimmy Jones's version will suck?????????????????
Just my way of liking, or not, a song by varied artists.
I think this is probably true of most (if not all) of us ... we tend to accept the first version of a song that we hear as being the "definitive" version ... whether it's an original or a remake. I can probably count on both hands the number of times I've heard a remake as good as ... or better ... than the original. It's pretty rare and unexpected when it happens. (kk)
Kent ...
Since I filled up my gas tank ($32) yesterday, this has become my favorite song.
Frank B.
Thirty-Two Bucks?!?!? Man, I WISH it only cost thirty-two bucks to fill up my car!!! A weekend trip to the gas station for Frannie's car and mine typically sets us back $120! That'll cut into your weekly cashflow pretty damn fast! (I'm still hoping that they'll start selling gas at The Dollar Store!!!)
Great track from a great concert 'tho ... I love the part where Fats Domino thanks Ricky for "buying him this ring" with the royalties he earned on Nelson's version of "I'm Walkin'"!
(kk)
I'm not sure if this made national news, but, after the 'glow', the cash-strapped city of Newark, NJ's residents are grumbling a bit at the cost to the city of the

WHITNEY HOUSTON
funeral.
Some comments can be read here ...
http://www.facebook.com/CBSNewYork/posts/425081477508478
Some think, since the city got NO financial benefit and that the family had abandoned Newark long ago, the estate should pay the $187,000 it cost for security!
I'd argue that the family didn't request it and the city took it on by themselves!
A shame, but in the very poor city, school kids go without ...
I'm sure some of them are hoping no other BIG funerals come to town.
-- RENFIELD
Kent ...
Johnny Depp and Natalie Portman star in Paul McCartney's new video for "My Valentine" ... but you won't see
Sir Paul. It's Black & White + features the stars doing Sign Language.
Frank B.
One of
your readers commented on his first 45 which he had stolen. I really
can't remember offhand if I actually stole any records but if I did my first one
would have been Dick and DeeDee's 1964 hit THOU SHALL NOT STEAL.
Larry
On Sunday, Apr 15, on WIBG-FM in
Jersey, Dave the Rave played the Portraits' 1967 release, "Runaround Girl" and aired an interview with me. The show is now archived at
www.
davetherave.com
.
It's a 2-hr show and our segment comes in about the last 10 min of the 1st hr.
Dave does a fun show and
he plays a nice variety of lesser-known to little-known songs, especially from the 60's. On most Saturday nights he also does an internet-only show on topshelfoldies, where he has played the some Portraits cuts and has often mentioned me and my books.
I'd love
to hear from anyone who listens to it.
Gary E. Myers / MusicGem
http://
www.music-gem.com/index.html
Hi Kent -
Sorry that it has taken so long to get back to you. Shortly after you posted on your blog
about
our record "Walking the Chalk" (which was in 2010), I had a computer
meltdown and could not, for the life of me, remember the blog address!
Today, after Googling the 'Swingin' Conners,' your blog was the first to pop
up!
I'm glad you found a copy of our record. They are, as I found out, hard to come
by. A collector in Australia, of all places, had the record and original
sleeve (which had our picture and short bio on it) in perfect condition and
he sold it for $350.00!
Again, sorry for the delay.
My Best,
Allan Conner
http://www.allanconner.com
Hi Allan! Good to reconnect and hear from you.
We've been VERY fortunate in tracking down some of these long, lost records of the bygone era (without having to pay $350 a pop to do so! lol) Hope you'll share some of your memories with our readers from time to time! (kk)
And this from
Gary Pike of The Lettermen / Reunion ...
NOW
I know what these words mean!
ARR

ANGER

:
a guy who writes to support a drinking habit.
BALLET:
an art form for people with eating disorders.
BANDSTAND:
the area furthest away from an electrical outlet.
BIG BAND:
nowadays, an aggregation consisting of
two musicians.
BROADWAY PIT JOB:
a prison sentence disguised as a gig.
CABARET:
a venue where singers do songs from shows that closed out of town.
CATERER:
a man whose hatred for musicians is unrivaled.
CHANTEUSE:
a singer with an accent and no sense of time.
CLASSICAL COMPOSER:
a man ahead of his time and behind on his rent.
CLUB DATE LEADER:
someone who changes his name from Kaminsky to Kaye.
CONTINENTAL VIOLINIST:
a guy who rushes like he's trying to catch the last train to Budapest.
CONTRACTOR:
a man whose funeral nobody goes to.
CRUISE SHIP WORK:
a gig that gives a musician two reasons to throw up.
DJ:
the guy your son would rather have play his Bar Mitzvah.
DOUBLEBASS:
the instrument the folks footing the bill feel is unnecessary.
DOWNBEAT:
the magazine that would have you believe that all jazz musicians are working.
ELECTRIC PIANO:
the instrument that enables its player to pay for the hernia he sustained lifting it.
HOTEL PIANIST:
a guy who looks good in a tux.
JAZZ:
the only true American art form beloved by Europeans.
JAZZ FESTIVAL:
an event attended by folks who think Coltrane is a car on the B&O railroad.
MELLOPHONE:
an instrument best put to use when converted into a lamp.
METRONOME:
the archenemy of chanteuses and cantors.
MOVIE COMPOSER:
someone who can write like anyone except himself.
NEW AGE:
a musical substitute for Valium.
NEW YEARS EVE:
the night of the year when contractors are forced to hire musicians they despise.
ORCHESTRATOR:
the musician who enhances a composer's music, only to be chastised for it.
PERCUSSIONIST:
a drummer who can't
swing.
PERFECT PITCH:
the ability to pinpoint any note and still play or sing out of tune.
PIANIST:
an archaic term for a keyboard player.
PRODIGY:
a kid who has as much chance at a normal childhood as the Chicago Cubs winning the World Series.
RAGA:
the official music of New York's Taxi and Limousine Commission.
RARE VIOLIN:
a Stradivarius, not to be confused with a rare violinist, which is someone over four foot eleven.
SIDEMAN:
the appellation that guarantees a musician will never be rich.
STAFF MUSICIAN:
harder to locate than a cavity in the Osmond family.
STEADY ENGAGEMENT:
look up in Webster's Dictionary under the word ''obsolete.''
24/7:
the time signature of the national anthem of India. A Don Ellis chart.
UNION REP:
a guy who thinks big bands are coming back.
VERSE:
the part of a tune that's disposable, except to its composer.
VIOLA D'AMORE:
a baroque string instrument and coincidentally the hooker Bach lost his virginity to.
WURLITZER:
the Ford Pinto of organs.
YANNI: a man blessed with great hair for music.
The 2012 Edition of Rich Appel's I.R.S Top 104 Countdown is now available! (And what a GREAT countdown it is!) Voted on by the music fans out there, Rich polled The Oldies Nation to determine which songs REALLY Shoulda Been a Top Ten Hit. (The whole list is available here ... http://www.60s70s.org/HZ-SO-GOOD-April-May-2012.htm
And Rich will be counting these down on various radio programs in the weeks to come. Stay tuned for more details. (kk)
I will be counting down the top 50 of Rich Appel's I.R.S. 104 "It Really Shoulda Been a Top Ten Hit" list on Saturday night, April 28th.
Phil Nee - WRCO
re: THE
SOUND OF PHILADELPHIA:
Part of my collection of Philly Pop Music archives I donated to the Rock & Roll Museum, Library and Archives ...
The Collection on the Philadelphia Music Scene was received by the Rock and Roll Hall of Fame and Museum, Inc. as several gifts from George Manney in 2011.
View online here:
http://catalog.rockhall.com/catalog/ARC-0279
Collection is open for research. Patrons must sign the Acknowledgment of Legal Responsibilities and Privacy Rights statement on the Researcher Registration form before using this collection. Consult the Library and Archives in advance of your visit to ensure access to these materials is available.
Collection Overview: The Collection on the Philadelphia Music Scene spans the years 1945 to 2011, with the bulk of the material dating between 1975 and 1985. The collection consists of 8" x 10" black-and-white photographs of artists that performed at J.C. Dobbs in Philadelphia, Pa., including Rufus Harley, J.B. Hutto, Root Boy Slim, and the Sin City Band; clippings and newspapers from the Philadelphia area; a folder of sheet music featuring artists such as Simon and Garfunkel, The Chantays, Jim Webb, and Gene Raskin; and documents from the popular Philadelphia area nightclub J.C. Dobbs, including calendars, flyers, and booking information. The collection provides rich insight to the Philadelphia area music scene, as well an inside look at music fandom and collecting.
History: The city of Philadelphia, Pennsylvania, is home to a vibrant and well-documented musical heritage. Innovations in R&B, jazz, and soul have earned the music of Philadelphia national and international renown. Philadelphia's diverse population has given it a reputation for styles ranging from dancehall to Irish traditional music, as well as thriving classical, folk, and hip hop music scenes.
In the early years of rock and roll, a number of South Philadelphia-born pop musicians made Philadelphia and popular music virtually synonymous, including Frankie Avalon, Chubby Checker, Jimmy Darren, Fabian, Mario Lanza, and Bobby Rydell. This led to the airing of the popular rock and roll dance show American Bandstand, from Philadelphia, hosted by a 20-something Dick Clark from the Channel 6 studios.
R&B and soul-oriented indie labels in the 1960s included Phil-LA and Arctic Records, where the songwriting and producing team of Kenny Gamble and Leon Huff began their careers. Gamble and Huff were architects of the Philadelphia sound in soul music. The area also produced Thom Bell, who worked with the Delfonics, the Stylistics, and the Spinners on a more doo-wop-influenced style.
In the early 1970s, Philly soul broke through with its most popular recordings of the era. Gamble and Huff's Philadelphia International label started the trend, after signing a distribution agreement with CBS. The O'Jays became the first major act under this arrangement, and became known for a grittier lyrical feel, established on the hit "Back Stabbers," which had a socially conscious focus on inner-city life. The O'Jays were followed by the more romantic Harold Melvin and the Blue Notes, which produced the future solo vocalist Teddy Pendergrass. By the middle of the 1970s, however, Philadelphia soul had begun to decline in popularity. Audiences embraced disco, where Philadelphia's only major contribution was local veteran Patti LaBelle. The city continued to remain important musically, giving rise to widely popular duo Hall and Oates.
The 1990s indie rock scene of Philadelphia found national popularity through bands like the Dead Milkmen and Zen Guerilla. The Dead Milkmen would go on to lead the charge in a satire punk era on MTV during the late 1980s.
The first major hip hop acts from Philadelphia were Will Smith and DJ Jazzy Jeff; the city also produced a number of other noted performers, like Tuff Crew, Lisa Lopes of TLC, and Boyz II Men. It was Schoolly D and hardcore rap, however, that first put Philadelphia on the hip hop map. Other performers have achieved considerable national acclaim since Smith, however, especially the Roots, Eve, and John Legend, who attended the University of Pennsylvania and has maintained his ties to the city.
Regards,
George Manney
re:
FREDDIE AND THE DREAMERS:
My first seeing of Freddie & The Dreamers, which was either Shindig, Hullabaloo or Ed Sullivan. was one of the most memorable TV Rock Events when I was a kid! They cracked me up. Freddie was wild & nuts. It was great and I was laughing and having a ball watching him. Never forget it.
I first saw them on The Ed Sullivan Show and remember it clear as day. My Mom LOVED them after that appearance. I cracked up, too, and wondered "Why are they doing jumping jacks when they're singing?!?!?" Certainly made them stand out from the crowd but, as stated before, also contributed to their short-lived career once the novelty wore off. Too bad because they were a very talented group ... but ALL of their hits came in the short span of one year ... and then they were gone. (And how about Freddie's ridiculous ... yet infectious ... laugh?!?!?) kk
I always appreciated their fine cover of "I Understand". Virtually no airplay in the USA but more well-known in Canada.
Yes, we've featured this one before, too ... another one of their five chart records from 1965. ("I Understand" reached #36 here in The States, #13 in Canada, and #5 in the UK. (kk)
re:
SUKIYAKI:
So I just found this on youtube and discovered just why the 45 is so pricey ... it's a "northern soul" record when you are listening to the 45 version which is a completely different version than the stereo mix I sent you ...
http://www.youtube.com/watch?v=OoCdxV-2h9I
(and it's not the only song of his that sounds completely different between 45 and lp versions!)
Wow ... that's about as different as can be! I really prefer the one you sent in earlier ... actually, I think Jewel Akens did a very nice rendition of this song! (kk)
re:
SOUND ADVICE:
Thanks for featuring "Next Plane to London" last week. I saw their guitarist John Noreen last night and stopped to talk with him for a few. He hasn't seen or heard from lead singer Diana DeRose since '68, though the other band members are friends and do keep in touch.
David Lewis
I like the dynamic new look of the website ... but what happened to my favorite feature, the daily Sound Advice column? I don't see it anywhere on the site. Am I missing something?
We put "Sound Advice" away for awhile. I felt it was taking up WAY too much time to achieve such minimal results. What we'll most likely end up doing is incorporating more of the "Today's Forgotten Hit" concept into our regular postings ... which will help to get us back to where we once belonged in the way of promoting these songs for radio to play. I'm kicking around several ideas right now (including something called "Forgotten Hits Friday's", which would allow us to stock pile several titles for a once-a-week showcase.) Maybe a concept like this would have a better chance of catching on with radio. (The worst part about all of this is the fact that I heard from DOZENS of jocks who LOVED Sound Advice and wanted to incorporate our feature into their programs ... but were told by their stations and/or program directors that they couldn't stray from the pre-determined format or playlist. Too bad ... as such, we'll never really know how well this might have gone over, had it simply been given a chance.) Sadder yet ... this method of "Programming With Blinders On" dooms us to many more years of boring, "same old / same old" radio. (kk)
re:
THE WRECKING CREW:
To all the old-timers and young 'uns too ...
A great read. Get you hands on the book The Wrecking Crew by Kent Hartman.
It's the definitive story of that small group of L.A. studio musicians, including Glen Campbell, Leon Russell and drummer Hal Blaine who became the most in-demand group of guys (and one gal) of all time.
They were in their heyday from the late 50s to the late 60s and worked for legendary producers like Phil Spector, Jan Berry, Snuff Garrett, Jimmy Bowen and Lou Adler among several others. While they made 3 and 4 times union scale for every gig, they were never publicly recognized for their work. In the studio they often replaced a rock group's own musicians to get a much improved sound. Several groups were really pissed but that was the producer's call. Would you believe that, collectively, they played on over 400 records that charted at least Top 100? Just fascinating to read. One or more at a time they played on sessions for everyone from the Beach Boys to Frank Sinatra.
Glen Campbell was the lead guitar player on Sinatra's "Strangers in the Night" and Hal Blaine was the drummer. Bowen produced and at the last minute came up with the "scooby dooby doos" to fill over the song fade. Sinatra hated it but let it go. Just thought I'd share since that's the kind of guy I am. You can thank me later.
I went to a Sinatra recording session in '65 when I was in town with Johnny and Carol Williams but had no idea what I was seeing. This was before Bowen's involvement and I think the song was from the movie or musical "The Solid Gold Cadillac." Must have been Nelson Riddle's band. I just can't recall. Memories the second thing to go you know?
Ted Atkins
PS:
Some of the hits they played on: "Be My Baby", "You've Lost that Lovin' Feelin'", "Good Vibrations" and "Bridge Over Troubled Waters." The list is awesome. Over 90 top 10 records and 35 #1s.
A life-long, non-radio friend of mine, of all people, heard the author of "The Wrecking Crew" interviewed on a radio station in Seattle or somewhere nearby about a month or so ago and, also being a "Child of the Sixties," got the book, read it, thought I'd like it and sent it to me just last week!
I'm a hundred pages in and am finding it just fascinating! Here I was at that time back in the day, a twenty-something rock 'n' roller, on the air, playing those hits every afternoon, telling stories about the artists and their songs, then later on hosting the nationally syndicated weekly "Chuck Buell's Super Gold," and am now just finding out I didn't know half the stuff that was going on!
(I hope my old Program Directors [Atkins, Rook, et all] don't find out that I barely knew diddley-squat! They still think I was a promising young hot shot at the time! )
LOL ... NOBODY knew ... (because nobody was SUPPOSED to know!!!) Fascinating reading ... and Denny Tedesco's film documentary is equally as riveting ...plus you get to see a lot of these musicians and hear some of this great, great music. Be sure to check it out if it's showing anywhere near you ... you will not be disappointed! (kk)
re: DIGGIN'
FORGOTTEN HITS:
Nice,

Kent, love the work.
Fine ... but YOU guys need to bring the pretzels and beer! (kk)
Love you brother, and the column improves weekly, you're an amazing MO-FO!
Thanks, Bill ... "Amazing MO-FO" status is EXACTLY what I've been aiming for!!! (lol) kk
NEXT WEEK IN FORGOTTEN HITS:
Forgotten Hits Remembers Dick Clark ...
Thank you for all your memories ...
We'll be sharing them all week long!