Thought you would enjoy this video of Chuck Berry at the top of his game when he was nearly 33 years old in 1959, and being introduced by Dick Clark. Happy 90th birthday, Chuck Berry (Charles Edward Anderson) ... what an enduring career, an endless catalog of hits, and lasting rock n' roll legacy. Lots of rock n' roll books hitting the market ... we'll be looking for yours!
Tim Kiley
https://youtu.be/kORzqpAbpTY
If there was only time! (lol) Actually, if you took everything I've written since Forgotten Hits kicked off in 1999, I'd probably have a complete set of jumbo encyclopedias by now! (lol)
In addition to celebrating his 90th Birthday, Chuck Berry took advantage of the situation to announce a brand new album coming out after the first of the year.
In a statement announcing its release, Berry said, "

This record is

dedicated to my beloved Toddy [wife of 68 years, Themetta Berry]. My darlin', I'm growing old! I've worked on this record for a long time. Now I can hang up my shoes!"
It is his first album of new material to be released in 38 years! (kk)
You Don't Own Me
Goldie Hawn, Bette Midler and Diane Keaton seem to be having so much fun singing"You Don't Own Me" at the close of "The First Wives Club." It makes me smile, too.
Hil
This song has certainly proven to be a timeless classic. (A somewhat "grunge" version also appeared on the "Dirty Dancing" soundtrack by The Blow Monkeys. And I really liked the Grace version released last year ... a HUGE European Hit ... which shows how contemporary this song can still sound. (kk)
It's really good having the commercial and the movie "Suicide Squad" with Will Smith and, of course, the Grace record. It's amazing to think that a 52 year old song can come back and have three things happening at the same time .... it blows me away, Kent, it blows me away.
(writer of "You Don't Own Me")
Great to hear from you, John ... and you deserve all the success ... it's a GREAT song ... it has ALWAYS been of my all-time favorites ... and it sounds just as fresh today as it did some 53 years ago when Lesley Gore first recorded it. (kk)

Rock And Roll Hall Of Fame Nominees
Rather than go onto the whole list of who should get in and who shouldn't, and why, I say Pearl Jam is probably a sure bet. I have no problem with the Cars or J. Geils. That being said, Yes, ELO, Steppenwolf, Zombies, are all fine bands, but no.
If they had an automatic induction for most airplay, then Journey is a shoo in, but they don't. Who's next? Boston, REO, Kansas, Foreigner, etc?
Kraftwerk maybe, but not Depeche Mode. I don't have a problem with Joe Tex, certainly over Chaka Khan and/or Rufus.
MC5? I think that's a Jann Wenner special. So is Bad Brains, and Jane's Addiction.
Chic is on their 11th nomination. Maybe 13 will be lucky. I hope not.
I can see Joan Baez, and I think there would be a stronger case for her ... if she composed more of her material. I vote no.
No for Janet Jackson, not now, not ever. Same for Tupac.
Between yours and everyone else, this should be worth a week or two of FH posts.
Jack
There was a time when the simple announcement of new nominees would trigger a couple of hundred responses and fill this column ... but what I have noticed over the past several years is that the longer and longer this goes on, the less and less people care. SO many great artists have been overlooked for SO long, that getting in simply doesn't mean as much anymore.
Honestly, I'm pleased with a lot of this year's list ... I can justify most of it ... even artists like Pearl Jam and Tupac who most certainly will get in on their very first ballot. Like 'em or not, at least they continued to develop the rock genre in some fashion. And I've campaigned for ELO, The Cars, The Zombies and Yes for years so I'm glad to see them get a shot. (Nothing against Steppenwolf ... hey, I bought all the hits ... but what exactly did THEY do to boost the rock and roll art form? I kinda feel the same way about The J. Geils Band ... were they good? Yes. Were they huge in Boston? Yes. But I just don't see the overall significance. In hindsight, they'll be best remembered for "Centerfold" ... which was a big hit and a damn catchy tune ... but that doesn't mean Rupert Holmes should get in either!!!) On the other hand, I think Joan Baez does belong because at least she made a credible impact.
Depeche Mode? Kraftwerk? Jane's Addiction? Never really my cup of tea ... and the nomination of Bad Brains simply means that once again somebody truly deserving doesn't get their shot ... a wasted space on the ballot that could have gone to somebody like The Guess Who or The Moody Blues or Blood, Sweat and Tears. (kk)
It looks like it was a year for reflection by the nomination committee at the Rock and Roll Hall of Fame.
First, they made room for nineteen nominees as compared to the regular fifteen, giving even more artists hope for induction.
Second, they definitely focused on artists that have been waiting for some time to join the ranks of the hall. Of the nineteen nominees, only three have been eligible for ten years or less while one could have been elected for over 30 years and eight for more than twenty years.
T
Two artists have been nominated in their first year of eligibility,
Pearl Jam
and
Tupac Shakur
while
Jane's Addiction
sees its first nomination after five years of eligibility.
At the other end of the scale is folk great
Joan Baez
who could have been inducted as far back as the very first ceremony in 1986; however, this is the first time she is being considered.
Other first time nominees are
Bad Brains
,
Depeche Mode
,
the
Electric Light Orchestra
,
Journey
and
Steppenwolf
along with the previously mentioned Pearl Jam, Tupac Shakur and Jane's Addiction.
Probably the biggest surprise is the nomination of the hard to categorize Bad Brains. While most consider them one of the first hardcore punk bands, they also have played a wide variety of other genres. Still, two of the main tenants for being considered is pioneering of a genre and influence on future artists and Bad Brains fits the bill.
Then there is
Chic
. In our article yesterday on who should be nominated, we said that Chic may never get in and that the Hall would be better considering Nile Rodgers for a producers special induction, but here they are again for the eleventh time in fifteen years of eligibility.
-- Roger Wink / Vintage Vinyl News
Hi Kent,
Here's my take on this year's nominees:
Bad Brains – I'm sure most music fans are saying WTF! However this hardcore punk/reggae band is very influential in certain circles. However, not enough name recognition to make it in.
Joan Baez – Certainly not Rock & Roll, but this is the type of candidate that the Hall loves. Besides, if her ex-beau can win a Nobel Prize, then surely she can get into the R&R Hall of Fame!
The Cars – I thought they'd make it last year. I think they deserve to be in.
Chic – This is their eleventh time on the ballot…enough already!
Depeche Mode – Very influential in a very narrow genre. Doubt they get in.
ELO – Can't believe they haven't been nominated before as Jeff Lynne is very well-liked in the biz. No-brainer induction for me.
J. Geils Band – A personal favorite, I'd vote for them. But, this is their fourth time on the ballot and I doubt they make it.
Janet Jackson – A tough call here. She's not Rock & Roll, but she had a HUGE string of hits and probably should be in.
Jane's Addiction – A critic's darling and I like a few of their songs. Just not Hall of Fame worthy.
Journey – This is exactly the type of band that never even gets nominated. However, they are still very popular with the general public and I bet they win the fan balloting. I think they'll make it, just to help boost interest amongst the casual music fans.
Chaka Khan – I think she's worthy, but she didn't get in with Rufus in 2012 and didn't make it as a solo last year, so I say no again this year.
Kraftwerk – See Depeche Mode.
MC5 – Pioneering punk-rockers, but not enough material to get in the Hall of Fame.
Pearl Jam – A popular and critical favorite. The absolute stone cold lock of this year's class.
Tupac Shakur – A very interesting case here. Most critics would want him in. However, with Public Enemy making it last year, I'll be mildly surprised if another rap artist makes it this year.
Steppenwolf – I love a lot of their singles, but just don't quite seem worthy overall.
Joe Tex – Another personal favorite that I would vote for in a heartbeat. But this is his fifth nomination and I don't know why he'd all of sudden get in.
Yes – No.
The Zombies – Like Steppenwolf, some great songs (and they are still touring!), but not enough of an overall impact in my book.
If I had to guess which artists actually make it, I'd go with: Joan Baez, The Cars, ELO, Janet Jackson, Journey, Pearl Jam and (maybe) Tupac.
My five "fan" votes went to The Cars, ELO, J. Geils Band, Journey and Joe Tex.
It's funny ... I've probably heard more about Journey's nomination than any other ... as if The Rock And Roll Hall Of Fame Nominating Committee has sold out by even considering them for induction. (What ... you're ok with Bad Brains, an artist virtually NOBODY has ever heard of but you have a problem with Journey?!?!?)
I disagree ... in fact, I think a Journey nomination may finally open the door for some other Deserving and Denied, long-overlooked classic rock acts like The Doobie Brothers, Foreigner, REO Speedwagon (why not ... Cheap Trick got inducted last year ... and how about Styx for that matter!!!), Pat Benatar (Joan Jett gets in and Pat Benatar doesn't even get nominated?!?! What's wrong with THIS picture?!?!?), Grand Funk Railroad, Jethro Tull, Joe Cocker, Todd Rundgren and the aforementioned Blood, Sweat And Tears.
I still can't get past the fact that The Guess Who and The Moody Blues haven't made the ballot yet. (kk)
Another weak class of nominees except for a few. Bad Brains, Tupac, Chic, Janet Jackson, Depeche Mode might get in before Paul Revere & The Raiders!!!! What a comical mess. Do these geniuses even know what a Rock n Roll Record is? Yucccchhhh!! Go Zombies!

Chad and Jeremy
Due to late night work commitments, I wasn't able to catch the Chad and Jeremy show last night at Space in Evanston. (If any of our readers were there, we would love to hear from you!)
I really wanted to go to this show as it was likely my last chance to ever see them.
Gary Theroux sent me these clips from his History Of Rock And Roll series ... available for broadcasting now through the link below ...
Here are two Chad and Jeremy episodes from the award-winning 2 1/2 minute daily radio feature THE HISTORY OF ROCK 'N' ROLL. Stations interested in running the series should send an inquiry email to poprecordresearch@earthlink.net.
My Mom was a big Chad and Jeremy fan and, as such, we heard a lot of their music growing up in our house. (In fact, I heard THEIR version of "From A Window", one of the songs Lennon and McCartney gave away ... to Billy J. Kramer, in fact! ... before I heard Billy's version.) And, of course, I loved them on The Dick Van Dyke Show, where they appeared as The Redcoats.
Looking at Shelley's review, they didn't do one of my favorite Chad and Jeremy tunes, "I Don't Wanna Lose You Baby", a #33 hit for the duo in 1965 after their move to Columbia Records.
In all, Chad and Jeremy hit The National Top 40 Charts a total of seven times ... "Yesterday's Gone" (#21, 1964 ... it should have been MUCH bigger than it was but The Overlanders released a competing version, which is also quite good); "A Summer Song" (#6, 1964 ... and one of your all-time summer favorites); "Willow Weep For Me" (#15, 1964); "If I Loved You" (#17, 1965); "Before And After" (#15, 1965); "I Don't Wanna Lose You Baby" (#33, 1965) and "Distant Shores" (#30, 1966). kk

On The Radio
Hiya ... Kent ...
I am doing sidekick / announcing / directing for the new "The Late Joey Reynolds Show" on the legendary 77 WABC AM Radio in NYC. The show is live every Sunday night at 9 PM Eastern.
So far, we have had Lou Christie, Tony Danza, comic treasure Pat Cooper and more as guests. We are hoping to have Frankie Valli on the show this Sunday, as he is doing a string of shows on Broadway as we speak.
Remember, Frankie and the 4 Seasons did the Joey Reynolds theme even before they did Cousin Bruce's theme. We may be syndicated nationwide soon ... I am very excited as we are doing a true variety show on the RADIO. It's been a while for a little "this and that" on a talk show. It also gets me back in the saddle again after I left WCBS- FM back in January. Their loss ... but it is so cool to be able to say 77 WABC on the air.
Your column is still one of the most informative in the genre you choose to write about.
Be BIG
Big Jay Sorensen
Great news, Jay ... happy to let folks know when and where to tune in and listen! Keep us posted if this syndication thing takes off. Best of luck to you. (kk)
Speaking of WABC, we recently received this "ballot" from FH Reader Frank B ... Rewound Radio is putting together their latest countdown of listener favorites ... more details here ...
You can vote for just one song ... or up to ten songs.
Frank B.
And, speaking of radio ...
I really miss Jim Shea and Jeff James from Y103.9 ... it's like I'm running on fumes in terms of listening to my collection of Y103.9 airchecks - ha!
Those guys made that station great, which makes it so enjoyable to hear that stuff again.
I love MeTV and Rick O'Dell, but my biggest complaint is the lack of a live person on-air. At times it feels "lonely".
In talking with Rick, I know the plan is to put together some type of live, on-air talent, once they get the advertising budget up to where it needs to be to support such a venture. We've even discussed some "specialty programming" for the station along the lines of some of the "themed" features we run so regularly here in Forgotten Hits. Meanwhile, it's great to be able to listen to all that timeless and memorable music back on the radio again, squeezed in between all those obscure Gordon Lightfoot and Joni Mitchell album tracks that nobody could possibly care any less about! (Truth in advertising, people ... trust me ... it means something!!!) kk
Joel Whitburn and Record Research have updated their R&B Hit Singles Book with a brand new edition ... and you can save $15 if you pre-order now. All of the details are shown below.
---
AL
L
-
NEW
Top R&B Singles 1942-2016
$15 Off

with promo code:
RUTHBROWN
---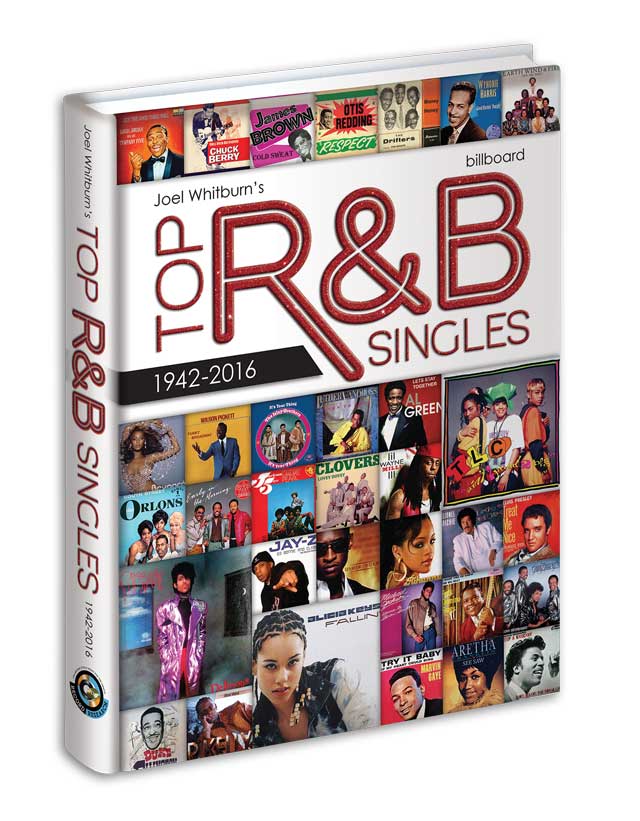 Kent,
And, it now shows the writer of every song!

Get $15 off through October 31, 2016, with promo code: RUTHBROWN
Top R&B Singles 1942-2016 will print in late February of 2017, and will be $79.95. Order today with RUTHBROWN promo. code and get it for only $64.95!
75 Years

5,500+ Artists

23,500+ Songs
It takes one big book to house a huge history that spans from Wyonie Harris, Kim Weston and The Five Keys to Alicia Keys, Kanye West and Clifford Harris (aka T.I.). This 7th edition of our essential reference (formerly known as Hot R&B Songs) contains every artist and song that ever appeared on Billboard magazine's R&B singles chart, from its first "Harlem Hit Parade" chart of October 24, 1942, right through the "Hot R&B/Hip-Hop Songs" chart of August 27, 2016. And it now includes SONGWRITERS, #1 RAP HITS and more in a larger 8.5" x 11" format.
Check out these major, NEW FEATURES below:

►

SONGWRITER(S) shown for every title!
O

ur first R&B book to show you who wrote every song on the R&B charts
►

24-HIT CLUB
Clover symbol

indicates artists with at least 24 charted hits





►

#1 RAP HITS


R&B hits that hit #1 on "Hot Rap Songs" chart + total weeks at #1 indicated





►

FEATURED ARTISTS
Appear

below artist's bio with number of hits on which guest artist appears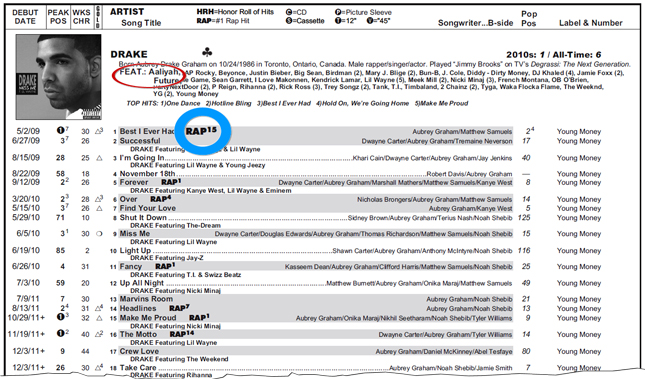 actual page size: 8.5" x 11"

► LARGER PAGE SIZE and upgraded layout and font make our facts and stats easier-to-read with new symbols that pop off the page.
► ​

NEW R&B HONOR ROLL OF HITS list of the most-honored R&B hits by critics and music industry professionals such as the Grammy Hall of Fame, the Rock &

Roll Hall of Fame, and other significant rankings.

► UPDATED BIOS with vital information - group members, birth dates/places, rapper's real names, and death dates for the many artists who passed since the 6th edition.
This special offer for our email subscribers ends October 31, 2016! So get $15 off the regular price when you use promo code RUTHBROWN

























































































































Brian Wilson
Brian Wilson has added some more "Pet Sound" dates to his current tour, now extending well in the Spring of next year. (In between, we've been told to expect a brand new album from Brian as well!)
If you still haven't seen it, check out these dates to see if Brian and his incredible band are coming out your way anytime soon ...
10/28 - London, UK - Royal Albert Hall

10/30 - Paris, FR - Salle Pleyel

11/03 - Dubai, UAE - Dubai Tennis Stadium

11/06 - Oslo, NO - Spektrum

11/07 - Malmo, SW - Malmo Live

12/01 - Monterey, MEX - Auditorio Pabellon M

12/03 - Acapulco, MEX - Tropico Festival

03/27 - Orlando, FL - Dr. Phillips Center for the Performing Arts

03/29 - New Orleans, LA - Saenger Theater

03/31 - Durant, OK - Choctaw Casino

04/01 - Mayetta, KS - Prairie Band Casino

04/02 - Park City, KS - Hartman Arena

04/04 - Fort Collins, CO - Lincoln Center

04/06 - Boise, ID - BSU – Morrison Center for the Perf. Arts

04/09 - Seattle, WA - Paramount Theatre

04/17 - Sioux City, IA - Orpheum Theatre

04/18 - Des Moines, IA - Civic Center

04/19 - Milwaukee, WI - Riverside Theater

04/21 - Columbus, OH - Palace Theatre of Columbus

04/22 - Northfield, OH - Hard Rock Live

04/23 - Indianapolis, IN - Murat Theatre at Old National Centre

04/25 - Hershey, PA - Hershey Theatre

04/26 - Albany, NY - Palace Theatre

04/28 - Newark, NJ - New Jersey P.A.C.

04/29 - Boston, MA - Lynn Auditorium

04/30 - Worcester, MA - Hanover Theatre

05/02 - Wilkes Barre, PA - FM Kirby Center

05/03 - Washington, DC - Lincoln Theatre

05/06 - Knoxville, TN - Tennessee Theatre

05/07 - Chattanooga, TN - Tivoli Theatre

05/09 - Birmingham, AL - BJCC Concert Hall

05/12 - Houston, TX - Revention Music Center

05/13 - Austin, TX - ACL Live at The Moody Theater

05/16 - Tulsa, OK - Brady Theatre

05/18 - Albuquerque, NM - Kiva Auditorium

05/19 - Tucson, AZ - Centennial Hall @ U of AZ

05/20 - Laughlin, NV - Harrah's Laughlin – Rio Vista

05/22 - Phoenix, AZ - Celebrity Theatre

05/24 - San Diego, CA - San Diego Civic Theatre

05/26 - Los Angeles, CA - Pantages Theatre

05/28 - Santa Barbara, CA - Santa Barbara Bowl
Here's another plug for the new "Pet Sounds" DVD release.
We had the chance to view this the week before it was released and it's a GREAT piece of work. LOTS of new video and commentary on this classic album. Order your copy today. (Here's the scoop!):
ONE OF THE MOST SIGNIFICANT ALBUMS OF ALL TIME EXAMINED
CLASSIC ALBUMS - PET SOUNDS
COMMEMORATING THE ALBUM'S 50TH ANNIVERSARY
VIA EAGLE ROCK ENTERTAINMENT ON DVD AND BLU-RAY
Groundbreaking and ahead of its time, Pet Sounds -- the 11th album by The Beach Boys -- was a pioneering feat in production, sound, and songwriting...a work that continues to inspire musicians and fans to this day.
Don't miss this incredible
behind-the-scenes look at its creation with the release of Classic Albums – Pet Sounds, the latest addition to the acclaimed & award-winning Classic Albums series, presented by Eagle Rock Entertainment. Available on both DVD and Blu-ray, [MSRP $21.98 Blu-ray, $15.98 DVD] this film tells the story behind the making of Pet Sounds, which celebrates its 50th anniversary this year.
The DVD / Blu-ray features over 30 minutes of additional interviews not included in the broadcast version, and clocks in at over one and half fascinating hours. Classic Albums – Pet Sounds features cuts from many of the iconic Pet Sounds album tracks including "God Only Knows," "Wouldn't It Be Nice," "Sloop John B," "I Know There's An Answer," "Let's Go Away For A While," and "I Just Wasn't Made For These Times."
Pet Sounds was recorded in late 1965 and early 1966 about a year after Brian Wilson had withdrawn from playing live with The Beach Boys in order to concentrate on composing and studio work. While the rest of the band were out on tour, Brian Wilson worked in the studio creating multi-layered compositions with painstaking attention to detail utilizing orchestration, sound effects and unusual instruments. When the band returned from tour, they went into the studio to add their trademark complex vocal harmonies. The new direction of the music caused some consternation within the group. The program explores the band's relationship at this time as well as the creation of the music through interviews with all the surviving Beach Boys and others involved in the creation of the album.
The US press didn't know what to make of the album at first, although it later became acknowledged as both important and influential. Contrarily, the album was immediately acclaimed and commercially successful in the UK, peaking at No.2 in the albums chart and remaining in the Top 10 for 6 months.
Pet Sounds is now universally regarded as one of the finest albums of the sixties and thoroughly merits its place in the Classic Albums series.
Click here to view trailer:

Freddy Cannon
The folks at Me TV have enjoyed such a overwhelmingly positive response to the tune Freddy "Boom Boom" Cannon wrote and performed for the Svengoolie horror movie show, they will be playing the music video this Saturday night from 10 pm - midnight (east coast time), during one of the breaks in the movie. It's called the "Svengoolie Stomp." Some Oldies stations will be playing it in a Halloween rotation next week.
There's been talk of approaching promoter Ron Onesti to present a show with Freddy and another act or two from that era, and bring out Svengoolie to sing the "Svengoolie Stomp" with Freddy. Svengoolie says he could have his arm twisted to duet with Freddy on the Arcada Theatre stage! It could be filmed for his TV show.
This week Bowzer (Jon Bauman) of Sha Na Na fame announced another of his annual rock and roll shows at the Mohegan Sun Arena in CT. It will be at 3 pm on Sunday, January 15th. Tickets go on sale Friday morning through Ticketmaster.
Jay Black ("Cara Mia;" "Come A Little Bit Closer;" "This Magic Moment")
Lou Christie ("Lightning Strikes;" "Two Faces Have I;" "The Gypsy Cried")
The Flamingos ("I Only Have Eyes For You;" "Lovers Never Say Goodbye")
Jay Siegel's Tokens ("The Lion Sleeps Tonight;" "Tonight I Fell In Love;" "Portrait Of My Love")
Freddy "Boom Boom" Cannon ("Palisades Park;" "Tallahassee Lassie;" "Where The Action Is")
Lala Brooks, original lead singer of The Crystals ("Da Doo Ron Ron;" "And Then He Kissed Me;" "Uptown")
The Capris ("There's A Moon Out Tonight;" "Morse Code Of Love")
Bowzer & The Stingrays
With special guests: The Original Comets ("Rock Around The Clock;" "Shake, Rattle & Roll;""See You Later, Alligator")
Recently Michael Harrison, Publisher of Talkers Magazine did an in-depth podcast interview with Freddy. Here's the link.
http://www.podcastone.com/pg/jsp/program/episode.jsp?programID=738&pid=1674263
-- Tom Cuddy
I've been trying to get Ron to book Freddy at The Arcada for YEARS now ... it'd be great if this new Svengoolie fad makes this finally happen.
Would love to get Jay Black there, too ... he's had Jay and the Americans a couple of times now ... but I think Jay Black would pack the place.
In fact a show featuring Freddy, Jay Black and Lou Christie would be AWESOME!!!
(Maybe today's posting will act as a friendly nudge-nudge reminder!) kk

This And That
Hi Kent,
I know you are a busy man (sometimes I think you must have a staff! ha ha) but didn't someone win a Nobel Prize recently ? Maybe I missed it ... I've been busy, too.
Funny, I just saw on the news that the Nobel Committee is having trouble locating him to give him his prize ha ha
Certainly he had a great influence on all us Baby Boomers and then some.
Got nervous reviewing the "Hey" Sweet 16 since Steam was at the end.
It reveals the industry's abandonment of our Rock 'N Roll when very little if anything at all is done to honor "The Joker" of Rock 'N Roll, Chuck Berry. Cripes, they could have at least shown Back To The Future! ha ha
Perhaps your readers would appreciate Steve Goodman's "A Dying Cub's Fans Last Request", what with the Cubbies still having a life.
I guess I figured that if Bob Dylan didn't want to talk about it, why should I??? (lol) Incredible that he's made himself "unavailable" and unreachable. I would have thought he'd find this to be quite an honor (but then again I'm still waiting for someone to name their driveway after me!!!)
From FH Reader Frank B ... Phil Chess, cofounder of the legendary Chess Records label here in Chicago, has died ...
http://chicago.suntimes.com/news/phil-chess-legendary-founder-of-chess-records-dies-at-95/
Enjoyed your "Day Of Hey"!
Here's one I played on my radio show back in 80's by Original Symptoms (later better known as the Morrells). It's called, simply, "HEY"
And another one that we forgot ...
Thanks for posting the video of Jim Peterik and the Little Kids Rock ... this was an amazing clip!!! Great stuff!!!
VERRRY cool indeed! Does this mean the Ides will be expanding? Ha!
Lol!!! Maybe!
Keep Rocking!
I am trying to find anyone who remembers a soda jingle on tv I believe by RC cola.
We're kola nuts, we're kola nuts, we come from a kola tree.
So if you want real kola flavor, drink diet rite, its sugar free.
Also in the commercial a bunch of kola nuts fall from a kola tree and start running down the street singing the song.
Doesn't ring a bell with me but as you've seen, we've got a WHOLE lotta commerical nuts out there ... so maybe a few kola nuts, too! Stay tuned. (kk)
Check out this line-up!
The Rock Pack Feat. Fee Waybill, Gregg Rolie,
Lou Gramm, Robin Zander,
Steve Augeri & John Payne
Rock legends unite!!! Some of the most iconic performers of our time have come together to form The Rock Pack!
The incredible lineup features:
Fee Waybill lead singer of THE TUBES
Gregg Rollie original lead singer of SANTANA
Lou Gramm the original voice of FOREIGNER
Robin Zander lead singer of CHEAP TRICK
Steve Augeri former lead vocalist of JOURNEY
John Payne former lead vocalist of ASIA
"I decided to create a unique concert concept that was start to finish full of monster hits by iconic vocalists," explains John Payne, The Rock Pack creator.
Huge screens adorn the stage and the set contains an area where each singer briefly talks about their career before launching into some of their most revered songs. Classics such as I Wanna Know What Love Is (with a gospel choir), I Want You to Want Me, Don't Stop Believing, Heat of the Moment, She's A Beauty, Black Magic Woman and many more will be performed.
Payne continues, "I wanted the Classic Rock fans of Phoenix to enjoy the hit songs of some of our most iconic bands and if you like Foreigner, Journey, Cheap Trick, Asia, Santana and The Tubes then COMERICA THEATRE on Friday 16th of December is the place to be."
The Rock Pack Concert
at Comerica Theatre Phoenix
Friday the 16th of December 2016
On Friday December 16th The Rock Pack hits town. Prepare for an extraordinary unprecedented concert at Phoenix's beautiful Comerica Theatre. Iconic Singers will perform Iconic Songs in a two hour hit laden Classic Rock extravaganza.
All ages show starts at 8pm with doors at 7pm
Tickets available at Ticketmaster.com and Comerica Theatre Box Office 1-800-745-3000
DEE DEE SHARP'S LANDMARK SONGS OF FAITH ALBUM AVAILABLE AGAIN FOR THE FIRST TIME IN 54 YEARS ~
"Truthfully, I have longed for this album to come out again" - Dee Dee Sharp
In the early 1960's, before the advent of the Beatles and the "British Invasion" that ensued in their wake, the US pop charts were dominated by Philadelphia's Cameo/Parkway label. The independent company scored hit after hit with releases by Chubby Checker, Bobby Rydell, The Orlons, The Dovells and others. In early 1962, Chubby Checker recorded "Slow Twistin'" and was paired with Dee Dee Sharp, an up and coming 17 year old female vocalist who had attended Overbrook High School with members of the Orlons and Dovells.
Producers Kal Mann and Dave Appell sensed a special talent in the young woman and invited her to come back to the studio to record on her own. Very shortly, thereafter, -- a matter of mere hours – she returned to record "Mashed Potato Time," the song would go as far as #2 on the pop chart and all the way to #1 on the R&B chart. Dee Dee Sharp was off and running and followed up that initial hit with a string of dance-themed releases including "Gravy (For My Mashed Potatoes)," "Ride!" and "Do The Bird." While Dee Dee had a constant presence on the pop and R&B charts back then, her true talent transcended the dance/novelty material with which she had so much success.
Like so many young black artists, she had grounding in gospel music having sung in her grandfather's church and with Philadelphia's All-City Choir. Early in life, she was mentored by Willa Ward, sister of gospel great Clara Ward. Mann and Appell were well aware of the breadth of her talent in this regard and arranged for her to record an entire album of inspirational not, strictly speaking, gospel music, backed most lushly, by a full studio orchestra of more than 20 pieces. The team travelled from Philadelphia to New York's Capitol Studios where, over the course of just two days in August 1962, Songs of Faith was recorded at that state of the art facility, completely live with no overdubbing. Backing vocals were provided by "The Cameos," including the aforementioned Willa Ward, who had, most famously backed up Bobby Rydell on "Swingin' School" ("Oh, Bobby, oh..") and numerous other recording for the label. The album had been out of print and will now be available once again as ABKCO Records has set October 21 as the date for the album's reissue both on CD and in digital formats.
Dee Dee Sharp still attends Philadelphia's Third Eternal Baptist Church where Eubie Gilbert, her grandfather, served as pastor when she was a child and vividly recollects the Songs of Faith sessions. "Most of these were done in one or just a few takes. I love singing with live orchestras and I'd been singing most of these songs for my whole life so it was easy." She continued, "Singing gospel has always been my heart's desire and while this album isn't 'gut gospel,' I love these songs. I sang 'Climb Every Mountain' at my Junior High School graduation from Thomas Fitzsimons Junior High and my grandfather was there. I remember him in the audience just beaming.'
The album's twelve selections ran the gamut from early gospel hymns (Thomas A. Dorsey's "Peace In The Valley") and spirituals ("He Got The Whole World In His Hand) to country-pop ("Vaya Con Dios) to Broadway-sourced material ("Climb Every Mountain" is from The Sound of Music). The new edition includes insightful liner notes by Gayle Wald, Professor of English and American Studies at George Washington University and author of Shout, Sister, Shout!: The Untold Story of Rock–and-Roll Trailblazer Sister Rosetta Tharpe.
Though not a commercial success when first released, this long lost musical treasure trove from Dee Dee Sharp stands the test of time. She is more than delighted it is again available. She confides, "Truthfully, I have longed for this album to come out again, it's been something of a secret desire of mine. It's a blessing. This is the kind of music I feel the happiest doing."
Songs of Faith track listing
3.

He's Got The Whole World In His Hands
6.

You'll Never Walk Alone
7.

It Is No Secret (What God Can Do)
12.

I'll Make You Mine
And finally, check this out ...
After watching "The First Wives Club" video of "You Don't Own Me" sent in by long-time FH Reader Hil, I also found the three stars reuniting as Oscar presenters in 1997. Check out the songs nominated in this category. Lately, we're lucky to have one good song make the cut ... but back then this was an AMAZING list of hit movie music. (In fact, probably the least worthy candidate ended up going home with the award!) kk