Of course today (finally!) is the big day ... so a LOT of your comments this past week have been somewhat Beatles-centric ... but we'll squeeze a few other British Invasion tidbits in here as well!
re: The Beatles ... and The Night That Changed America:
Thanks for the heads-up on the schedule change for the CBS special ... I don't think my DVR would have recorded the whole thing.
That's right, folks ... don't forget ... they've changed the run-time on tonight's Beatles special to two and a half hours ... so you'll need to reprogram your DVR (or other recording device) in order to catch the whole show. (What a shame it would be to chop off the last 30 minutes ... that's going to be the highlight of the show, featuring the reunion of Paul and Ringo on stage performing Beatles hits together for the first time in decades!) kk
Speaking of which, look what CBS did to The Ed Sullivan Theater in honor of the momentous event!
Kent,
I thought FH Readers would like this photo from New York City, not from 50 years ago, but taken last night! My son, Blake Joblin, took the photo as we were walking down Broadway to The Iridium club. We passed The Ed Sullivan Theater and the marquee was a trip in time. Imagine standing in this exact same spot 50 years ago!
Brad Joblin
Ridgefield, CT
I can't even imagine how cool it would be to be walking through New York City ... in February of 2014 ... and coming across this incredible marquee! Awesome, Brad ... thanks for sharing!
Now compare this photo from the CBS archives to what I sent you. I had to check twice to make sure this one was really from 1964, as the marquee is identical to what they put up the other day.
Some GREAT vintage shots of that memorable day ... it is SO cool to see the entire country getting wrapped up in this 50 year celebration. Think about it ... what other events that we have shared in our lifetimes have had this kind of long-lasting impact ... that can still strike a nerve all these years later ... and yet take you back to that exact moment in time? The Beatles on Ed Sullivan ... The Kennedy Assassination ... and The World Trade Center ... Man's First Walk On The Moon (?) How cool is it that a MAJOR musical event makes such a short and exclusive list! (kk)
The 2014 "Yesterday and Today" Capitol CD does not have the unique stereo mixes of "I'm Only Sleeping" and "Dr. Robert" found on the original vinyl album. That's the reason I wanted this CD. Very disappointing ... and not really the "Capitol" version after all.
I've got to totally agree with you there ... a MAJOR disappointment was not finding the two drastically different mixes between the mono and stereo versions of this LP. (You'll hear them on the British Mono and Stereo compilations ... why not here???) I was impressed that the reissued "Rubber Soul" CD included the false-start "I'm Looking Through You" just like my original vinyl album did ... but apparently THAT was a mistake rather than a bit of brilliant marketing. I do like the idea of the two different covers, however ... especially the fact that one is a "paste over". (kk)
Hi Kent -
Thanks so much for the information on the Beatles Special coming up February 9th!
My favorite Beatles Album was "Rubber Soul".
What were their three top albums? When in doubt ask the master ...
Well, the three biggest sellers (based strictly on number of units

sold)

were The White Album (part of that is most likely due to the fact that it was a 2-LP set), "Abbey Road" and "Sgt. Pepper" ... but if you're talking chart statistics rather than sales, "Sgt. Pepper" would be #1, as it topped Billboard's Album Chart for fifteen weeks, followed by "A Hard Day's Night" (14 weeks at #1) and then a tie between "Meet The Beatles" and "Abbey Road", both of which spent eleven weeks at #1. (By the way, your favorite, "Rubber Soul" spent six weeks at #1 ... and sold about six million copies.) kk
Yesterday Dan Taylor broadcast live at the Plaza -- where the Beatles stayed 50 years ago. He talked to Larry Kane, Berry Gordy,Jr. Also Cousin Brucie and Harry Harrison, two DJ's who were at WCBS-FM 50 years ago, to talk about the Beatles.
Berry Gordy, Jr. recalled that 50 years ago Brian Epstein, the Beatles' manager, called him. He wanted to buy three songs at a discount price. Berry says no. Brian told Berry, you've got till noon to call me back and make the deal. Two minutes till noon, Berry calls and makes the deal. Lucky he did. It turns out the albums were already in stores.
Cousin Brucie remembered 50 years ago. A copy of "I Want To Hold Your Hand" was delivered to him by armed guards. He had to sign a release, promising not to play it before 8:40 PM. Of course he played it at 8:30 PM. Never trust a DJ.
Tonight, 6:00 PM on WCBS-FM -- Top 30 Beatles Songs.
The other day in Forgotten Hits someone mentioned Bill O'Reilly and music.
I watched him the other night. He had Ted Nugent on as a guest. Of course, everybody wants to talk about the Beatles.
Ted had a Paul McCartney story.
Going back 50 years ago, Paul was in Detroit (Ted's hometown). He was asked how he feels about Ted Nugent. Paul said some bad things to say about Ted.
They asked Ted how he felt about Paul. He didn't strike back. He wanted to thank Paul for all his great music. The real problem was that Ted was and still is into guns and hunting. Paul is a Vegan. (Vegan ... sounds like something from Star Trek.
I guess Sir Paul wasn't always the nice guy he is today.
Frank B.
Ted Nugent did an excellent cover of the George Harrison song "I Want To Tell You" ... I guess the whole vegatarian thing makes perfect sense.
Ron Onesti planned an all-day Beatles event at The Arcada Theatre today, too, featuring Beatles tribute bands capped off by watching tonight's CBS Television Special on his 40' (yes, 40 FOOT!!!) giant movie screen. It's like the whole world forgot their worries, cares and woes for the weekend ... and instead are celebrating the music and the memories of this very special moment. It just doesn't get any cooler than that! (kk)
In the entertainment section of today's newspaper there is a lengthy column about the Beatles first appearance on the Ed Sullivan show fifty years ago today.
The former owner-general manager of the CBS affiliate here in OKC said the possibility was that the Ed Sullivan show might not have been shown.
He said that back then, some television stations were considered or called a "must buy" station as far as advertising. Oklahoma City was considered to be a station just the opposite. He said that Lincoln - Mercury automobile
generally sponsored Ed Sullivan in those days and if they didn't want to buy into the Oklahoma City market, they didn't have to. Hence, the CBS affiliate here in OKC wouldn't get any network revenue from it.
Channel 9 (the CBS affiliate running Ed Sullivan) had rights to movies from the MGM, 20th Century Fox and Universal studios film library. They could have shown a movie instead.
To make up for the loss of network revenue, the station sold advertising spots around the Ed Sullivan show which was the most popular variety series on television at the time.
So, apparently some fifty years ago, the possibility existed that here locally in OKC the historic (didn't know it then) show of Ed Sullivan with the Beatles could have been pre-empted.
Author addresses the sociological impact of The Beatles on their fans and the world
"Beatleness: How the Beatles and Their Fans Remade the World" by Candice Leonard, PhD, will offer a new understanding of the Beatles' place in American history.
Candice "Candy" Leonard is a first-generation Beatle fan with a PhD in Sociology.

So not only does she still carry the Beatles in her heart, but she can explain what she calls the 'joyful trauma' experienced by millions of other Fab Four fans in her forthcoming book, Beatleness: How the Beatles and Their Fans Remade the World.
Beatleness tells how the Beatles' constant presence throughout 1960s transformed the childhood and adolescence of millions of American kids and how, through these kids, the Beatles "changed everything."

Based on hundreds of hours of in-depth fan interviews, the book offers a thoroughly fresh approach to the Beatles' impact on the fans and the culture, and explains the unique feeling of connection first-generation fans still feel toward the band.
Candy Leonard received her BA in Communications from Queens College, MA in Developmental Psychology from Teachers College, Columbia, and PhD from University of NH.

She has taught sociology, psychology, and mass communications at the college level.
Candy Leonard will be participating in the Women Beatles Historians panel at the Fest for Beatles Fans in New York City, Saturday, February 8 at 12:30 pm.

The discussion will center on the Beatles' legacy, past, present and future.
Candy is currently scheduling interviews to discuss her book and her unique take on the social impact of Beatlemania.
"Beatleness: How the Beatles and Their Fans Remade the World" will be published by Skyhorse/Arcade Publishing and will be released in August.

It can be pre-ordered at Amazon.com.

For more information, go to: http://www.beatleness.com.
I had to work a ten hour shift on Saturday, the only high point of which was being able to listen to The True Oldies Channel while I was there, alone in the office. As such, I am happy to report that Scott Shannon is doing a GREAT job of celebrating the 50th Anniversary of The Beatles' appearance on The Ed Sullivan Show this weekend. Referring to it also as "The Launch of The British Invasion", Shannon has programmed about three Beatles songs per hour ... all the hits and best-known, landmark album tracks ... along with a ton of other music by the British acts that rode the tidal wave when their music invaded our shores (and took over the charts, dominating the music scene for the next couple of years.)
The only disappointment was the fact that Shannon himself wasn't there at the microphone ... as I believe he would have liked to have been ... and SHOULD have been.
In a surprise announcement on Friday, Scott stepped down from his role as co-anchor of his 22 year radio show in New York on WPLJ. (We'll have more on this story tomorrow in our Monday Radio Feature). Maybe there was just too going on personally at the time for him to record this very special Beatlemania radio tribute ... but I, for one, truly missed him. There aren't many left on the air today who can measure up to Scott's sheer talent ... and genuine appreciation of this music.
Thursday, February 6, 2014, beg

a

ns "NYC FAB 50: Celebrating The Music of The Beatles," and SIR GEORGE MARTIN provided an exclusive message t

hat was

read at the events which started at the Apollo Theater at 7:30 on Thursday evening.
Sir George Martin, the Beatles' producer, one of the most respected names in music history, sent the following words to NYC FAB 50 producers Charles F. Rosenay, Daniel Levine, Patrice Samara and Dennis D'Amico to share with U.S. fans and attendees:
"I am amazed how quickly time passes and that the Beatles appeared in New York for the first time 50 years ago. Hard to believe – I feel like Rumpelstiltskin! The first record I produced with them – "Love Me Do" was merely a warm up. "Please Please Me" was the biggie that swept Britain in 1963 and paved the way for their debut in the USA. And when that happened it was like an exploding keg of dynamite. The wonderful people of America took the Beatles into their hearts and never let go. They were crazy days, and I remember being in New York and listening to the radio, and no matter where you turned the dial you would hear the Beatles singing. It was complete saturation, never before heard and never since. The Boys loved the USA and they loved performing there, but the world now demanded their attention, so they began an exhausting round of Europe and the States in an effort to satisfy the demand for their attention. The people of America have always been generous to those that they like, and the Beatles will always be grateful for that wonderful display of love and support they received back in the Sixties. Me too!"
This statement was read as part of the opening ceremonies at the Apollo by Geraldo Rivera, Special Guest Celebrity MC added to the event. Geraldo not only interviewed all four Beatles, but also produced the famous New York City One-To-One charity concert with John Lennon.
The Apollo charity concert, "Twist & Shout: New York Celebrates The Beatles," also featured performances by Dionne Warwick, Lulu, Mary Wilson of The Supremes, Lloyd Price, Gary U.S. Bonds and others. Complete information at www.nycfab50.com/Apollo.htm.
The other NYC FAB concerts included:
~~ "Across The Universe Music Festival" featuring Spin Doctors and five other acts on Friday night
~~ "America Celebrates The Beatles: All-Star Concert: featuring Tommy James, Al Jardine (Beach Boys), Gene Cornich (Rascals), Fred Schneider (B-52s), Marshall Crenshaw and many others on Saturday night
Just a quick correction. The Hey Jude LP was released between Abbey Road & Let It Be, not before Abbey Road.
Setting aside these contemporary artists doing Beatle Songs on this Sullivan anniversary show ... Why wouldn't Paul and Ringo or somebody be doing I Want To Hold Your Hand or She Loves You? These are the two Monster hits at the time that are taking the country by storm!! On most charts they are #1 & #2 on February 9, 1964. That seems kind of silly / ridiculous to me. For these modern artists, I'm sure when they do Beatle Songs it will be the peak of their careers.
Honestly, I think those two songs are SO associated as John and Paul numbers that NOBODY else could do them in a way that would have the same amount of impact that simply showing the vintage clip from that night would have ... and I believe THAT is how they'll handle this.
I'm really looking forward to this. Reading part of the interview that David Letterman did with Paul and Ringo, it's funny to hear their recollections of that infamous night ... perhaps the biggest of their career in retrospect ... after all, conquering America was the final step.
Ringo comments about how much BIGGER The Ed Sullivan Theater was in his mind ... the moment was huge and he recalled being so wrapped up in the moment that they were performing before thousands of screaming fans. (Letterman quipped that they have since removed the balcony in the theater ... so it actually DID hold "a few more people"! lol)
Paul remembers how nervous he was taking the stage alone to perform "Yesterday". The Beatles were, after all, a BAND ... and stepping out front and solo was a nerve-wracking experience for him at the time. (Of course he's done it nightly ever since for over 40 years now ... but that first time was a terror!)
I'm pleased to see that tonight will celebrate more than just the excitement of that special moment ... it will also illustrate the timelessness of this music. Incredible to think that 50 years later today's most popular, contemporary artists couldn't wait to sing a Beatles song! (kk)
This is Beatle Bob, community radio DJ, music journalist, and cable TV show producer from St. Louis, Mo. I came across your boss looking site while doing some research on who played the first Beatles record in America. It was a superb article and I've since viewed many of your other older blogs as well.
I did come across a few errors, however in your piece.
he first televised story on the Beatles was on November 18, 1963. NBC's Huntley - Brinkley Report aired a four-minute story on the Beatles at 6:53 p.m. The segment, which utilized film of the Beatles and the crowd at the group's November 16 concert at the Winter Gardens Theatre in Bournemouth, was filed by Edwin Newman, a correspondent based in New York who had previously headed the network's London bureau. Below is a link the entire audio portion of that story. Unfortunately, NBC did not keep the video files.
The Jack Paar Program did not air their Beatles segment until January 3, 1964. In fact, Paar was even beaten to the the CBS Mornings News who actually broadcast a great story on the Fab Four that was also supposed to have been repeated on the CBS Evening News. Unfortunately, the date it was broadcast was November 22, 1963, just a couple of hours before JFK's assassination. Hit the video link to hear that original broadcast.
Luckily, Walter Kronkite somehow remembered the report and decided to rebroadcast it on December 10, 1963. Hit the link below to read the entire story.
And hit the youtube link below to hear what could have been the first, or close to the first broadcast of The Beatles "Please Please Me" on the WLS by boss DJ Dick Biondi.
Besides
being a St. Louis music journalist, radio DJ and public cable music reporter, I also serve as the MC of some stages at such big festivals as Bonnaroo, Austin City Limits, Lollapalooza, Wakarusa, New Orleans Jazz & Heritage Festival.
An interview with me by the press at Bonnaroo.
Below are two sites that conducted interviews with me three years ago, as they honored me in St. Louis on August 10, 2010, as being the day I attended my 5,000 consecutive night out seeing a live concert. The site just below is that of Jambase, one of the world's biggest jam band concert sites, and the story they did on my special night. Just below that site, is the interview Kevin Johnson, from the St. Louis Post-Dispatch (our only daily newspaper) conducted with me marking my special concert milestone.
And below is my interview with the legendary '60s British Invasion duo - Chad & Jeremy - that I conducted backstage at the legendary St. Louis concert venue - The Sheldon Concert Hall. This interview was part of my many segments I air on the local music cable show I produce. You can watch the video below:
And last, but not least, read my special moment as the MC of Bonnaroo below:
These pics below were taken at the 2009 Bonnaroo Festival in Manchester,Tn, where a crowd of 80,000 people per day took in the 4-day shindig. I had the honor of EMCEEing Bonnaroo for the 4th straight year and the biggest highlight for me , serving as the EMCEE, was introducing Rock & Roll Hall Of Famer, Grammy -award winner, the R&B great Solomon Burke. Not only did I get to introduce The King of Rock & Soul, but sing lead vocals with Solomon on one of his biggest R&B hits: "Everybody Needs Somebody To Love."
Other acts I got to introduce at Bonnaroo were Levon Helm, Jacob Dylan, to name a few.
A few more observations and items to send your way.
First of all, concerning your story on The Beatles Wall Of Shame, I certainly agree with you that Dave Dexter Jr. (please always designate his name with Jr. as we don't want to shame his father who a very good sports reporter), should be the #1 poster-boy in this category.
That being said, I thought you let him off way too easy. Beside almost capsulizing Beatlemania, he also did more damage to the Fab Four after they signed with Capitol Records. His notorious role, in

resequencing

, reconfiguring, remastering, and re-compiling the group's recordings for the Am

erican

market, is a criminal act against the greatest rock & roll band of all-time.
Dexter's judgment seemed to fail him also when given the task of sequencing the Beatles album U.S. albums from their U.K. counterpart. The U.S. Help! album marked the nadir of his work revising the Beatles output for the United States, a miserable agglomeration of new songs and background music that offended fans and the group itself, even as it sold in the millions. The record was enough of a problem for Capitol and the Beatles, that a new process for adapting their work for the U.S. was worked out and put into place starting in 1966. Dexter was replaced after starting with Rubber Soul.
Additionally, aside from the Help! album deficiencies as a U.S. release, the biggest criticism of Dexter's work derived from his constant remastering of the original British recordings -- his sculpting of the Beatles' albums had some basis in raw economics and practicality, but his re-sculpting of the sound of the actual songs seems to have been an active, aesthetic choice that he later had to defend many times. Dexter and other executives at Capitol apparently believed that American listeners preferred their rock & roll music drenched in

reverb

, and added layers of it to many of the group's recordings when they hit these shores. It made the British originals, when they started coming over as direct imports, all the more impressive to U.S. ears. And this sacrilege was his biggest criminal act again the Beatles and their fans.
SOME EARLY SIGNS OF U.S. BEATLEMANIA
Check out the following Top 40 radio surveys.
KMEN

has the Beatles' "From Me To You" clocking in at #17.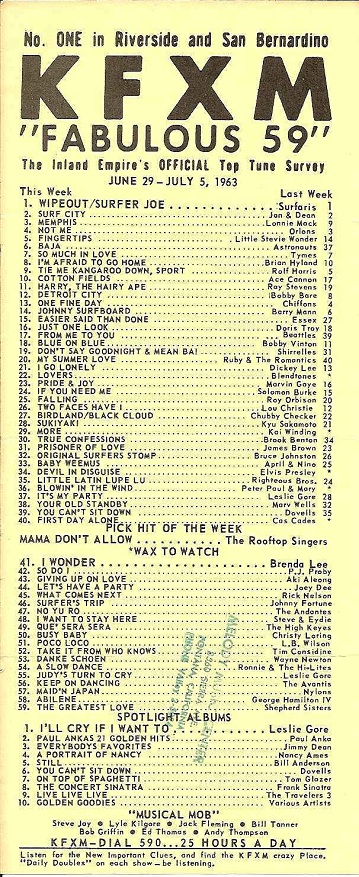 Even more impressive, a competing San

Bernadino

Top 40 station -

KMEN

- had "From Me To You" making their Top 10, at #9.
How did the Beatles' "From Me To You" rate in the year-end

KMEN

survey of the Top 129 45's of 1963? Good enough to finish #113 for the year! (This from the KMEN - 129 Radio 1963 Sound-A-Thon Souvenir Survey for San Bernardino / Riverside - The K/Men-Dous 129 of 1963
Akron, Ohio's

WAKR

had "From Me To You" garnering a spot in their Top 15 with a placement of #13.
And a sign of early Beatlemania on Philadelphia's

WIBG

which had The Beatles' "She Loves You" nestled in their Top 99 at #81, just a week before it's

initial

release on Swan Records. No doubt being a Philly label helped somewhat in getting the "home team" some airplay just as

WLS

helped their home boys label

Vee

Jay Records with "Please Please Me."
re: Let's Spend The Night Together:
>>>Here's an interesting and true story regarding this week's WIXY Sixty survey you posted:
At Number 16 this week was the Rolling Stones hit, "Let's Spend The Night Together".
Because of it's risque title, many stations did not play it, and as many people know, Mick Jagger "reluctantly " had to alter the title on The Ed Sullivan Show to "Let's Spend Some Time Together".
Back in WIXY-land, they came up with their own way of skirting the controversy of the song's title (which is most likely why the survey only calls the song "Let's Spend" on paper. WIXY had re-spliced the song to have Mick and the Gang sing it as, "Let's Spend The To-Night-Gether"!!!
Not sure how long that special WIXY version was used or whether area rivals WKYC or CKLW played the "original version" -- if at all, but nonetheless I thought it was a great story from a station who had a lot of creativity and did a lot to draw in the listeners and keep them there ... something obviously lost in the modern-day radio world. (
"Uncle T.Jay", KAFM Radio)
I can't say that I remember hearing that version of Let's Spend The Night Together on WIXY.
I went back and checked on my surveys. My collection of WHK surveys ends in January, 1967, so they must have switched their format around that time. On the WIXY surveys, they switched from printed ones that I picked up in the record stores, to ones printed in the Friday newspaper, early in 1967. The last printed one I have is January 9, 1967. The survey you included was January 30. By March 12 (the one I am attaching), they were listing it as Let's Spend / Ruby Tuesday. It had peaked at #10 the week before and was on its way down at this point.
I was surprised to see that neither Let's Spend The Night Together nor Ruby Tuesday appeared on the WKYC charts at all. I do remember hearing both sides often on the radio, maybe WKYC played it but left it off of their charts.
On my personal charts, I had Ruby Tuesday most weeks, although there were a couple weeks when I showed it as Ruby Tuesday / Night, probably because of how WIXY was showing it on their charts by then.
I found some more WHK surveys. Apparently they switched from printed format to newspaper also, early in 1967. Attached is the WHK survey from February 16, 1967, where they have it listed as Ruby Tuesday / Night
I wonder if anybody has a sound clip of this "unique" edit to share! (kk)
From the wixy1260.com tribute website, they have a clip of the "Clean Version" of the song.
Go to http://www.wixy1260.com/WIXYSoundFiles.htm . At the top of the page, go four clips down. There is a clip of the version (Probably used a whole roll of spicing tape for this one) as heard on WIXY from early 1967.
TOO funny! And people listening to the radio REALLY thought that's what they were singing?!?!? Imagine their surprise when they brought the record home and played it!
Some GREAT vintage surveys here, too ... if you grew up listening to this station, you'll love this website link. (kk)
And give this some thought for a moment if you will ...
If you watched that CNN British Invasion special last week, you saw the "Hollywood Palace" clip that Chet Coppock is always talking about ... where Dean Martin (talking about how he's been rolled while he was stoned) introducing The Rolling Stones to the American audience ... where they then proceeded to perform "I Just Want To Make Love To You" live on national tv ... yet two and a half full years later, Ed Sullivan made them change the lyrics of their song to "Let's Spend Some TIME Together". What's up with THAT?!?!?
(kk)
I'm looking forward to
"The Night That Changed America."
The Beatles earned their ubiquity, but Ed Sullivan was enamored with another act around this time as well: The Dave Clark Five. Clark is still going strong, and recently spoke with us about that time:
I got a call from Ed Sullivan while all the boys were still working in factories and offices. I'd never heard of Ed Sullivan. We never got it in England, never got his show, so I turned it down.
Then I got a call back a week later from Ed Sullivan's son-in-law Bob Precht, who is a producer. They said "Look, we'd like you on the show," and they offered us quite a lot of money.
But the thing that really inspired us was that we were going to go professional for the first time. We had a sold-out tour of England a week later. I said to the guys, "Now, what have we got to lose? They're going to fly us over, all expenses paid."
We went over, did "The Sullivan Show." I didn't realize in those days that you had a dress rehearsal before a live audience on the Saturday, and if he didn't like you, you didn't necessarily appear.
Anyway, we went down so well that we then went from bottom-of-the-barrel to second, to top of the bill. We went down so well on the live performance, he called us back on, which cut into the top act's last song. He said, "I'm holding them over in America for next Sunday. They're getting top of the bill."
We were already booked in England, so I said, "I'm sorry, I can't do it." And he said, "But this is Mr. Sullivan," and I said, "Well, I'm very flattered." So I went into his office. He said, "Dave, I thought you'd be thrilled; there are 70 million people watching the show." And I said, "I am thrilled, but if you would have asked me first, I wouldn't have put you in the embarrassing position." So he said, "Well, look, I'll buy out the show in England," and I said "Wow, what can I say?"
Here's the whole interview: