I'm off today ... so how about a Nooner?!?!
Still recovering from the INCREDIBLE Brian Wilson concert last night ... if everything goes according to plan, we should have a review up on the site sometime tomorrow.
Meanwhile, here are a few of the things that have been on your minds since we last posted ...
We've been waiting for more word on Jeff Lynne's upcoming US Tour ... after an announcement several months ago, all of a sudden the prospect seems to have disappeared from the web.
However, now with a brand new album out ("Alone In The Universe", recorded as Jeff Lynne's ELO) the idea of Jeff touring again in support of this new release has become much more likely. (In fact, a quick check of Pollstar already shows a European Tour booked for April of 2016 ... could the US be far behind?)
We've been BIG fans for a long time ... and his recently released "Live In Hyde Park" DVD along with the new video for the single "When I Was A Boy" (both of which won RAVE reviews here in Forgotten Hits) ... have only helped to fuel the fire.
Jeff did a one-off live show at Porchester Hall in London this past week, featuring many of the songs he included in his Hyde Park set as well as four tracks from the new album.
Vintage Vinyl News reports:
Jeff Lynne's ELO, formerly known as the

Electric Light Orchestra, officially launched their new album on Monday night in an intimate show at Porchester Hall in London.
The new album,

Alone in the Universe, will be out this coming Friday and is the band's thirteenth studio album (fourteenth if you count theXanadu soundtrack) and their first since 2001's

Zoom.
The set list for the night wasn't that different from the show that they performed last year in Hyde Park with the removal of

Ma-Ma-Ma-Belle, 10538 Overture

and the Traveling Wilbury's

Handle With Care

and the addition of four songs from the new album.

The set list:
All Over the World (from the soundtrack to Xanadu, 1980)
Evil Woman (from Face the Music, 1975)
Showdown (from On the Third Day, 1973)
Turn to Stone (from Out of the Blue, 1977)
When I Was a Boy

(from

Alone in the Universe, 2015)
Living Thing (from A New World Record, 1976)
One Step at a Time (from Alone in the Universe, 2015)
Strange Magic (from Face the Music, 1975)
Don't Bring Me Down (from Discovery, 1979)
Steppin' Out (from Out of the Blue, 1977)
Sweet Talkin' Woman (from Out of the Blue, 1977)
Can't Get It Out Of My Head (from Eldorado, 1974)
When the Night Comes (from Alone in the Universe, 2015)
Ain't It a Drag (from Alone in the Universe, 2015)
Rock 'n' Roll is King (from Secret Messages, 1983)
Telephone Line (from A New World Record, 1976)
Mr. Blue Sky (from Out of the Blue, 1977)
Roll Over Beethoven (from Electric Light Orchestra 2, 1973)
Can you believe that Olivia Newton-John currently has the #1 Dance Track in the nation?!?!
Her remake of her previous #1 Pop Hit "Magic" (from the movie "Xanadu") ... now called "You Have To Believe" ... and recorded with her daughter Chloe, sits on top of the Dance Chart this week! Olivia first topped Billboard's Pop Chart with this track for four weeks back in 1980.
Here's a look at the remake:
Sorry to hear of the passing of Arnie Karr. He was a class act. I think I remember reading that besides the Cavaliers, he was also affiliated with Steam, Of "Na Na Hey Hey Kiss Him Goodbye" fame.
Ed Erxleben
Yes, he was ... although this, too, was one of those questionable (bogus?) groups in that none of the performing members were on the recording of that #1 Hit. (Then again even back in 1969 when Steam was at its peak, a "fake" band was sent out on the road because, for all intents and purposes, the recording was made by an assembled group of studio musicians.)
Lead singer Gary DeCarlo has been back out on the road again recently, performing as part of a "lead singers" show that often includes other artists like Ron Dante, Dennis Tufano and Tony Burrows ... actually, a VERY interesting show to see if it ever makes its way out here to Chicago. (Hint - hint - to Ron Onesti!!!)
Knowing how Steam was so closely (and solely) identified with their one monster hit, I remember asking Arnie Karr one time "What does a Steam concert consist of?" ... to which he replied "An hour of 'Na Na Hey Hey, Kiss Him Goodbye'". (lol)
After a bout of bad press questioning their validity (fueled in part by our Forgotten Hits article and then picked up by other music press around the country) The Cavaliers ultimately ended up chang

ing

their name to "Golden Group Memories" (a more accurate description of what they really performed anyway). In addition to Arnie Karr and Leo Lucas, the group at various times also included Vito Balsamo, former lead singer of Vito and the Salutations (who did that God-Awful rendition of "Unchained Melody") and Randy Silver, who Arnie says was (at one time) in The Impalas ... but was NOT with the group when they recorded THEIR big hit "Sorry (I Ran All The Way Home)".
While on the one hand I believe The Cavaliers did right by presenting faithful and respectful versions of these early '60's hits, it's still hard to forgive the fact that they tried to deceive the public into believing something they weren't. Despite YEARS and YEARS of correspondence since our series first ran, we have yet to see a SINGLE shred of evidence that Leo Lucas had ANYTHING at all to do with the group that recorded "Last Kiss" ... and that includes several conversations with Leo himself, during which I told him that if he can produce ANYTHING proving he was involved with the recording ... or had the legal rights to the use of the name ... I would publish it in Forgotten Hits along with a retraction and apology. Even with his fate in his own hands, this failed to ever happen. (kk)
Lots of respect paid to New Orleans legend Allen Toussaint after his passing this past week ... Tom Cuddy sent just a few loving tributes from artists who had worked with, come to know, or simply loved his work ... an innovator if there ever was one.
ALLEN TOUSSAINT: Music World Remembers
Many musicians are remembering legendary singer-pianist-songwriter-producer

Allen Toussaint

, who died suddenly Monday night in Madrid at age 77.
Paul McCartney
says on Instagram, "Having worked with him in New Orleans I know what a sweet and gentle guy he was and a massive songwriting talent with songs like 'Fortune Teller,' 'Southern Nights,' 'Working in the Coal Mine' and 'Play Something Sweet (Brickyard Blues).' His songs will be cherished by people like me who will have fond memories of Allen forever. Deepest sympathies and love to his family from me and my family."
Paul Simon
, who was to play a benefit show with him in New Orleans, said, "Allen Toussaint was my dear friend. The most gifted, gracious and generous man that you could ever want to meet."
John Oates
calls him "one of the architects of Rhythm and Blues; a writer of many of America's most well-known and beloved early rock and roll songs. I had the pleasure of hosting him at the Aspen Songwriters Festival some years ago and was honored to be able to perform with him and witness his inspired one man show. Sending love to his

family and friends around the world -- he will be missed by millions, but his music will never die."
The Rolling Stones
tweeted the simple message "RIP Allen Toussaint," along with a link to their recording of Toussaint's song "Fortune Teller."
Doctor John
tweeted a message that he's "heartbroken at the loss of his very dear friend," along with a pair of photos of them together.
Robbie Robertson
of

The Band

told us, "I had the joyful experience of working with Allen on a couple of magical occasions. The horn arrangements he wrote for The Band became a staple of our sound from the Academy of Music /

Rock of Ages

concerts to

The Last Waltz

. He was not only a brilliant songwriter, record producer, arranger and performer; he was also one of the finest gentlemen I have ever known. I had the honor of inducting Allen into the Rock and Roll Hall of Fame and I couldn't find enough kind words to express how strongly I felt about him and his music. The world has lost a true musical treasure that can never be replaced and I will miss him deeply."
Bonnie Raitt
posted, "I'm so deeply saddened to hear of the loss of my dear friend, Allen Toussaint. He was one of the most gentle, loving, and wise people I've ever known. He was totally unique in his quiet manner and understated elegance, with not an insincere or grandiose bone in his body. His musical genius has touched the far corners of the world and will remain an indelible part of our cultural DNA."
Lenny Kravitz
says on Instagram, "A friend and mentor passed on this morning. Allen Toussaint, legendary musician, songwriter, producer and arranger from New Orleans. I was blessed to have received his love and attention. My condolences go out to the Toussaint family. Love and Respect."
Actor-singer

Hugh Laurie (TV's "House")

says on Twitter, "Allen Toussaint. Poor old world, lucky old heaven."
Andy White, the studio drummer George Martin employed to record The Beatles' first hit "Love Me Do", has passed away after suffering a stroke. He was 85.
When The Beatles first auditioned for Martin, their drummer was still Pete Best. Martin wasn't happy with Pete's drumming, a feeling that John Lennon, Paul McCartney and George Harrison had been sharing for awhile ... so shortly thereafter Best was canned from the group and replaced by Ringo Starr.
Hedging his bets, Martin invited proven session drummer Andy White down to The Beatles' official first recording session. Ringo drummed on a couple of takes of their first single, "Love Me Do" and "P.S. I Love You" ... and then Martin had Andy White have a go of it, moving Ringo to tambourine on "Love Me Do" and maracas on "P.S. I Love You". (Poor Ringo ... when he had his tonsils removed in 1964, John, Paul and Ringo replaced him with Jimmy Nichol in order to fulfill their touring

commitments

... no respect, I tell y

a ... he's the Rodney Dangerfield of the drumming world!)
When the "Love Me Do" single was first released in Great Britain, it was the Ringo version that hit the streets ... but all subsequent versions released since (including the one featured on their first LP) and in print to this day have been the one featuring Andy White on drums. When all of The Beatles recordings were repackaged, the Ringo version resurfaced on the "Past Masters" CD, providing two alternate versions of The Beatles' classic. ("Love Me Do" peaked at #17 in Great Britain in 1962 ... when it was finally released here in America in 1964 at the height of Beatlemania, it went all the way to #1. White was paid a flat fee of

£5
for the session and never earned royalties thereafter.
He later claimed to have also drummed on The Beatles' second hit, "Please Please Me", but has never officially been acknowledged or given credit for doing so. He did, however, go on to drum on several other tracks recorded during The British Invasion, including the Tom Jones hit "It's Not Unusual", as well as tracks recorded by Herman's Hermits, Lulu, Rod Stewart and others.
Later in life, White settled in America, where he became a drumming instructor. You can count Steven Van Zandt of the E Street Band amongst his pupils.
The Rock 'N' Roll Capital of the World, Cleveland, Ohio, hosted the Rock 'N' Roll Hall of Fame's 20th Annual Music Masters Concert this past Saturday night. This year's concert honored Rock Hall Inductee Smokey Robinson.
The day started with the Music Masters Conference at the Rock Hall, featuring interviews, panel discussions and music to the delight of fans.
Highlight of the Conference was a Q & A session with Rock Hall Inductees Martha Reeves and Mary Wilson. Both ladies were extremely funny and informative about the early years at Motown, their music, their relationship with Smokey, and the fact that "they had no babies looking like Berry Gordy"!!! Berry Gordy was also on hand ... and so was Dennis Edwards of The Temptations. I have met Dennis and Mary before ... .got to meet with Martha for a bit ... what a sweet woman.
The concert was held at Cleveland's Playhouse Square State Theater and had many artists performing various songs that Smokey wrote or performed. The show was capped off with performances by Ms. Reeves, Ms. Wilson and Dennis Edwards.
Smokey received an Honorary Doctorate from Case Western Reserve University, and came out to sing an encore with the entire group of artists.
I've sent along some photos of the event for you to share with your readers.
(Sorry for the quality of the Concert pics ... taken from the Balcony using my maximum telephoto lens.)
Mary Wilson and Martha Reeves
Mary Wilson
Martha Reeves
Smokey Robinson (receiving his honorary Doctorate)
Martha Reeves
Mary Wilson

Smokey Robinson
Mary Wilson, Dennis Edwards, Smokey Robinson and Martha Reeves
Mary Wilson, Dennis Edwards and Smokey Robinson
Mary Wilson, Smokey Robinson and Martha Reeves
Talking about the Roy Orbison CD's coming out, do you remember or are you acquainted with the magazine that came out in the 1990's IN DREAMS? It was published by a Burt Kaufman out of Oakland, California. I have the great majority of the issues, if not all of them. It was a good publication with a page number of around 90. Also some other great magazines came out around that time or before such as RECORD EXCHANGER
"Record Exchanger" I remember ... don't think I've ever seen a copy of "In Dreams".
There were a few good attempts to rekindle the old days via magazine but most failed quickly because the audience (and, in most cases, the circulation and availability) was just too small.
My original vision for Forgotten Hits was a magazine ... but today people don't read books, newspapers and magazines like they use to ... seems like our entire lives exist online ... so this just seemed to be the most logical step to reach the largest audience. Once some of the deejays were hooked, they helped to spread the word ... I don't know that there are too many other services like ours around ... zillions of hours, zero profitability, but true love and affection for the music and the artists, shared with folks like you around the world. With our sixteenth anniversary right around the corner (November 27th), it's nice to look back and see just how we've kept this going ... especially since we had seriously considered throwing in the towel after five years. Man, look at all the stuff we would have missed!!! (kk)
O

ur FH Buddy Davie Allan is offering a special "holiday price" on his two latest cds ...
Happy upcoming holidays,
50th Anniversary ... $12.50
King Of The Fuzz Guitar ... $10.00
OR: both for just $18.00
(includes U.S. Shipping & Handling)
Order here: http://davieallan.com/
And, he'll even sign them for you!!! (kk)
RollingStone.com has an interesting history lesson posted about the Charlie Daniels track "The Legend Of Wooley Swamp" posted. I always liked this one ... and it's another one of those songs you just never hear anymore. (#23, 1980)
http://www.rollingstone.com/music/news/inside-charlie-daniels-spooky-ghost-story-wooley-swamp-20151111
Art Vuolo, lovingly nicknamed "Radio's Best Friend," has been videotaping radio DJs at work in their studios since the mid-1970s ... and now a display of his efforts, over 40 years of "banter and behind-the-scenes looks" at over 700 DJs nationwide from coast to coast is being planned as a permanent display within the Chicago-based Museum of Broadcast Communications. This future exhibit, entitled "A History of the American DJ," is being spearheaded by three highly-respected Chicago broadcasting figures: famed radio executive John Gehron, top radio manager Lisa Miller, and programmer / consultant Harv Blain. Putting this display together will not come cheap, though. Over 1,000 videos, many of which are Betamax, will have to be converted to digital form for the Museum. Donations are now being accepted to make this permanent display at the MBC a reality. Those who wish to donate can send a check to: History of the DJ, P.O. Box 10130, Chicago, IL 60610.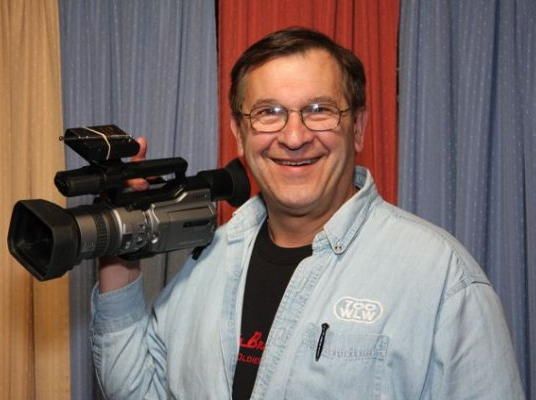 Art has been a Forgotten Hits Reader for many years. Early on we referred to ourselves as "Oldies Music's Best Friend" ... until I caught wind of Art's radio tag that had been around for ages. After that we billed ourselves as "Radio You Can Read" ... and strived to keep Forgotten Hits as reader-friendly as possible, providing the forum for ALL of our readers to share their memories about all this great music we all grew up loving. Congratulations, Art ... I would LOVE to have a compilation disc of all the highlights (and I still want to get that Larry Lujack Tribute DVD, too.)

Others interested in this sort of thing would do well to visit Art Vuolo's website here:
http://www.vuolovideo.com/
Kent ...
In the month of November, Wild Wayne will be celebrating "The Memory Machine's" 40th Anniversary on WWUH. Broadcast from the University Of Hartford in Connecticut. He volunteers ... no pay.
He decided to play clips of interviews he's done over the last 40 years. I told him that I thought this was a great idea. I think he should do it all the time, not only during this anniversary month.
Don't know about you, but I love to get inside information ... things that aren't known to the general public.
Here's what I got so far:
Interviews with Joey Dee, Larry Chance, Gene Pitney and Brenda Lee, Bruce Belland (lead singer of the 4 Preps), Gary U. S. Bonds and James Darren.
I'll send the to you a few at a time and you can pick the ones you like.
Interview date: 11/27/2005 = Brenda Lee
Brenda told this story ... She was 12 years old, planning a trip to France, for an appearance at the Olympia Theatre. The people in France heard Brenda's husky voice but had never seen her. They asked Brenda for a current picture. She sent them one. They printed her picture in the newspaper and said that she was a 32 year old midget. Brenda wanted to record "I'm Sorry". Record company said no ... this wasn't the type song a 14 year old girl would sing. In 1960, they needed a song to put on the B-side of "That's All You Gotta Do" and finally gave in to Brenda. They went with "I'm Sorry." Of course the record company was wrong. "I'm Sorry" was a # 1 Hit for Brenda and "That's All You Gotta Do" was a #6 Hit.
Interview date: 7/12/1978 = Gary U. S. Bonds
Gary and the band were in the studio looking for a follow-up to his 1960 Hit "New Orleans." The guys were fooling around in the studio. They thought the music they were playing sounded good. Gary went to the next room and in fifteen minutes wrote lyrics to go along with the music the band was playing. He came up with a #1 Hit, "Quarter To Three."
Frank B.
Have ALWAYS loved the back-stories, Frank, so keep 'em coming!
OUR anniversary is this month, too. (Actually TWO of them ... Forgotten Hits began on November 27th, 1999, as an emailed newsletter to 35 oldies music fans ... and then two years later, on November 17th, 2001, Frannie and I got married ... so a REALLY big month for us here at The Forgotten Hits Ranch!) kk
Here's another very interesting radio story from back in the day, thanks to Forgotten Hits Reader Jim (Southern) Pritchard ...
Kent,
If I've sent this story to you in the past, I apologize. If not, it is one of my favorite memories ...
In 1973, I was the G.M. of a small radio station in Evanston, WY, about 75 minutes east of Salt Lake City. In town, I could pick up a few of the Salt Lake radio signals, but the station that was carrying Casey Kasem and "American Top 40" (KCPX-AM) had a north / south directional pattern and could not be heard where I was.
However, one Sunday morning in October I was driving through northern Utah and was listening to AT40 in the car. Casey was doing his usual great job with the countdown and, as was his style, playing up the fact that Bobby "Boris" Pickett's "Monster Mash" had just broken the record for the most weeks charting on the Billboard "Hot 100". As it happened, I had been going over the Billboard survey and had noticed this was not the case.
" ... Mash" had done 14 weeks in 1962, 3 weeks in '70 and was credited with 23 weeks in 1973. That made it a total of 40 weeks, breaking the record of 39 weeks by Johnny Mathis' "Wonderful, Wonderful". The error was that for some reason Billboard had lumped the 3 weeks in '70 in
with the 20 weeks in '73, but not the 14 in '62. Take away those 3 weeks and the '73 run was 20 weeks, making the total 37, a great showing but not the record.
On Monday, I wrote Casey a note pointing this out, using my KEVA letterhead stationary for added credibility. Life went on, and then about 10 days later I was in my office when my secretary called "Jim, Casey Kasem on the phone for you!". I about fell out of my chair grabbing for the phone.
Casey introduced himself and was just as friendly on the phone as he was on the air. He told me I was correct and thanked me for calling it to his attention. We talked for about 15 minutes, mostly about DJ things. I mentioned to him that I had listened to him often back in 1964 when he was doing a mid-day shift on KRLA in Los Angeles. I had even stopped in to the KRLA studios in 1965 to talk to the Program Director and watched Casey doing his program for a few minutes. Our phone visit remains one of my favorite episodes of the DJ days of yore.
Even better, in November I got a package from "AT40". Inside was the 3 vinyl disc set of the 11/3/73 program. On side 1 of disc 1, Casey read my letter exactly as I had written it, mentioned I was right, noted the correction and thanked me for listening. As you might guess, that package is still with me and what a treat it is to break it out now and then and listen to the show.
As the years rush by, I look back on my DJ days and give thanks for the privilege it was to have been one of the "good guys" on the radio. I couldn't have been luckier.
Jim (Southern) Pritchard
Gladstone, OR