Ain't That A Great Way To Spend Your Holiday Weekend?
Regarding your "Ain't" songs, you might like to know that in the studio an argument broke out between producer-conductor-arranger Billy Vaughn and Pat Boone when Billy slated Pat to record "Ain't That a Shame." Pat -- a college honors student at the time (1955) -- told me he wanted to change the lyrics and title to "Isn't That a Shame" so he wouldn't sound illiterate -- but Billy wouldn't hear of it. As things worked out, both the Fats Domino original and Pat's cover version of "Ain't That a Shame" became Top 10 pop hits at the same time.
By the way, Pat often gets knocked as a white guy who sometimes stole "black songs" by people unaware of the fact that in the '50s black and white artists perpetually covered each other's material. They included Fats Domino -- whose biggest hit, "Blueberry Hill," was in 1956 his cover version of a 1940 chart-topper by white bandleader Glenn Miller -- who in turn had found the song on the soundtrack of a Gene Autry western!
Gary Theroux
Kent,
I enjoyed your Ain't Songs which you posted today. To me the ultimate "ain't" song is Buster Brown's 1960 version of IS YOU IS OR IS YOU AIN'T MY BABY. I could just imagine that record being #1 with every teacher that taught English in school at the time. Of course there were several others you could have used, but one of the first ones I thought of was the Searchers' 1964 song AIN'T THAT JUST LIKE ME. Always did like that one myself.
Larry
One of my fave song lyrics is "I ain't never did no wrong" (from "One Night" by Elvis). Probably the greatest number of grammatical rules ever broken in six words!
Gary E. Myers / MusicGem
Here's the way The Top 500 shaped

u

p on WCBS-FM's Memorial Day 500 Countdown ...
http://wcbsfm.cbslocal.com/2016/04/27/wcbsfm-2016-memorial-day-weekend-countdown-list/
The Beach Boys
We found out about this one too late to let our readers know but it sounds like some of you caught it ... The Beach Boys were part of a Memorial Day Concert that ran on PBS Sunday Night. (I missed it, too!)
Thankful to be proud again when our Beach Boys are live on television. Looking and sounding great; Mike and Bruce, Jeffrey, Scott, John, the rest ~ God only knows what we'd be without you and your extraordinary songs and sounds.
Sadly, I count too many times when, whether it was their apathy or a TV producer's micing inability, America's greatest band sounded anything but.
Bravo! to Mike Love for resetting the bar high and incorporating the talents like Jeffrey Foskett, Scott Totten, John Cowsill and others. Gives me hope that when all the originals are off-stage, their exquisite sound will still be heard live around the world. (And, God only knows, live-in-Heaven command performances ... Now, wouldn't that be nice? )
Phil
PrayForSurfBlog.blogspot.com
Hi Kent,
Was good to see "Mike Love & Bruce Johnston's Beachboys" on Channel 11's "Memorial Day Salute Program".
Jeff Foskett did Brian Wilson's parts and all in all I enjoyed them very much. The BEST part was seeing the audience - ALL AGES- reacting to their songs with such enthusiasm!!!
I know it would be great if ALL the remaining Beachboys would tour together but, I guess, you are dealing with allot of different egos and personalities !!!!
Just keep their Music Alive, that's wh

at I say......
Carolyn
ps Great to see John Cowsill doing the drumming! Long live the Cowsills, too!!!!!
Maybe this one will repeat from time to time (???) Meanwhile, we DID find a YouTube clip of their performance ... I dunno ... it's almost TOO perfect to be live, don'tcha think??? And Frannie says she was totally creeped out by Mike Love's latest face lift ... to the point that she thought she actually might have nightmares! (One comment she made was something to the effect of "he almost looks as if he were recently embalmed"!!!) kk
FH Reader Tom Cuddy
also sent us this recent interview with Bruce Johnston ...
The Beach Boys
have
added several m

ore dates to this year's tour ...
Here's how things are sha

ping up right now ...
06/17 – Pala, CA – Pala Starlight Theatre

06/18 – Lincoln, CA – Outdoor Amphitheatre At Thunder Valley

06/23 – Layton, UT – Kenley Amphitheatre

06/24 – Layton, UT – Kenley Amphitheatre

06/25 – Fountain Hills, AZ – Fort McDowell Casino

06/26 – Arcadia, CA – The Arboretum And Botanic Garden

06/29 – St. John's, NF, - Mile One Centre

06/30 – Liverpool, NS, - Queens Place Emera Centre

07/01 – Truro, NS - Rath Eastlink Community Centre

07/04 – Brooklyn, NY – The Amphitheatre At Coney Island Boardwalk

07/06 – White Plains, NY – Westchester County Center

07/07 – Portland, ME – Maine State Pier

07/08 – Hampton Beach, NH – Hampton Beach Casino Ballroom

07/09 – Boston, MA – The Wilbur

07/10 – Webster, MA – Indian Ranch

07/11 – Ocean City, NJ – Ocean City Music Pier

07/12 – Ocean City, NJ – Ocean City Music Pier

07/13 – Wilmington, Del., Grand Opera House

07/14 – Selbyville, Del., Freeman Stage At Bayside

07/15 – Bethel, NY – Bethel Woods Center For The Arts

07/16 – Ocean Grove, NJ – The Great Auditorium

07/17 – Bethlehem, PA – Sands Bethlehem Event Center

07/18 – Lancaster, PA – American Music Theatre

07/19 – Washington, DC – Concert Hall

07/21 – Sylvania, OH – Centennial Terrace

07/27 – Saginaw, MI – FirstMerit Bank Event Park

07/29 – Fredericksburg, VA – Marks & Harrison Amphitheatre

08/05 – Aurora, IL – RiverEdge Park

08/06 – Duluth, MN – AMSOIL Arena

08/07 – Minneapolis, MN – State Theatre

08/08 – Sioux Falls, SD – W.H. Lyon Fairgrounds

08/11 – Lincoln, NB – Pinewood Bowl Theatre

08/12 – Cedar Rapids, IW – McGrath Amphitheatre

08/13 – Lac du Flambeau, WI – Lake Of The Torches Resort Casino

08/14 – West Allis, WI – Wisconsin State Fair Grandstand (Wisconsin State Fair)

08/16 – Cleveland, OH – Jacobs Pavilion At Nautica

08/17 – Cincinnati, OH – PNC Pavilion At Riverbend

08/18 – Huber Heights, OH – Rose Music Center At The Heights

08/19 – Indianapolis, IN – Farm Bureau Insurance Lawn At White River State Park

08/20 – Sterling Heights, MI – Freedom Hill Amphitheatre

08/21 – Grand Rapids, MI – Frederik Meijer Gardens & Sculpture Park

09/09 – Bakersfield, CA – Bright House Networks Amphitheatre

09/11 – Saratoga, CA – The Mountain Winery

09/29 – Niagara Falls, ON – Niagara Fallsview Casino Resort

09/30 – Niagara Falls, ON – Niagara Fallsview Casino Resort

10/01 – Niagara Falls, ON – Niagara Fallsview Casino Resort

10/02 – Greensburg, PA – Palace Theatre

10/04 – San Antonio, TX – Majestic Theatre

10/05 – Stafford, TX – Stafford Centre

10/07 – Biloxi, MS – Beau Rivage Resort & Casino

10/08 – Biloxi, MS – Beau Rivage Resort & Casino

11/17 – Santa Rosa, CA – Luther Burbank Center For The Arts

11/18 – Stockton, CA – Bob Hope Theatre

11/19 – Thousand Oaks, CA – Fred Kavli Theatre

11/20 – Palm Desert, CA – McCallum Theatre

12/05 – Lawrence, KS – Lied Center Of Kansas

12/11 – Avon Park, FL – Alan Jay Wildstein Center For The Performing Arts

12/12 – Sarasota, FL – Van Wezel Perf. Arts Hall

12/13 – Clearwater, FL – Ruth Eckerd Hall

12/14 – Fort Myers, FL – Barbara B. Mann Perf. Arts Hall

12/15 – Miami, FL – Knight Concert Hall - Arsht Center

12/16 – West Palm Beach, FL – Dreyfoos Hall

12/17 – The Villages, FL – Sharon L. Morse Performing Arts Center

12/18 – The Villages, FL – Sharon L. Morse Performing Arts Center
T
he Monkees
The three surviving Monkees were interviews by CBS News about their new album ...
I've been listening to it all weekend and I've got to tell you that I REALLY like it ... a lot! If they had come up with something this strong after their television
series was cancelled, these guys might have enjoyed many more years of pop stardom. A GREAT comeback LP, just in time for the 50th Anniversary. Everybody is in top form. (Watch for a full review in the days to come.) kk
Here's a clip of Micky and Peter Monkee-ing around in the recording studio, working on the new LP ...
And here's a look at The Monkees' set list from their opening show in Washington, DC ... courtesy of Vintage Vinyl News:
The set list for May 26, 2016 @ The Warner Theatre, Washington DC
Set 1
(Theme From) The Monkees

(from

The Monkees, 1966)
Listen To The Band

(from

The Monkees Present, 1969)
Last Train To Clarksville

(from

The Monkees, 1966)
That Was Then This Is Now

(from

Then & Now The Best of the Monkees, 1986)
Your Aunt Grizelda

(from

More of the Monkees, 1967)
Saturday's Child

(from

The Monkees, 1966)
She

(from

More of the Monkees, 1967)
She Makes Me Laugh

(from

Good Times, 2016)
A Little Bit Me A Little Bit You

(single, 1967)
The Girl I Knew Somewhere

(from

Headquarters, 1967)
Steam Engine

(from

Listen to the Band, 1991)
Shades of Gray

(from

Headquarters, 1967)
Randy Scouse Git

(from

Headquarters, 1967)
For Pete's Sake

(from

Headquarters, 1967)
Johnny B Goode

(Chuck Berry cover)
(Your Love Keeps Lifting Me) Higher and Higher (Jackie Wilson cover)
Let's Dance On

(from

The Monkees, 1966)
Set 2
Mary Mary

(from

More of the Monkees, 1967)
Circle Sky

(from

Justus, 1996)
Porpoise Song

(from

Head, 1968)
Long Title: Do I Have To Do This All Over Again

(from

Head, 1968)
(I'm Not Your) Stepping Stone

(from

More of the Monkees, 1967)
Words

(from

Pisces, Aquarius, Capricorn & Jones Ltd, 1967)
Goin' Down

(from

Pisces, Aquarius, Capricorn & Jones Ltd, 1967)
Papa Gene's Blues

(from

The Monkees, 1966)
D.W. Washburn

(single, 1968)
What Am I Doing Hanging 'Round

(from

Pisces, Aquarius, Capricorn & Jones Ltd, 1967)
Daydream Believer

(from

The Birds, The Bees and the Monkees, 1968)
Pleasant Valley Sunday

(from

Pisces, Aquarius, Capricorn & Jones Ltd, 1967)
Encore
No Time

(from

Headquarters, 1967)
I'm A Believer

(from

More of the Monkees, 1967)
T

his And That
>>>I've been listening to "Toast And Marmalde For Tea", a track you posted a few days ago.
This song is really a chant, but one that I am drawn to. I find the melody haunting. (Shelley)
>>>I think this is one of those records
that was going for more of an overall sound than much more than that. (Clearly the repetitive lyrics would bear that out!!!) Hey, why write five or six verses when two will suffice?!?! The track was produced by Maurice Gibb of The Bee Gees and has a very definite early '70's Bee Gees sound to it. (kk)
The spotlight on Tin Tin's uniquely wobbly-sounding "Toast and Marmalade For Tea" reminded me of how really good it's also wobbly follow-up was -- even though it barely reached the Top 60 on Billboard's Hot 100 singles charts. See what you think:
I'd never heard that one before ... but I like it! Sounds like it should have been a hit to me! (Your reference to the "wobbly sound" reminds me of those days of warped 45's on the turn-table, one thing the digital age has eliminated. Nothing worse than coming home with your brand new single from the record store only to find that the record was warped ... or, worse yet, skipped. (How many out there remember putting a penny on the tone arm to get the record to play, in effect, scuffing it up even further!!! (lol) I think that some of those failed follow-ups are every bit as good or better than the originals that got the artist on the chart in the first place. One that immediately comes to mind is "Pretty Lady" by Lighthouse. How the hell did THAT one fail?!?!? (only #53 in Billboard but #31 in Cash Box) Listen to that one and see if it reminds you of Leon Russell's vocal from around that same timeframe. (kk)
Joel's latest update to his best selling book will start shipping next month ...
---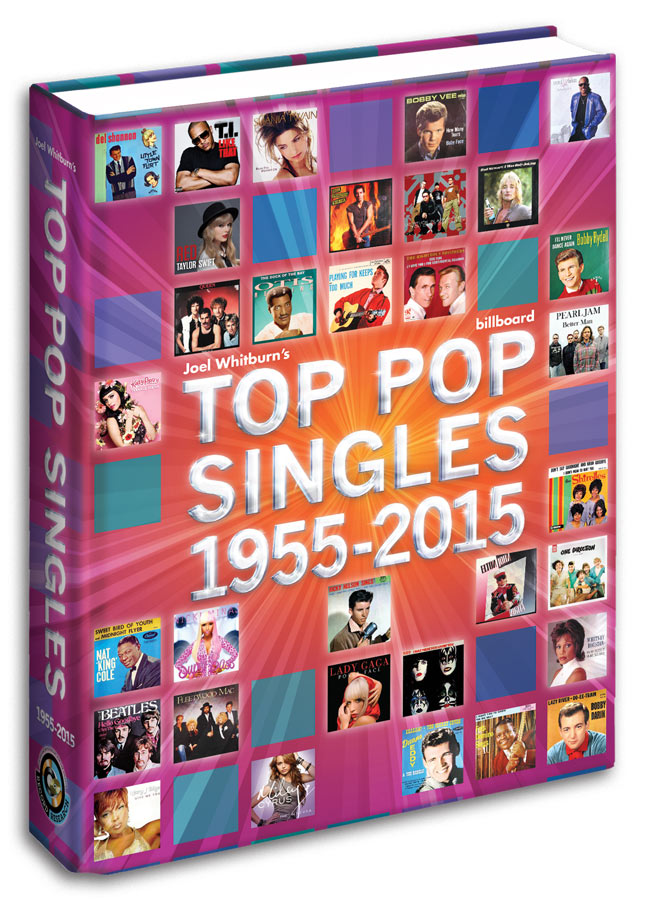 Top Pop Singles 1955-2015 will ship out in late June! Check out a few of its new rankings below and order now to be among its first readers!
On Sale at $10 Off!

Just $69.95; will be $79.95

Where do you find a song's peak position or the date it first appeared on the charts? For nearly five decades, Top Pop Singles has been the go-to guide for music fans and industry professionals worldwide. Joel Whitburn's exclusive research of Billboard magazine's pop singles charts, namely the "Hot 100," is just part of the extensive and painstakingly accurate information featured for 43,893 songs and 9,065 artists. This 15th edition of our flagship book is the best one yet!
Here's a sneak peak at a few of the book's special back sections ...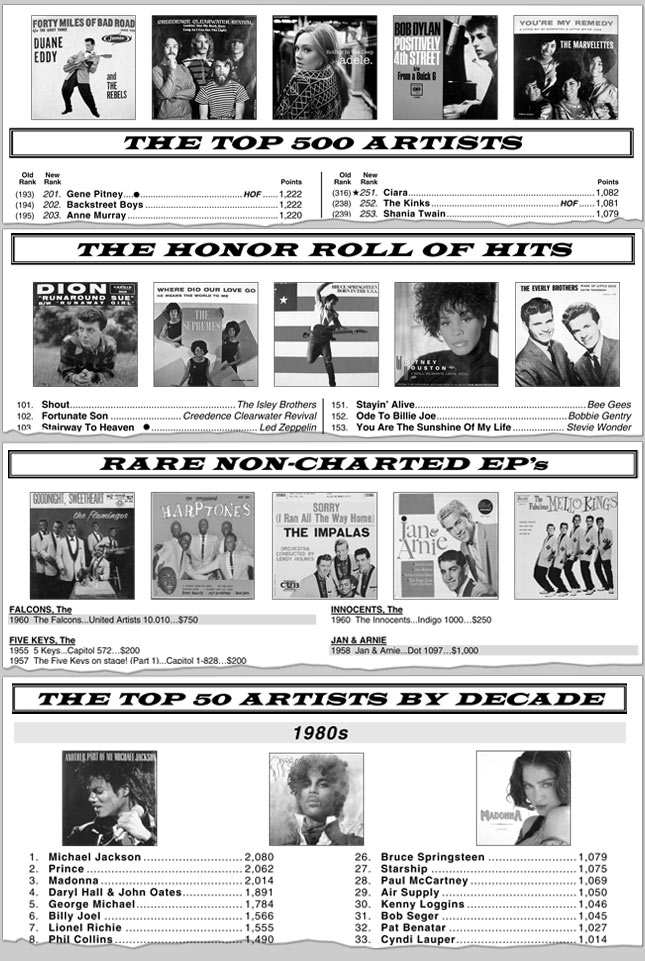 Check out these major, NEW FEATURES below: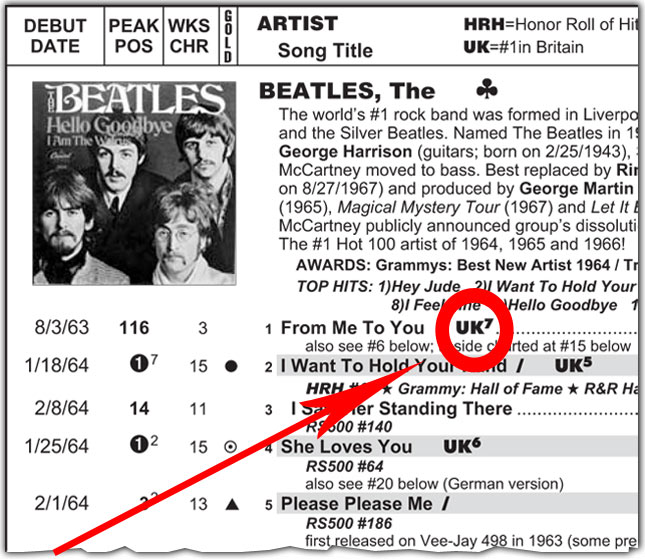 ►

Each US chart hit that hit #1 on the United Kingdom (British) charts is now indicated with an easy-to-find symbol, also showing total weeks at #1. This is the first Record Research publication to show this non-US chart information.
---
►

For every #1 hit from other major trade magazines (Cash Box, Music Vendor & Record Word) that DID NOT hit #1 in Billboard, weve added an easy-to-find symbol, with the total weeks at #1 shown. At a glance, see newly-researched #1 hits for such artists as The Beatles (4 additional #1s), Creedence Clearwater Revival (3 #1s), The Everly Brothers, The Kingsmen, Elvis and many more.

actual page size: 8.5" x 11"
---
► Expanded HRH Listings from 200 to 300 titles - song that are the most-honored by critics and music industry professionals such as the Grammy Hall of Fame, the Rock & Roll Hall of Fame, and other significant rankings.
► Revised "24 Hit Club" now includes 266 members with photos.
► Updated bios - vital information for every new artist, plus group members, birthdates/places, rapper's real names, and death dates updated through Spring 2016.
► List of approx. 200 ultra-rare EPs - never charted, early rock 'n' roll - among them The Harp Tones, The Mello-Kings, Eddie Cochran, LaVern Baker, Chuck Berry, The Crests, Danny & The Juniors, and more!
And don't forget that we'll be giving away a copy of his Top Ten Albums Book real soon, too! (kk)
Hi Kent -
Just saw a great show at the Kent Stage on May 26th with JD Souther. JD has written for and performed with the likes of Linda Ronstadt and the Eagles, as well as his solo albums and stint with the Souther, Hillman Furay Band (with Chris Hillman of The Byrds and Richie Furay of Buffalo Springfield and Poco).
JD was in a great mood, telling many stories of how his songs came about, working with Linda Ronstadt, Glenn Frey, Don Henley, Waddy Waddell, and many others.
His set covered his many hits including, Best Of My Love, How Long, New Kid In Town, Faithless Love, White Rhythm and Blues, Closing Time, Silver Blue and of course his solo hit You're Only Lonely.
Thanks for some more great shots, Tom. Actually, JD Souther was just here last week at The City Winery. (Unfortunately, we were unable to attend ...

and

it sounds like w

e missed a GREAT show!)
Lots of good stuff coming up at The City Winery over the next few months, including Robby Krieger (June 3rd), Kris Allen (June 4th), The Weight (an outstanding tribute band to The Band, featuring Marty Grebb, on Jun 10th), Jimmy Webb (June 12th), CeeLo Green (June 14th), Billy Joe Shaver (June 20th), The Verve Pipe (June 28th), The Wailers (June 30th), Bruce Hornsby (July 4th), Macy Gray (July 10th and 11th), Aaron Neville (July 14th and 15th), Al Stewart (July 19th), Reverend Horton Heat (July 20th), Booker T. Jones (July 25th), Louis Prima, Jr. (July 28th), Mac McAnally (August 7th), Berlin (August 8th), Buffy Sainte-Marie (August 24th), Garfunkel and Oates (August 31st), Paul Reiser (September 2nd), Jon McLaughlin (September 15th and 16th), The Richie Ruray Band (September 21st), Eric Burdon and the Animals (September 26th and 28th) and Leon Russell (October 30

th)
Watch for our complete summer concert list coming soon to all the "Locals" on the list. (Live in the Chicagoland area and

w

anna sign for special concert

announcements

and ticket offers? Then drop me a line with "Locals" in the Subject

Line and we'll add you to the list.) These special announcements typically go out via email only. (kk)
Regarding "Image of Girl," I remember Art Laboe telling me that the original master tape of that song was lost decades ago (I believe in a fire) and, as a result, all copies since then have been taken from a submaster Art had obtained from the original label (Eldo) shortly after it's release in order to include that track on one of his "Oldies But Goodies" compilation LPs.
One always had to be careful in licensing tracks from Art. who owned a handful of hits, like Sandy Nelson's "Teen Beat" and The Skyliners' "Since I Don't Have You." Laboe also had sublicensing deals with several small labels (like Sun and Challenge) which allowed him to license out tracks he did NOT own. In order to clearly identify his company as the licensor of those hits, Art got into the habit of altering the tracks -- such as overdubbing a drum or guitar line or, in the case of The Champs' "Tequila," replacing the end shout of the song's title with his own shout (which was painfully obvious). In that way Art could tell if his versions of those hits were turning up on LPs, 45s or CDs his company had not licensed. I, of course, refused to license for the compilation albums I was assembling tampered-with tracks and therefore only licensed from Art recordings which I knew he personally owned (and therefore had not screwed around with). As far as I can tell, Laboe never messed with "Image of a Girl" because, as I've noted, he became the sole source one could go to in order to license that track.
Could you tell me if the gem "Strawberry Tea" is in some album (single,compilation. etc..) by Gordon Alexander? It seems that is NOT on his only LP.
Many Thanks
Napo Camassa III
The best that I could come up with
was a recording by Tiny Tim from his "God Bless Tiny Tim" album. You've probably already heard it, but here it is again for all of those out there who may not be familiar with this unusual bit of Tiny Tim psychedelia (kk) ...
Kent,
I just wanted to drop a line to you to say I enjoyed reading the blogs on your website -- especially the one about how some songs hit #1 in the 1960's on some charts but not on the others. I have enjoyed the music of the 1960's but was too young to have much first hand knowledge of the charts until the 1970's. I never knew there were such national charts (until American Top 40, of course). Since then I have been producing countdown shows (using the Cash Box charts) to help keep that music alive. I have been mostly sharing those countdown shows with family and friends but thought you might enjoy a show or two. If you will get me a snail mail address I can send you a show burned onto a CD-R that plays on a computer (the show is in the MP3 format).
By the way, the first 45 I remember buying as a kid was The Unicorn by the Irish Rovers. I 'lost' the 45 years ago but have the song thanks to itunes.
Sincerely,
Joe Cantello
Roswell, Ga
Glad you're digging Forgotten Hits ... it's all about the music! Sure, send me a disk and I'll give it a listen! (kk)