Eleven 11's
kk ...
Shocked! Stunned! "Time Has Come Today", the riveting classic by the Chambers Brothers, peaked at 11???
The song is an explosion of passion, love and anger.
Gut feeling? The group's record label loused up promotion and since we're going back about 48 years I'm guessing there were hillbilly rockers that thought the song was "too dangerous."
The Chamber Brothers have always intrigued me ... why weren't they more successful? Where did the group go wrong - if indeed it did go wrong?
I gotta believe there are FH Regulars who can educate me on this subject.
Author: Fat Guys Shouldn't be Dancin' at Half Time"
"Time Has Come Today" is another one of those one-of-a-kind / "of that moment" songs that really stands alone.
(I know the first time I heard it my soul was psychedelicized!!!)
They did manger one other Top 40 Hit ... their follow-up single, a version of "I Can't Turn You Lose", peaked at #32 later that year. (kk)
Loved your 11/11 Veterans
Day songs that peaked #11 on Billboard!
Especially "Love Is Strange" by Mickey and Sylvia. Brought back a lot of memories. A Great Tune!!!!
Carolyn
Kent,
Years ago I, using my Billboard book, I put together list of Top Tunes and made a countdown tap. Today you put out 11 hits and it was fun to listen to them. So I thought that I would send you my list as I countdown for funn-zies of the same subject. This is it (I looked up about 80 hits).
Thanks,
1. This Is It / Kenny Loggins
2. On And On / Stephen Bishop
3. Hawaiian Wedding Song / Andy Williams
4. Love Is Strange / Mickey and Silvia
5. Two Out Of Three Ain't Bad / Meat Loaf
6. Cool Night / Paul Davis
7.

Carry On Wayward Son / Kansas
8.

Disco Inferno / The Tramps
9.

Lido Shuffle / Boz Scaggs
11.

Just Remember I Love You / Firefall
12.

Something's Burning / Kenny Rogers and The First Edition
13.

Into The Night / Benny Mardones
14.

One Of A Kind (Love Affair) / The Spinners
15.

Drowning In A Sea Of Love / Joe Simon
16.

I Only Have Eyes For You / The Flamingos
17.

R

hiannon (will You Ever Win) / Fleetwood Mac
19.

Baby Hold On / Eddie Money
My list was totally random ... I had the idea right before I had to leave for work and I probably spent all of about twenty minutes on it ... just look up songs that peaked at #11 for any given year and then chosing a personal favorite to feature. (I'm guessing your list is far more mathematical and is ranking these based on just how big a hit each title was based on week's at its peak position, in The Top 40, in The Top 100, etc.) Cool ... some other GREAT titles on this list! (kk)
In your Random Picks I'm really glad you plugged in "How Glad I Am" by Nancy Wilson. In her first chorus, is it my imagination or does Ms. Wilson sing: "but you don't know, you don't know, you don't know, how the hell I am?" Please give a listen again and see what you think.
Thanks,
OMG, I think you're right!!! I've never noticed this before! I've never heard it this way before ... but I'm damn sure radio wouldn't have played it this way back in 1964!!! Anybody able to shed some light on this one? (Scroll back to Friday and listen for yourself!

)

kk
Leonard Cohe

n
Lots of mail last week after the passing of Leonard Cohen. While I never considered myself a fan (although I DO love his song "Hallelujah"), I've always been outspoken about Cohen being perhaps the LEAST deserving member of The Rock And Roll Hall Of Fame. There is absolutely NOTHING even REMOTELY "rock and roll" about his contribution to music. Still, I sympathize with his many, many fans worldwide now mourning this loss so wanted to share some of that feedback with our readers.
(Several years back I sent a copy of a BEAUTIFUL coffee table Leonard Cohen book to FH Reader Diana Parker, a serious fan, in the hopes that SHE would write an impartial, unbiased review ... but never heard back from her. Diana, now would be the PERFECT time to chime in on this!!!) kk
F

rom FH Reader Ken Voss:
http://www.billboard.com/articles/news/obituary/7400205/leonard-cohen-dies-age-82-obituary
A nice poet and folk singer ... but
he never should have been elected to the Rock and Roll Hall of Fame!
Thoughts?
Danny
The Rock and Roll Hall of Fame has inducted a number of questionable artists. They would do well to realize that, often, less is more.
PP
Agreed ... Leonord Cohen, Joni Mitchell ... some very questionable choices. Where are Johnny Maestro, Link Wray and Buddy Knox? I could make a better case for Pat Boone than some of their choices.
Westfarb
I agree. Songwriters Hall of Fame? Yes. He was never, by any stretch of the definition, a rock artist.
Meanwhile, I repeat my annual mantra: where is Little Feat

?
Jack
The Rock and Roll

Hall Of Fame

is hard up for Rock and Roll acts. They have
had to reach far beyond for people to commemorate - and some
are good musicians but not Rock and Roll. Face it, (as if you cared and I certainly
don't), there have been no worthy Rock and Roll groups in Gawd knows how long.
grandpagofast
Yes, and yet acts like The Guess Who and The Moody Blues continue to be ignored. Thankfully at least The Zombies and Electric Light Orchestra are on the ballot this year. (kk)
Hi Kent -
I read all of the 2017 nominees and am glad to see that the Zombies are on the list. I had Colin on my radio show last Monday and I'm seeing them tonight.
I voted for them.
Geoff
There are plenty of valid qualified artists who deserve to be in the hall of fame for them to be "hard up". Who picks these inductees? They certainly are not rock and roll fans. To tell the truth, I didn't even realize Little Feat wasn't in until Jack Garner mentioned it. Unbelivevable! The way they are going could Michael Bolton get in? (please don't tell me he already is)
Westfarb
Britney Spears and N*Sync are likely future candidates, too, because of all the Rolling Stone Magazine covers they've got under their belts. How on earth did this get SO off track?!?! (kk)
The R&R Hall of Fame is a joke lately!
GMS Radio
Sadly The Rock And Roll Hall Of Fame has BEEN a joke for over a decade now. What a shame ... such a GREAT opportunity to FINALLY recognize rock and roll as an art form and honor the artists who made it so ... and yet we continue to be deluged with WTF nomination like this year's Bad Brains ... yep, THERE'S an artist that rolls off the tongue as being as deserving as Elvis, The Beatles, The Rolling Stones, The Beach Boys and Chuck Berry. (kk)
From Tom Cuddy ...
A wide array of artists have paid tribute to singer-songwriter

Leonard Cohen

, who died Monday.
Elton John:

"Leonard Cohen was unique -- a giant of a man and a brilliant songwriter. Irreplaceable. Loved him and his wonderful music."
Gordon Lightfoot:

"I am deeply saddened by the passing of my contemporary, colleague, fellow Canadian and my dear friend Leonard Cohen. He loved music and his music affected millions of people around the world. He will be greatly missed. I offer my deepest condolences to his family as they grieve this tremendous loss."
Mark Knopfler

: "Thank you for so many years of music and for your enormous contribution to the world of song."
Paul Stanley:

"A poet, songwriter and rogue till the end. Hallelujah."
Rush:

"We lost a true artist and a Canadian legend. A blaze of light, in every word. Au revoir Leonard...rest in peace."
Dave Davies:

"An inspirational poet who will be missed."
Peter Gabriel:

"His unique voice painted unforgettable pictures."
Brian Wilson:

"Leonard Cohen wrote some great songs. 'Hallelujah' is one that is very moving to me. Love and mercy to Leonard's family, friends and fans."
Bob Seger:

"No one was a larger influence on my songwriting than Leonard Cohen!"
I guess Leon won't be making up his date at The City Winery after all. Just as we were going to press this morning I got the news that he has passed away. How sad.
What a career this guy had ... from his early Wrecking Crew days as a studio musician, to playing with Gary Lewis and the Playboys, to his work with Bob Dylan, The Rolling Stones, Joe Cocker and appearing in a scene-stealing segment at George Harrison's Concert For Bangla Desh ... to his own solo career both as a singer ("Tight Rope", "Lady Blue") and a songwriter (the beautiful "Superstar" recorded by The Carpenters and SO many others, "A Song For You" and "This Masquerade".)
Condolences to ALL of those close to him ... including his family and one major fan who I'm sure was devastated by this new this morning, Steve Sarley. (kk)
The Box Tops
While we're treasuring our Box Tops memories, how could you not mention "Choo Choo Train"??
I liked Chilton's Box Tops voice way more than his Big Star voice.
Dan
Yep, another good one ... and a #17 Hit in both Cash Box and Record World back in 1968 (besting their Billboard showing by nearly ten points!) kk
Hi Kent,
In your mentioning favorite songs by The Box Tops, you are right ... "Neon Rainbow" was vastly under-rated. Enclosed is another one I thought should have been another hit, "Sweet Cream Ladies".
Regards,
Tim Kiley
https://youtu.be/Wp61GgT0Ujc
"Neon Rainbow" was always one of my favorites ...
A

nd it was "Sweet Cream Ladies, Forward March" that started this whole conversation in the first place! (A reader had written in that she had just seen The Box Tops live in concert and they omitted this track from their set, one of her personal favorites, so I suggested to our FH Buddy Rick Levy (musical director for the reformed band) that they might want to reconsider adding this one back into the line up as I know that MANY fan

s out there love this song.
Here is w
hat he sent back to me in r
esponse ...
FYI,
we DO the song SWEET CREAM LADIES, FORWARD MARCH
in our show ... just not in every show.
The show your reader saw in
Dania Beach was a short set (45 min) ...
so let your fans know, yes, we get requests and try to fulfill them,
as we did with A WHITER SHADE OF PALE. After our set was over, we were called back for and
encore ... and fans started calling out Whiter Shade ... so we obliged.
Thanks
RICK
PS ... On the Happy Together tour, we only have a 15-17 min slot, as all the acts will play very, very short sets.
PPS ...
Here's a great review of the BOX TOPS concert held November 5th at the VILLAGES, raising money for

Vietnam Veterans of America.
The Box Tops bring back memories in show to raise money for Vietnam vets
By November 6, 2016
Alex Chilton is gone, but the blue-eyed Memphis soul of the Box Tops lives on.
Chilton, who died six year ago, was the lead singer of the Box Tops, one of the most underrated and significant bands of the late 1960s.
Bill Cunningham and Gary Talley of the original Box Tops captured all of Chilton's spirit and the band's soulful sound Saturday at the Savannah Center. The two concerts raised money for the Chapter 1036 Vietnam Veterans of America.
"We're proud to be here and play for Vietnam veterans," Cunningham said from the stage. "We're going to play a song they will remember, and it's an honor to do it for them."
Talley sang lead and while he couldn't match Chilton, Talley turned in a fast-paced, spirited performance on the former No. 1 hit from 1967.
Cunningham brought a softer sound to another Box Tops' standard, "Neon Rainbow."
"That song came out during the Summer of Love," Cunningham said of that long ago time of 1967. "Sometimes, it's hard to remember all the things we did back then, but I hope you remember this song."
The Box Tops possessed a glossy, smooth sound, deeply influenced by the Memphis music scene.
Hits such as "Soul Deep" and "Cry Like A Baby," echoed a variety of Memphis artists,. The list includes such acts as Sam and Dave, Wilson Pickett, Booker T and the MGs, Isaac Hayes, Rufus Thomas, Bobby Womack and B.B. King.
These Box Tops offered a musical tour of that time and those artists during the concert.
The set list featured r&B and rock and such numbers as "Treat Her Right," "Rock Me Baby," "Walking the Dog," "It's All Over Now" and "I'm Your Puppet." There was also a touch of bluesy, psychedelic sounds with a cover of Proc

a

l Harum's "Whiter Shade of Pale" and Cream's "Born Under a Bad Sign."
Cunningham played bass and Talley was on lead guitar as the band paid tribute to new Nobel Prize winner Bob Dylan. Cunningham said lead on Dylan's introspective, "I Shall Be Released".
Bill Cunningham told a story about pushing Elvis' car.

Cunningham, like the rest of the Box Tops, grew up in Memphis. His father was a musician at Sun Studios and the family lived near Sam Phillips, who founded Sun and gave Elvis Presley his first break.
"One day, Elvis parked his Cadillac in the driveway," Cunningham said. "Elvis couldn't get it started and he needed a push to get the car in gear. So I, along with my brother and a couple of other guys pushed the car.
"Elvis was pushing, staying close to the driver's seat door. The car kicked into gear, and Elvis jumped in the front seat and drove away."
Then Cunningham added, with a smile: "I like to tell people, I helped Elvis get his start."
Since we've now covered nearly the entire Box Tops
hit catalog in these past few issues of Forgotten Hit

s, take advantage of your chance to get out and see them.
Yes, they'll be one of the headliners (along with our FH Buddy Ron Dante, Chuck Negron, The Cowsills, and, of course, The Turtles, on the 2017 Happy Together Tour ... but The Box Tops will surely have several other dates coming up before then. Be sure to check out their website to see if they're headed to a town near you

. (kk)
http://boxtops.com/bttour.htm
This And That
It ain't exactly that 87.7 FM station, but MeTV.com recently began offering a streaming music popup on its main page ostensibly providing a similar selection of music ... though in this case curated by the unrelated, but also Chicago-based, AccuRadio.com.
www.metv.com/metvmusic should take you directly to it. When I punched it up today, it led off with "Na Na, Hey Hey, Kiss Him Goodbye" (irony?), and the (tacky-looking?) cover of Steam's one and only album appeared in the popup ... never seen that before.
As explained before when the streaming site first launched just after Labor Day, it is a totally random sampling of the music typically offered on MeTV-FM, albeit totally random and without the "human touch" that makes the radio station flow so smoothly. This means that even if you and I both clicked on the "Listen" link at the EXACT same moment, we would each receive a different
listening experience. (To be honest, I haven't used the stream at all since the initial launch week as I prefer the "live" broadcast so much more. However, for all the out-of-town readers who've been chomping at the bit to hear this great new station, thanks to our rave reviews, all of whom wish they had a station like this where THEY live, it's a great way to simulate the experience. You'll still hear songs you haven't heard in AGES! My sister-in-law was in from out of town a week ago and couldn't get over the wide variety of music they play ... she LOVED it!!!)
As for me, while it's still my station of choice in the car, at home on Comcast Channel 877 and on the clock radio (to both wake up to in the morning and fall asleep at night) I seem to be noticing FAR more repeats far more often and repetitively of late (although Program Director Rick O'Dell insists that this is NOT the case.) Keeping in mind that I listen sporadically at different times during the day, I don't think I should be hearing the same tunes as often as I am. They've got a playlist of well over 3000 songs ... mix it up a little ... drop in some new "adds" every week to keep things interesting ... and cut back on those "button pusher" songs that nobody wants to hear. Personal favorites??? Fine ... that's what iPods are for. When you're appealing to millions of listeners, you've got to play what THEY want to hear!!! (kk)
Looks like The Kinks are reuniting -
Ken Voss
Interesting ... since not more than a couple of weeks ago the Davis Brothers said that they would NEVER play together again!!! (lol) Another artist I've never had the pleasure of seeing ... so let's hope they can keep it together long enough to make their way to Chicago. (kk)
Congratulations to the Chicago Cubs. You must be a very happy fan being from Chicago. Wow - 108 years in the making!
A triple play: Brexit, Chicago Cubs and Trump win!
I always loved Dionne Warwick's singing ... what a great voice and very distinguishable. Her and Bacharach were a "dynamic duo" of the 1960's.
Some great pics of the Box Tops too! Yep, a lot of sing along music!
I don't know that the whole country is as thrilled as you are about the Trump victory ... there are always disappointments when your candidate doesn't win the election ... but I can't recall EVER seeing this kind of outrage and display of emotions before ... feels like this cuts WAY deeper than just America's political differences. (kk)
Meanwhile, Chuck Buell sent in THIS "political clip" from the Ellen Show ... at least we can all agree to smile, right???
Here, take this for a better night's sleep!
Memorable Election Moments
Chuck
From singer / songwriter (and FH Reader) Paul Evans ...
QUESTION:

What did E-bay choose for it's Christmas campaign?
ANSWER:

My song, "Happiness Is" (co-written with Paul Parnes in 1965).
QUESTION:

And which version did they choose?
ANSWER:

Mine.
(Ray Conniff hit the Billboard charts in 1966 with "Happiness Is")
OLDIES RULE!
And please don't forget to add "Santa's Stuck Up In The Chimney" to your Christmas playlist. It's now sitting on You Tube nearing 2,500,000 hits. (Remember that last year I asked for help to get to 2,000,000?)
http://www.youtube.com/watch?v=557tQC86thA.
Thank for your support over these many years,
Christmas Music has been back in full force here in Chicago for nearly a week now ... guess we're up to "The 50 Days Of Christmas" now. (What a shame ... I used to look forward to the holiday chestnuts appearing on the radio again ... now I'm burned out two weeks before Thanksgiving!!!)
But Paul's had some GREAT success with his latest, so congratulations again. And be sure to listen to Me-TV-FM for Gary Theroux's 100 Greatest Hits Of Christmas Radio Special, hosted by Wink Martindale, coming soon! (kk)
Hi Kent,
I enjoyed your piece on my brother, Russ. He is definitely one of the best engineers that ever graced a recording studio. A minor correction: Russ started dividing his time between Motown and Tera Shirma during the summer of 1969. By early fall I knew TS was toast so I told Russ to stay at Motown. So Russ (or Joe) was off by about a year. What can I say about a couple of chuckle heads. Gotta love them both though ...
Abramorama has acquired the rights to "Bang! The Bert Berns Story" we've been telling you about.
FH Reader Bob Merlis shared this press release with us last week ...
"We're thrilled to bring this terrific film and essential piece of music history out to the world, said Abramorama's Richard Abramowitz and Evan Saxon."
Filmmaker Brett Berns added, "We couldn't have found a better, more attuned partner to bring this film to a broader audience than Abramorama. Their participation is the fulfillment of a decade-long quest to bring the story of Bert Berns to the screen; it's really a dream come true. They're providing the optimal distribution circumstance for the film and we have every confidence that with Richard, Karol, Evan and their team, it's in the most capable hands possible."
Music meets the Mob in this biographical documentary about the life and career of Bert Berns, the most important songwriter and record producer from the sixties that you've never heard of. His hits include Twist and Shout, Hang On Sloopy, Brown Eyed Girl, Here Comes The Night and Piece Of My Heart. He helped launch the careers of Van Morrison and Neil Diamond, produced some of the greatest soul music ever made and was inducted into the Rock and Roll Hall of Fame this year. The Broadway bound musical, Piece of My Heart – The Bert Berns Story, about Berns originally premiered Off-Broadway in 2014.
Filmmaker Brett Berns brings his late father's story to the screen through interviews with those who knew him best and rare performance footage including Ronald Isley, Ben E. King, Solomon Burke, Van Morrison, Keith Richards and Paul McCartney.
BANG! THE BERT BERNS STORY debuted this past spring at SXSW and has been screened at numerous festivals including Boston Film Festival, where it won the Best Music Award, as well as Chicago's CIMMFest (Best Soundtrack), Seattle International, Athens International, UK's Doc 'N Roll, Vancouver International Film Festival, Buffalo Film Festival, Mill Valley Film Festival and others.
BANG! THE BERT BERNS STORY is slated for a theatrical, then digital release in Spring 2017. The deal was negotiated by Thought Engine's Karol Martesko-Fenster, and Evan Saxon and NY entertainment attorney Robert Marcus Esq. on behalf of Abramorama, and Executive Producer Sid Ganis and Brett Berns, alongside Sloss Eckhouse Law Co's Jackie Eckhouse on behalf of the filmmakers.
New York Rock: From the Rise of The
Velvet Underground to the Fall of

CBGB

(


NEW YORK ROCK:
Endorsements and Press
"New York Rock is the ultimate illustrated account of Rock's role in New York City." —
Chris Frantz, Talking Heads
"Written in their own voices, an excellent history of New York City rock. What a cool book!" —
Bun E. Carlos, Cheap Trick
"Finally a book about rock 'n' roll that does what pricey cable dramas cannot: Steven Blush's New York Rock (St. Martin's) is rich with stories about the rise of the Velvet Underground and the ruin of CBGB." —
Vanity Fair
"New York Rock: From the Rise of the Velvet Underground to the Fall of CBGB, he chronicles the many phases of rock 'n' roll music in New York City between the 40-year span of 1966 to 2006, from now world-famous bands such as Blondie and Kiss to a whole host of lesser-known bands who were part of the New York rock scene. — Huffington Post
"In his new book New York Rock, Steven Blush gathers interviews with many of the artists, critics and original scenesters who witnessed first-hand the formation of punk's distinctive subculture—a unique prism of influences, crosscurrents, and psychoactive distractions that coalesced around groundbreaking artists like The Ramones, Television, Richard Hell, Talking Heads, and Blondie." —
Medium/Cuepoint
https://medium.com/cuepoint/new-york-rock-the-birth-of-punk-an-oral-history-63ed39b27dc6#.7111pk7rz
"Steven Blush has done something truly impressive and exacting here — distill the essence and core of the rock scene in the country's largest city over four decades into an insanely detailed oral history." —
Houston Press

"There have been a plethora of books about the subject, but few, if any, can boast of being as encyclopedic as New York Rock: From the Rise of The Velvet Underground to the Fall of CBGB." — The Big Takeover
"This is a comprehensive tome that conveys an understanding of a gritty musical era." —
Kirkus
"A sweeping oral history of New York rock" —
Publisher's Weekly
"With such comprehensive coverage, the only disappointment is that your favorite band may garner only a paragraph." —
Booklist
"Steven Blush's new book provides a much-needed service, creating a forum for telling the story of New York Rock by those who made it happen." —
Richard Barone, The Bongos
Speaking of new books, I just finished Garry Berman's "For The First Time On Television" last week.
A well documented, well researched effort, Garry traces back a wide variety of firsts ... HUNDREDS in fact ... everything from The First Person Ever To Appear On A TV Screen to The First Television Station in the US ... to The First Drama Ever Performed on TV, The First Regularly Scheduled Drama Series, The First Prime Time Network Sitcom to the First Sitcom Use Of A Laugh Track ... The First Western, First Medical Drama, First Science Fiction Show, First Legal

D

rama, First Police Drama, First Daytime Soap Opera (this

statistic

may shock you

... while not the first

daytime soap opera to air on TV, "The Guidi

ng Light" aired first for fifteen years on radio before premiering on television on CBS

in 1952, where it ran for another 57 years!!! ... giving it a total run of 72 consecutive years overall!!! That's gotta be three or four generations of family members alone!!! Not to mention how many times they must have told the exact same story again and again and ag

ain during that run!)
The book is filled with fascinating tidbits like that ... First Animated Television Series, First Musical Variety P

rogram, First Made For TV Movie, First Spin Off ... on and on and on.
My initial reaction when I first heard of this book was to contact the folks over at Me-TV to see if they might be interested in putting together some kind of television special broadcasting many of these first in conjunction with a nice tie-in to the book ... but unfortunately nearly ALL of these "first" are SO obscure or were seen by such an incredibly limited audience at the time (seven people in some cases!) that it just doesn't lend itself well to that type of promotion. There is no "connection" to even the mo

st avid tv viewer.
Thankfully, Garry keeps the topic interesting by listing so many other programs we CAN relate to that "followed

suit" to the subject matter of each "first" listed.
From a historical standpoint, if you're into television and want to know the REAL facts, THIS is the book for you. You'll learn things you never even dreamed o

f.
However, if you're geared more around coverage of only the most po

pular shows of the day,

you'll find that most of what WE recall as being groundbreaking at the time was really just an update to something somebody else had done with much less fanfare. (kk)
HERE
'S A T
HOUGHT: Assuming you could find a short lead-in clip for some of these subject matters, you could run a 3-5 minute "example" of a television first and then lead that in (with some good narration explaining the evolution) into a far more popular program that folks COULD relate to. For example, I'm sure there are still enough fans out there of the original "Peyton Place" that you could run a five minute "highlight" reel of television's first night time soap opera ... and then lead that into the "Who Shot JR" episode of "Dallas". Now THAT would be television worth watching. Do the same thing for many of the classic tv sitcoms ... first comedy, first comedy with a laugh track, first comedy filmed before a live audience, etc, etc, etc. What do you guys over at ME-TV think about THAT idea??? (kk)
A reminder of another

book you may be interested in ... and Joel W

hitburn's still offering a $10 discount if you order now. Details below ...

---
$10 Off Upcoming
Top R&B Singles 1942-2016
This upcoming 7th edition is the first to show the songwriter(s) of every R&B-charted song! Top R&B Singles 1942-2016 will print in late February of 2017, and will be $79.95. Order today and get it for only $69.95!
75 Years

5,500+ Artists

23,500+ Songs
It takes one big book to house a huge history that spans from Wyonie Harris, Kim Weston and The Five Keys to Alicia Keys, Kanye West and Clifford Harris (aka T.I.). This 7th edition of our essential reference (formerly known as Hot R&B Songs) contains every artist and song that ever appeared on Billboard magazine's R&B singles chart, from its first "Harlem Hit Parade" chart of October 24, 1942, right through the "Hot R&B/Hip-Hop Songs" chart of August 27, 2016. And it now includes SONGWRITERS, #1 RAP HITS and more in a larger 8.5" x 11" format.
Check out these major, NEW FEATURES below:

►

SONGWRITER(S) shown for every title!
O

ur first R&B book to show you who wrote every song on the R&B charts
►

24-HIT CLUB
Clover symbol

indicates artists with at least 24 charted hits





►

#1 RAP HITS


R&B hits that hit #1 on "Hot Rap Songs" chart + total weeks at #1 indicated





►

FEATURED ARTISTS
Appear

below artist's bio with number of hits on which guest artist appears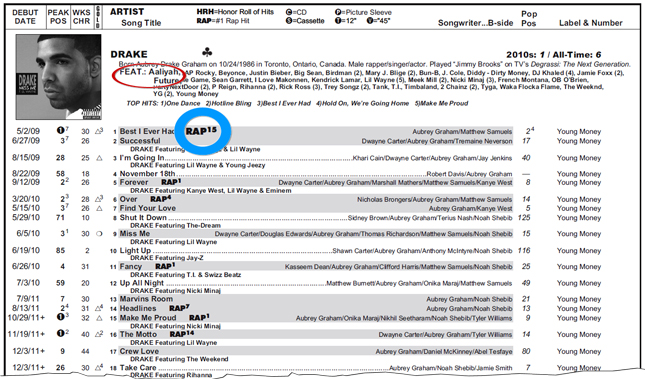 actual page size: 8.5" x 11"

► LARGER PAGE SIZE and upgraded layout and font make our facts and stats easier-to-read with new symbols that pop off the page.
► ​

NEW R&B HONOR ROLL OF HITS list of the most-honored R&B hits by critics and music industry professionals such as the Grammy Hall of Fame, the Rock &

Roll Hall of Fame, and other significant rankings.

► UPDATED BIOS with vital information - group members, birth dates/places, rapper's real names, and death dates for the many artists who passed since the 6th edition.
F

H Reader David Salidor sent us this review of the new Micky Dolenz "MGM Singles Collection" CD (written by our FH Buddy Mark Bego) that ran recently on The Improper website ... http://www.theimproper.com/144266/monkees-mania-micky-dolenz-mgm-classics/
My Re
view:
For those of you considering picking up the new Micky Dolenz CD "The MGM Singles Collection", I should forewarn you that after listening to this CD you are NOT going to come away thinking, "Oh Man, THAT could have been a big hit ... too bad The Monkees were already passe at this point and Micky never got his chance to shine as a solo star." There just aren't any "hits" (or potential hits) on this package. (I'm inclined to believe that Mickey would be the first to agree with this statement, based on the interview he did with Iain Lee at the end of the disc, talking about the origin of these tracks, many of which were just demos recorded in his home studio without any intention of trying to make it on the current pop market. At this point, he was looking to advance his television

, movie and

theatrical career as a writer and director ... and should one of these just happen

to be successful in the meantime, all the better!

... but it just wasn't his main focus at the time.)
That being said, you won't feel any differently on your second or third listen ... although

admittedly

the tr

acks DO get stronger with repeated listens and more familiarity.
For me, a lifetime Monkees fan, having these tracks in pristine condition is a REAL plus. Because I was one of those who had to have EVERYTHING they did (a

"completist" if you will)

, I actually sought out ALL of these songs when they were first released as singles in the early '70's.
Although identified as "The MGM Singles" I remember scouring the planet trying to find copies of these non-charting singles ... and remember, for example, picking up "Alicia" on the Chyrsalis label (as an import, I believe) and Micky's version of Harry Nilsson's "Daybreak" on Romar Records. I think his "Buddy Holly Tribute" may have even been released on Epic Records but I'm not entirely sure about that one. (It might have been Romar, too.) A couple of tracks (like "Johnny B. Goode") were released as Starship, before The Jefferson Airplane took over that name. ("Johnny B. Goode is an interesting track because that's the song Mickey sang for his Monkees audition ... yet it's sung by Michael Lloyd on the Starsh

ip recording.

I also had several of these tracks on a Micky / Davy solo album of dub

ious leg

ality at one point in time. The solo Monkees seemed to have longer careers in Great Britain, Australia and Japan so I know several of my Dolenz si

ngles were imports from these countries as well.)
It's interesting in a way to hear Micky say that he was trying to stay as far away from The Monkees image as possible when recording these tracks, especially in light of the recent release (and success) of the "Good Times" album. There are a few cuts on this CD that wou

ld seem to seamlessly flow on that release, reminiscent of "Me And Magdalena" and the title track.
The new CD is rounded out with a dozen "bonus tracks", featuring alternate mixes and some newly recorded versions of "Porpoise Song" from "Head", medlied into "Good Morning, Good Morning", the track Dolenz watched The Beatles record when he first met them back in 1967, as well as "Crying In The Rain", a song Mickey would later redo with this sister Coco on the "King For A Day" CD a few years ago and "Randy Scouse Git", along with the aforementioned interview. (Honestly, the interview isn't very good ... I can think of a hundred questions I would have asked Mickey instead about the recording of these tracks! But Lee is evidently a rep of 7A Records, who has released this new CD, as well as several other "collectors only" volumes geared around obscure Monkees tracks, so we've gotta cut him some slack because the very fact that he's making the effort to do so keeps him close to my heart.) These tracks are especially noteworthy due to the involvement of Michael Nesmith's son C

hristian!
Overall, a GREAT CD for the diehard fans (who, like me, probably already own most of this stuff ... but now have the opportunity to have it all collected in one place and in pristine condition.) Probably NOT for the casual Monkees fan ... but perhaps for the curious.
Micky's got one of the greatest, most under-appreciated voices in the history of rock and roll ... the guy STILL sounds amazing in 2016 (and I can't wait to see him when he returns to The A

rcada Theatre in February.)
I didn't realize that Mark Bego had helped out with Micky's biography, a book I've

already read twice and will now have to read again. (kk)
An

other o

ne of my all-time favorites, John Fogerty was a keynote speaker at a recent Billboard

Touring

Conference.
John addressed several topics of interest during his panel discussion, including fears that Creedence may have become a One Hit Wonder due to the novelty approach of their first hit, "Susie Q". But fortu

nately Fogerty had some tricks up his sleeve in the way of writing his own material that assured the band a permanent place in the history of rock music.
He also talked about some of the internal squabbles between the CCR band members ... and then ended the program with impromptu performances of two of Creedence's biggest hits, "Proud Mary"

and "Have You Ever Seen The Rain". Sounds like a blast. (Would love to see some of this if it ever turns up on YouTube!) kk