As mentioned here the other day, we went to go see the new Queen / Freddie Mercury biopic "Bohemian Rhapsody" this weekend.
Queen music has been EVERYWHERE lately … and I believe the trend will continue over the course of the next several weeks as more and more people venture out to the theater to see this hot new film. I even heard Rewound Radio play a rare Freddie Mercury demo of the title track, recorded before it had even been completely written … and there have been Queen stories galore running in ALL the major trades and online oldies and classic rock sites for weeks now, dissecting the film and its accuracy and authenticity.
I made it a point not to read ANY of these reviews or commentary until I had seen the film for myself.

I wanted to get MY take down and documented first, before reading anything else that might influence or dissuade me.

I didn't want any "spoilers" and I didn't want to be influenced by anything any other critic may have said.
So with that thought in mind, here are some of my initial reactions to the film … [along with some

EDITOR'S NOTES

along the way regarding things I learned AFTER seeing the film and doing some fact-checking of my own.]
Just prior to posting this review this morning, I read that the movie did about $51 million this weekend, making it the box office champ in regards to topping the box office receipts for this week.

The theater we went to was relatively empty when we first arrived … but it filled up quite nicely right at show time.

Even so, I doubt that it reached 50% capacity … but we also went to 1:30 showing rather than deal with prime date, "date night" crowds going to see the film.
When the project was first announced a few year ago and talk ran rampant that Sasha Baron Cohen had the inside track on the title role, I totally bought into the concept.

I thought he made for an EXCELLENT choice if he could just play the part straight enough (no pun intended) to be taken seriously.

Yes, he was a little too tall to look like Freddie … and I wasn't sure how adept he'd be doing the musical sequences (which were sure to be a big part of the film) … but I was totally on board with Borat in the lead role.
The making of the film was derailed numerous times … a change of actors … a change of directors … for a while there, it almost looked like it might never get made.

When I heard that Cohen was no longer attached to the project, I felt that the end result could never live up to my original expectations.
Now that I have seen the film, I see that he couldn't have been more WRONG for the part … Rami Malek absolutely nails it … in fact, the casting across the board is brilliant and totally believable, all the way down to the actors cast as Freddie's parents.

Roger Taylor and Brian May look like the real deal and there are time when Malek looks so much like the real Freddie, it's mind-blowing.

(By the same token, there is a good percentage of the film where he also looks exactly like Mick Jagger … so whenever it's time for THAT motion picture to get made, you've already got your guy … and he's got his rock act down!!!)
The music is phenomenal … I'm told that this is the first time that the audio from their Live Aid performance has ever been issued to the public (and I had no idea at the time that Queen had been apart so long before the big event … must be because Freddie's two solo albums did so poorly on the sales chart that I hadn't even noticed!)
[

EDITOR'S NOTE:

Fact-checking after writing this review, I learned that they had not, in fact, split up before the concert … or that Freddie's decision to make a solo album spelled the end of Queen in the public consciousness at the time.

In fact, contrary to what's shown in the film, the group was not estranged … and had just played their last gig together eight weeks before their Live Aid show.

So clearly the big reunion scene was added simply for dramatic effect … as was the whole "let's see if we can pull this whole thing together and make music as a band again" thing … other than a short break from the road and the studio a year and a half before, the band never actually split up ... and continued to record and tour together during this time! As an additional side note, Freddie did NOT inform the band that he had Aids just prior to their Live Aid appearance. In fact, he may not even have known it himself at this point in time. The private announcement came about two years later, around 1987. Freddie made a public announcement to the world in 1991 ... and then died the very next day. Honestly, I think THAT would have made for a pretty dramatic scene all by itself!]
I never saw the original Queen live in concert … this was more of my own choosing than anything else … I just didn't like enough of their music (other than the obvious hits and tracks that got extensive FM airplay at the time) to warrant sitting through a two hour show that I knew would feature way more hard-rock, head-banging music than I cared for.

(And, I will be honest … I wasn't sure that I would necessarily care for the element that such a show would draw … 20,000+ screaming fans, up on their feet, dressed in the most outlandish outfits imaginable while I waited to hear "Killer Queen" and "You're My Best Friend" … which, by the way, although mentioned three or four times, doesn't appear in the film at all, despite being a sizeable Top 10 Hit that still gets played nearly every single day some 40 year later.)
The fact that "You're My Best Friend" was missing was one disappointment … and I REALLY believe that had the ending credits also included Wayne and Garth doing their head-banging scene from "Wayne's World" to Queen's two-time monster hit "Bohemian Rhapsody," it would have made for the PERFECT capper to the film, ESPECIALLY since Wayne (Mike Myers) had a significant role in the film.
[

EDITOR'S NOTE:

The character portrayed by Mike Meyers (in an absolutely BRILLIANT and creative bit of casting) never really existed in Queen's folklore … although numerous EMI execs reportedly told the band that "Bohemian Rhapsody" should not be released as a single. He may have been created as a conglomerate of some of those those nay-sayers ... or simply inserted into the mix as a bit of stunt casting.

(A flash of critic reviews published at the time is pretty entertaining as well … nearly universally panned upon its initial release, no one seemed to recognize the pure brilliance that went into creating the track.)

I will never forget the first time I ever heard it.

First of all, I was completely blown away … it was unlike ANYTHING I had ever heard before.

But then the aspiring songwriter in me kicked in and I wondered "How does somebody even begin to write something as elaborate as this?

Where does this come from?

How do you even think this up?

And how do you envision all of these completely unrelated links of music coming together into on cohesive form?"]
As an aside for all our local Chicagoans reading this, I should also point out that there are enough "Ay-Oh's" sprinkled throughout the film to keep even the most casual Ronnie Rice fan satisfied and fulfilled.
I thought the movie ran a little longer than it needed to … yet I can't think of any part of the story that could have been eliminated.

If anything, I now want to learn more about certain aspects not covered in depth during the course of the film.

For example, I wasn't aware of Freddie's long-time relationship with Mary Austin, which I found very interesting.
[

EDITOR'S NOTE:

Freddie didn't meet Mary Austin at a shop … she had been dating guitarist Brian May for a short while and when Freddie found himself smitten with her, he asked Brian first if theirs was a serious relationship.

Brian told him to go for it … and Freddie did ... and Freddie and Mary became lovers for a considerable period of time.

(As such, I also came away with a much greater appreciation of their song "Love Of My Life," which features prominently in the film's story telling.)

Despite Freddie ultimately deciding that he was going to play for the other team, they remained friends for life and, at the time of his death, he reportedly left half of everything he owned to her.]
I also found it quite ironic that the band Freddie initially joined was called "Smile," which, in light of Mercury's tremendous teeth would have been just as endearing a name as Queen ultimately became!

It was cool to hear a Smile song on the soundtrack, too, as I didn't realize that any of the material was even available.
[

EDITOR'S NOTE:

Freddie had four extra incisors, which was largely responsible for his tremendous overbite … yet he chose to never fix his teeth for fear that it might alter his incredible singing range (speculated by some to be as much as four octaves.)

Freddie put the music first, ahead of any vanity looks … and the band was all the better for it.]
All in all, I thought that the music and the acting were both outstanding … top notch … the casting was brilliant … but the overall pacing of the story-telling probably could have been improved, which would have helped reduce the overall length of the film to closer to two hours.
That being said, I still give the film an 8 out of 10.

Frannie ranked it exactly the same (which doesn't happen very often … she typically likes WAY more movies than I do!) … but feels that my suggestion for the addition of the "Wayne's World" scene would have cheapened the movie … so on that point, we'll just agree to disagree.
Still, I have to recommend the film to anyone even remotely interested in Queen's story … some of the mystery of Freddie Mercury himself … and a love and appreciation of this great music.

(kk)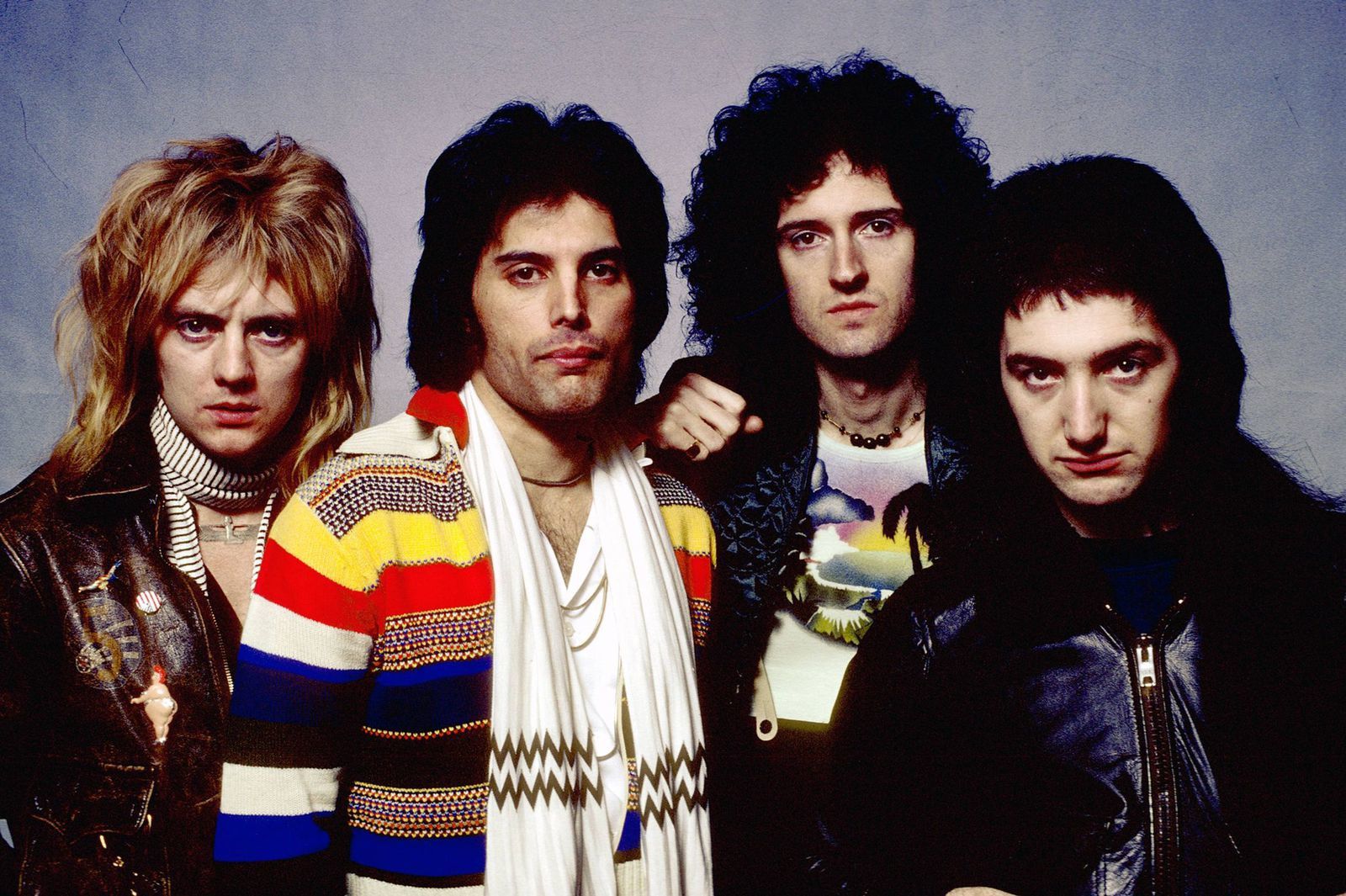 Peak Position shown for their National Top 50 Hits
1975 – Killer Queen (#11)
1976 – Bohemian Rhapsody (#4)
1976 – You're My Best Friend

(#9)
1977 – Somebody To Love (#9)
1977 – Tie Your Mother Down (#49)
1978 – We Will Rock You / We Are The Champions (#1)
1979 – Bicycle Race / Fat-Bottomed Girls

(#18)
1980 – Crazy Little Thing Called Love (#1)
1980 – Play The Game (#38)
1980 – Another One Bites The Dust (#1)
1980 – Need Your Loving Tonight

(#44)
1981 – Flash's Theme (aka Flash) #39
1982 – Under Pressure (#22)

Queen with David Bowie
1982 – Body Language

(#11)
1984 – I Want To Break Free

(#45)
1986 – A Kind of Magic

(#42)
1989 – I Want It All

(#50)
1992 – Bohemian Rhapsody

(#1)
1992 – We Will Rock You / We Are The Champions (#44)
1993 – Somebody To Love

(#30)

Queen with George Michael
After Freddie's death, Paul Rodgers fronted Queen for a few years and, most recently, American Idol finalist Adam Lambert has been out front and center … seemingly the perfect fit to tackle Freddie's incredible vocal styling.

(THIS is a show I would like to see … but I think it may be an even hotter ticket now, thanks to this film.

)

That being said, I hope Lambert is given the chance to sing a couple of his own tunes during the context of the show.

His take on "Mad World" won stunning acclaim on Idol … and his 2010 hit "Whataya Want From Me" made Billboard's Top Ten!

(kk)
[

EDITOR'S NOTE

:

By the way, Adam Lambert has a quick "blink and you'll miss him" cameo in "Bohemian Rhapsody."

In a scene where Freddie is on a truck stop pay phone calling Mary from the road, he makes eye-contact with a man entering the men's room … it's the first indication in the film that Freddie might be curious about exploring his "other side."

The guy giving him the eye back … is Lambert!

Seriously, watch for it or you'll miss it … we did!]
Reviews for the film have been mixed (with a heavy emphasis on the negative side).

Headlines ranged from "Bohemian Rhapsody Is No Pleasure Cruise" to "It Will Rock You … To Sleep" to perhaps the most scathing of all … "It Isn't Just The Wind That Blows Here."
On the other hand, Rotten Tomatoes gave the film a fan score of 4.6 out of 5 … with 95% of the viewers responding stating that they liked the film.
I stand by my "8 out of 10" rating … and liken it to the James Brown biopic made a few years ago … I don't need to rewatch every single scene … but this is something that could easily play in the background for me for many years to come, listening to the outstanding soundtrack while giving the glace toward the tv screen every now and again for particularly interesting scenes.

(kk)
Hi, Kent!
While reading about Mike Myers and his gang moshing along and performing Bohemian Rhapsody in the Mirthmobile, I thought I'd toss a bit of useless trivia your way.
Those scenes were shot while the car was traveling along north Lincoln Avenue in Chicago. As they drove along the 4000 block (just north of Irving Park Rd.), I recognized the huge neon sign in the shape of Abe Lincoln's face that marked the Lincoln Restaurant, where I'd have lunch on occasion.
Mike Wolstein
Yes, and the car statue was a fixture at Cermak Plaza for DECADES over on 22nd Street and Harlem Avenue, right in front of Morton West High School where I (and The Ides Of March) attended classes in the late '60's and early '70's.)

In fact, it's still less than a ten minute drive away from where I currently work (although the statue has since been removed.)

kk
It will be GREAT to see the new film "Bohemian Rhapsody."
Queen was one of my brother Bill and I's fave bands of the 70's and early 80's. We saw them in KC on December 8, 1978, driving back to Lincoln that night and running out of gas one mile from our parents' house. We walked there (no cell phones then, of course) and it was 10 above zero! That was the scary part.
The CONCERT was just awesome! I thought I took a picture or two, but have never found any.

This was their "Jazz" tour (after the LP of same name.)

Altho they did a few songs from the new LP, the BEST (IMO) was "Don't Stop Me Now," which is now popular via commercials, which they did NOT do. They were arguably at their prime at this point in their career, altho "The Game" would have been a #1 charter for me had I still been charting records back then.
This tour was recorded in part on the European leg a month later and many of those recordings made up the "Live Killers" album the following summer. It was said that by the time these recordings were made, Freddie's voice was shot, as the tour had started in the US in Oct, '78 and recordings were made in the UK part which started in January, '79. This live album was the first ever mixed BY THE BAND and they did not really like their mix of it.
Here's the set list of the show WE saw almost 40 years to the month in KC. We were just above the floor I believe on the side and when the acoustic set started, it was (to my memory) just Brian May and Freddie suspended above the stage on a platform doing three songs together. When they did "Bohemian Rhapsody," the stage went black with lights flashing to the lyrics and just a recording of the original song was played for the "Mama Mia" acapella segment of the song and then the lights came back with explosives as the band roared back into the remaining part. How cool it all was.
Kemper Arena in KC was a hopping place nightly back then. December 4th saw the Moody Blues there ... December 7th was KC / Omaha Kings NBA basketball game and December 8th was QUEEN in concert.
We Will Rock You
Let Me Entertain You
Somebody to Love
If You Can't Beat Them
Death on Two Legs
Killer Queen
Bicycle Race
I'm in Love with My Car
Get Down, Make Love
You're My Best Friend
Now I'm Here
Spread Your Wings

ACOUSTIC SET:
Dreamer's Ball
Love of My Life
'39

SET 2:
It's Late
Brighton Rock
Fat Bottomed Girls
Keep Yourself Alive
Fun It [Tease, by Freddie Mercury]
Bohemian Rhapsody
Tie Your Mother Down
ENCORE:
Sheer Heart Attack
We Will Rock You
We Are the Champions
Clark Besch
I saw the new Queen -Freddie Mercury movie last night.
The performance by Rami Malek as Freddie was very good.
Once again there were lots of errors.

The producers did not worry about when songs were released.

They did not sing Fat Bottom Girls on their first American tour and they did not write We Are The Champions in the 80's. There were many other cases like this, however, this is typical of a Hollywood movie. They don't seem to care about some of the time lines.
The younger audience does not know or care. There were many high school and college age students at the movie and they were singing along with every song. It was like a Queen concert. Overall I enjoyed it.