re: AND THE HITS JUST KEEP ON COMIN':
Wow! Every time we turn around Ron Onesti has added more great acts to his line-up of stars headlining at his Arcada Theatre ... and now he's also booking some great double bills for The Grand Victoria Casino in Elgin!
Topping things off at The Arcada is one of my all-time favorites, Burton Cummings, lead vocalist of The Guess Who, who'll be appearing on September 27th with (Holy Frankenfuck, Batman!!!) The Zombies!!!
And, talk about your two-for-the-price-of-one double-bill entertainment, you can catch Joan Jett and the Blackhearts along with Eric Burdon and the Animals on Saturday, August 24th at The Grand Victoria Casino... and then come back again on Saturday, September 21st, to see Grand Funk Railroad and Night Ranger!
Back at The Arcada (in St. Charles, IL) he's got The Rock 'n' Blues Fest on August 8th (featuring Rick Derringer, Ten Years After, Pat Travers, Edgar Winter and Canned Heat ...
Screen legend Debbie Reynolds appearing on September 15th ...
and September 18th sounds like an interesting evening of entertainment ... that's the night that Creed Bratton (Creed on "The Office" and original guitarist of The Grass Roots) throws "An Office Party" at The Arcada Theatre!
Coming October 11th are two '70's favorites, John Ford Coley (of England Dan and John Ford Coley) and Terry Sylvester (of The Hollies) who'll team up to bring us a night of entertainment.
The BoDeans and UFO bring us a couple of back-to-back shows on October 18th and 19th respectively and then another interesting night of music is promised for October 26th when Lisa Marie Presley takes to the stage!
November brings us Los Lonely Boys (the 8th), America (the 15th) and one of Frannie's all-time favorites, Gino Vannelli, on November 16th.
A Tribute to the music of Frankie Valli and the Four Seasons with "Walk Like A Man" on November 23rd, will be followed by "Hot August Nights", an evening of Neil Diamond Music on November 24th.
Michael Bolton takes the stage on December 1st and on December 6th, he's calling it "Singer / Songwriters Night" with an up-close and personal concert featuring Don McLean and Judy Collins.
Jim Peterik and The Ides Of March will rock the Arcada on December 7th and The Lettermen return for their Christmas Show on December 8th.
Complete ticket information is available at www.oshows.com ... some GREAT shows here that you will not want to miss!!!
And, speaking of Burton Cummings ...
Kent:
I attended one of two sold out solo shows that former Guess Who vocalist Burton Cummings did in NYC this week. He said it was the first time in his career he had performed by himself in New York City. It was just him and a keyboard for 90 minutes at the City Winery. He told stories and sang songs from his catalog that he felt he could do justice to with only keyboard accompaniment.
Here's a picture of the set list he had taped next to his keyboard.
New York, NY
Sounds very much like the show and set list he did for his "Up Close And Personal" live CD a few years ago. (He did "Ferry 'Cross The Mersey" for that show, too ... and his "Gordon Lightfoot Does 'Maggie May'" bit as well.) We just got tickets to see his September 27th show at The Arcada Theatre ... can't wait ... with The Zombies as his warm-up act. (Does it get any better than this?!?!?)
re: TIME:
Kent,
Again, I enjoyed your FH for Friday. I believe that it will turn out to be a TIMEless piece.
So again, kudos goes out to you for your main "time" feature in Friday's FH.
I am like my dad in that sometimes I wake up in the middle of the night with
some sort of idea or solution to a problem. I will try to come up, maybe, with
an idea or two for you to use with songs like you did on Friday for a future Forgotten Hits feature.
Without going over them again, did you choose TIME IS ON MY SIDE by the Rolling Stones
and / or Irma Thomas? I remember, I believe, that you couldn't get some "time" songs posted, I don't really remember hearing this song, though I could have.
H
ere is what I'm really writing to you about. I started thinking about songs that have an exact time in the title. You did one or two of these I believe. I thought of the following:
1. Paul Anka -- MIDNIGHT from 1958
2.Gary "U.S." Bonds -- QUARTER TIL 3
3. Robins / Coasters -- QUARTER TIL12 from 1958
There is probably others which I can't think of offhand.
Larry
We did "Time Is On My Side" by The Rolling Stones ... in fact, The Stones may have led the pack with three tracks ... that one, "The Last Time" and "Out Of Time" were all featured.
I only did a couple of tracks that were time-specific, more as a clever break from the action than anything else. "Six O'Clock" by The Lovin' Spoonful was featured at 6 pm, as was "Twelve Thirty" (at 12:30 naturally) by The Mamas and The Papas. I also kicked the series off with Billy Haley and the Comets' "Rock Around The Clock", using the opening lyric of "One, two, three o'clock, four o'clock rock ... five, six, seven, eight o'clock rock" as a means to set up the theme. I let Steve Miller's "Fly Like An Eagle" / "time keeps on slippin', slippin', slippin'" do the same thing ... but other than these I pretty much went with the word "time" all the way ... and its many different uses.
All the tracks are still posted ... and if you started at 6 am on Friday (July 26th) and played 'em straight through till Midnight, you'll find yourself entertained for the bulk of the entire day. (kk)
re: J.J. CALE:
Kent,
Like a few other of your readers, I like to look at old radio surveys
from other 'markets' to see what records that charted that did not chart here in
OKC and vice versa.
With the passing of J.J. Cale, I had to get out two recordings
he made in 1960 on the Chan Record label and play them as they say "one more time".
The songs in question were TROUBLES, TROUBLES, TROUBLES, and his
version of the Jimmy Reed tune, AIN'T THAT LOVIN' YOU BABY.
I am probably quite sure these were never played and heard in Chicago.
Larry
Neither of these tunes charted nationally and, checking my sources, I don't see that either title charted here in Chicago either. This was an exciting time in radio where a radio station, disc jockey or program director could take a chance with a song that they happened to like personally, give it a spin on the air and see if their audience felt the same way. More often than not, these records disappeared without a trace ... but every once in a while a great, local hit was born ... and those records have stayed with us (with as much love and affection) as some of the biggest hits on the national charts at the same time. That's just one of the joys in discovering some of this regional music. (kk)
re: THIS AND THAT:
>>>Eric Burdon and the Animals knocked the ball out of the park with their 1965 classic, "Don't Let Me Be Misunderstood." But, time out! Eric's vocal finishes in the runner up spot behind Joe Cocker's gritty - guts out performance of the song some four years later on his debut album. (Chet Coppock)


Have you guys heard Bettye LaVette's version from 2010?


http://www.youtube.com/watch?v=q8-q7kt9hmU


KKiley (from Jersey)
Just being honest ... this one did absolutely nothing for me ... and I still prefer Eric Burdon's version over Joe Cocker's too! (kk)
Speaking of Eric Burdon, DIDJAKNOW that he cut the original single version of Randy Newman's "Mama Told Me Not To Come" before Three Dog Night took their version to #1? With all our Three Dog Night coverage last week, we figured we'd share this one with you, too! (kk)
Hail Paul Evans -- what else is there to say!!! Thanks, Kent, for posting all those great oldies in the "marathon of records." I picked up The Glass Bottle's debut LP at the CHIRP Record Fair a few months ago. It's got "The First Time", a wonderful pop ballad that was, ironically, the SECOND B-side of "Ain't Got Time Anymore" (I believe!!!), the theme song from "The People Next Door" and a rousing rocker by, surprisingly enough, penners Bradley Raisin and Joanie Levitt entitled "Red River Sal." Certainly worth a few spins. Especially for Gary Criss' terrific voice.
Blub
I always liked "I Ain't Got Time Anymore", an overlooked gem from 1971 that I think would still sound great on the radio today if given an occasional spin. (We got to feature it twice recently ... as part of both our "Ain't" music sweep and most recently in our salute to "Time"!!!) By the way (you may already know this) but the record was produced by Novelty Giant Dickie Goodman, also known as the King of the Break-Ins records. I think he did an excellent job with this one! (kk)
Tom Cuddy just sent us this note about another upcoming PBS / T.J. Lubinksy music special that promises to be quite entertaining ...
PBS Premiering "My Music: '60's Girl Groves" Starting August 3
PBS has another edition of the

My Music

series coming starting on Friday, August 3.

'60's Girl Groves

features some of the female acts, both solo and groups, that were popular from the early to the mid-60's including Dusty Springfield, the Shirelles, Lesley Gore, Jackie DeShannon and Petula Clark.
Series creator T.J. Lubinsky said of the special "This period in American pop music was very special. It was a time of innocence, angst, puppy love, heartbreak and, most of all, great memories of carefree youth -- like the feeling of those wonderful summers in our teens -- wherever we were hearing these songs on the radio."
Former Supreme Mary Wilson hosts.
The performances:
My Boyfriend's Back - The Angels
Heatwave - Martha and the Vandellas
Leader Of The Pack - The Shangri-Las
Will You Still Love Me Tomorrow - The Shirelles
Da Doo Ron Ron - The Crystals
I Will Follow Him - Little Peggy March
I Hear A Symphony - The Supremes
The Loco-Motion - Little Eva
I Only Want To Be With You - Dusty Springfield Johnny Angel - Shelley Fabares
The End Of The World - Skeeter Davis
It's My Party - Lesley Gore
The Shoop Shoop Song (It's In His Kiss) - Betty Everett
What The World Needs Now Is Love - Jackie DeShannon
Yes, I'm Ready - Barbara Mason
My Love - Petula Clark
Rescue Me - Fontella Bass
Read more:
Which reminds me ... are you one of the 15 million people hooked on the CBS Summer Series "Under The Dome"? We are. Last week's episode the military decided to hit the dome with a nuclear missile that would have taken it down but killed everybody inside. As they reached zero hour to the point of impact, the radio station inside the dome broadcast the Skeeter Davis hit "End Of The World" ... outstanding!!! (kk)
>>>Styx should be ashamed of the way it has treated songwriting genius Dennis DeYoung. Hello, do the other Styx old timers ever remind themselves that Dennis wrote all six of the group's top 10 hits. (Chet Coppock)
Regarding Chet's comment about The rest of the Styx guys who should be ashamed about the way they've treated Dennis.
I think it's a 2 way street. Don't forget that Mr. Robotto was Dennis's baby and even after all these years it still stinks.
Heck it's really what broke up the band.
On another note, though, I met Dennis DeYoung and James Young back in the days when they were still on Wooden Nickel records. I was 15 and a huge fan. They were out supporting their third album.
One of our local DJ's set it up so I could meet them. They couldn't have been nicer to this 15-year-old kid. I got to talk to them for around 45 minutes. They let me ask questions about gear, music etc. I have always stayed a fan. I even forgave them for robotto.
It's been 30 years now and I STILL can't forgive "Mr. Roboto"!!! And I don't think I ever will. While there is some truth to Chet's comment about Dennis DeYoung providing the "hit machine" side of Styx, I find that most of those syrupy ballads have not held up well over time. Most of it is just WAY too over the top and have not aged well. Today, the best Styx music on the radio is the rockin' stuff provided by Tommy Shaw and James Young. I'll listen every time "Too Much Time On My Hands", "Fooling Yourself", "Blue Collar Man" or "Renegade" come on the radio ... but find myself pushing the button at the first few notes of "Babe", "Lady" or "Don't Let It End" ... and we hear a LOT of Styx music here in Chicago! (I do love "Come Sail Away", however.)
Having seen both factions of the band live in concert, I've got to go with the Tommy Shaw version here as well. I found myself bored ... in fact, we actually left early! (kk)
And, speaking of our local bands, here's more praise for one of our favorites, The New Colony Six ... from no less an authority than Gary Theroux, the guy who wrote the nationally syndicated "History Of Rock And Roll" radio special!
The problem with the New Colony Six's "I Could Never Lie To You" is that, while it is a great track, the NC6 cut so many great tracks it's very hard to isolate any in particular as their very best. You certainly can't rely on peak chart position in Billboard, because their hitmaking career was split between small labels with limited distribution (Centaur, Sentar, Sunlight) and Mercury, which seemed incapable of properly promoting the band. Among the NC6's best and most upbeat: "I'm Just Waitin' (Anticipatin' For Her To Show Up," which peaked at -- #128! Aside from their only national Top 40 hits ("Things I'd Like To Say" and one of my own chiller records, "I Will Always Think About You"), heartfelt gems like "Can't You See Me Cry," "I Want You To Know," "Barbara I Love You" and "Roll On" became only regional hits due to either poor distribution and/or Mercury's promotional ineptitude. One thing I do know is that when I played the above tracks as oldies on New York radio -- where they were never hits in the first place -- the phones lit up with people telling me that they loved those tracks and wanted to hear them again. When assembling "Dedicated To The One I Love," a romantic hits CD box set I put together for Reader's Digest a few years back, I worked in a bunch of New Colony Six tracks which I licensed from Universal (which owns the Mercury catalogue today). The Universal rep told me she's never heard of the New Colony Six, no one had ever asked to license their material before and why was I at all interested? I suggested she listen to the material. The next day she called back with the clearances and said, "Wow. You know -- they're really good." "Yeah," I replied. "I know."
Amen! (Pretty sad when your own record label doesn't even know who you are!!! Actually, that explains a lot!) kk
Here's a Forgotten Hit on The Mothers-In-Law ... it's The Seeds, playing as The Warts!
David Lewis
Two other favorite clips sent in this week by our readers ... both of these

made my day

!
Well, it looks like about 27 1/2 million of you out there knew about this one before I did ... but it still totally cracked me up!!! (kk)
From our buddy Bish over at WRLR ...
Leave it to the British to come up with this!
- Bish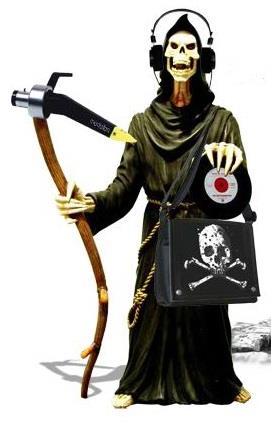 Get into the groove - literally
Ashes to ashes is so old-fashioned - vinyl is better
By Mark C. Brown
7/30/2013 - MSN Entertainment
That sound you hear is the ripping of millions of wills around the world as music fans rewrite their wishes for the afterlife. A British company, Vinyly, will take your cremated ashes and press them up on fully-functional slabs of vinyl to pass out to your friends after you die (on second though, better delegate the "passing out" part to someone you trust).
You choose the music. You choose the cover. And you've got immortality in a far cooler way than any urn could provide you.
It can be spoken words so your friends can hear you from beyond the grave. It can be pet ashes (Vinyly isn't picky). Costs start at 3,000 British pounds, and custom covers and add-ons can boost the price considerably (especially if you want your record to be sold in stores - yep, that's right. You could top the charts posthumously, just like Elvis did).
While the concept is novel and combines two technologies no one had thought to put together in the past - cremation and pressing records - the company is dead serious. "Despite the site's lighthearted tone, all of our services are carried out with the utmost respect & care," Vinyly notes.
The playlist possibilities are endless: "Stairway to Heaven," "Highway to Hell," "Knockin' on Heaven's Door," or, of course, "You Spin Me Around (Like a Record)." And every pop and click in the recording? That's you!
Speaking of vintage vinyl, who amongst us has spent a fair percentage of their lives hanging around a Tower Records Store??? Of course these all closed for good several years ago ... but here's an update submitted by FH Reader Dave Barry, spotlighting a little bit of Tower's grand history ...
August 3, 2013
At age 87, Russ Solomon is still willing to board a train in his hometown of Sacramento and ride down to see a display of blown-up images of Tower Records, the music store chain he founded - and folded 46 years later.
The pictures, inside Hot Italian at Public Market Emeryville through August, are a teaser for the Tower Records Project ( www.towerrecordsproject.org), an archive with aspirations to be a traveling museum exhibit.
As front man for the project, Solomon is eager to offer the opportunity to shake the hand that shook the hand of Glenn Miller, and showed Dave Clark how to hold a tow rope. History like that will always find an audience, and apart from the Tower Records Project, a documentary film has been in the works for five years now.
Q: Where did Tower start?
A: It started in my dad's drugstore, Tower Cut-Rate Drugs, in Sacramento, in 1941. It was named after the Tower Theatre, which is still there. We started selling records in the drugstore in 1941.
Q: How big did Tower Records get?
A: We did about $1 billion a year and had about 170 stores worldwide.
Q: How small did it get?
A: It ended with bankruptcy. All the stores closed at once.
Q: Describe the Tower Records Project.
A: It's an interesting accident. I had all kinds of stuff, and the Center for Sacramento History asked me to donate my big neon sign to them. After that, they said, "You're part of Sacramento history and we would like to have anything else you've got." I'm just glad it didn't all get thrown away.
Q: What else is in the collection?
A: I used to take people's ties. I'd explain, "You're in the music business; you're not comfortable with the tie on. I'm going to make you feel better." So I'd take the ties right off their neck. I have Bill Graham's tie and Richard Branson's tie. I donated the ties to the archive, maybe 400 of them.
Q: What do you think about the North Beach store becoming a Walgreens?
A: It started in a drugstore and the damned thing ends up in a drugstore. There's something poetic about that.
Q: Who is making the documentary?
A: Colin Hanks and Sean Stuart are the partners in it. They're a couple of Sacramento boys that are in the movie business, because of Colin's dad (Tom Hanks).
Q: Record stores have died everywhere. Why the continued interest in Tower?
A: Damned if I know. I think during that period of time, from 1960 to 2006, we became a part of an awful lot of people's lives. If you were into music, and most people were, Tower was the place to go because we had the biggest selection, and we were part of the scene.
Q: Any other projects?
A: Not really, just keeping alive.
Q: Were you a musician?
A: The only thing I could play was a phonograph and I was really good at that.
Q: Regrets?
A: I should have gone public in the '90s. I was talked out of it by my financial guy and it was a terrible mistake. If we'd gone public, we would have had time to change and evolve into something better.
Q: Of all the musicians you've met, who was your favorite?
A: I got a chance to meet Count Basie and Benny Goodman. Today nobody would care about that, but those are the big thrills in my life.
Q: If you hadn't started a record store, what would you have done?
A: I don't know. Everything was an accident.
Q: What would you call your autobiography?
A: "Everything Was an Accident."
Q: Who plays you in the movie?
A: Somebody who is a little bit nuts and funny.
-- Sam Whiting
Sam Whiting is a San Francisco Chronicle staff writer. E-mail: swhiting@sfchronicle.com Twitter: @samwhitingsf
This related response was just too funny not to share ...
I worked for 3 Record Chains in Southern California. In 1974 I was hired by The Wherehouse in Torrance, CA as a manager trainee. I managed a few stores and was eventually made a store "Supervisor" with 10 stores under me, a company Pinto, and the title of "Assistant Vice President".
The Music Plus chain (formed by disgruntled

W

herehouse partners) came calling in 1977, and I managed

two

different stores including Azusa (A to
Z in the USA) where I met my future business partner Hoyt.
In 1979, I was hired by Tower Records in Buena

P

ark, CA (across from Knott's Berry Farm) and was put in charge of their HUGE Classical Records section. The classical LP's were filed by label and serial number, and we carried literally every title. Customers would use the Schwann Classical catalog to look up composers, artists, and works of music and find it by label and number. It was a crazy system!
I

usually only dealt with classical dweebs at this time, who I learned a lot from, but I remember one incident. A young fella asked if we had any off the wall records, and I walked him over to the Comedy section.
"Cheech & Chong are pretty off the wall. So is Monty Python; and National Lampoon is really off the wall." The dude gave me a puzzled look and said "No. I want the Michael Jackson album "Off The Wall".
It was the number one album in the country at that time, and there was a gigantic display with the Afro'd MJ looking right at me. Was I red-faced!
I

did meet Russ Solomon who was a pretty nice fellow.
L

ong live record stores (and records!)
Doug Jayne
Last Record Store
Santa Rosa, CA
I saw your comment the other day about a song that left one of your readers compelled to drive sharpened pencils through his eyes and thought, now there's a nice topic to bring up! I have two opening candidates for "sharpened pencil songs" - The Sunrays' Andrea (a worse use of harmony I've rarely heard) and the Free Design's Kites Are Fun (Which I think even toddlers would turn the station on. How about yours?
We're gonna pass on this one! For one thing, I LOVE The Sunrays' version of "Andrea" ... and for another we caught a tremendous amount of flack a few years back when we proposed a similar theme we called "Guaranteed Gaggers". In fact we heard from several of the artists on the lists asking us not to pursue this topic as they still had to earn a living by going out and performing some of these songs!!! So, out of respect for those who mean the most to us, we backed off and dropped the idea altogether. Nothing personal, CW ... just not a road I want to go down again. (And believe me, we ALL have our lists!!!) kk
re: EDM:
I will readily admit I know nothing about electronic music. Why? Because music is made with guitars & drums, with help from keyboards and horns. Ya want sounds, fart into a mike. Chet's three songs might not be my three songs, but I don't see a problem with it. My question would be, how many of today's artists will still be strutting their stuff on stage at age 70 like Mick Jagger? Then take it one step further. Chuck Berry is 86 and he still gets up on stage once a month in St. Louis. Talk about the Rolling Stones & Beach Boys performing for 50 years? Chuck Berry, B.B. King and even Tony Bennett have been going up on stage for 60 plus years.
LOL ... I love it ... "fart into a mike"!!! Frank Zappa built a whole career around rock and roll "sounds" like that!!! (Oh boy, I'm gonna REALLY hear it from the Zappa freaks out there now!!!) It's true 'tho ... most of today's music is disposable pop ... great for its time but I don't see it having the lasting power of the music we grew up loving. Maroon Five? One of my favorites ... but the Maroon Five "50 And Counting" Tour??? Probably not going to happen. Will Katy Perry or Taylor Swift be packing 'em in in a Las Vegas showroom in 2062? Probably not.
We watched the Paul McCartney Gershwin Honors performance at the White House again over the weekend ... my God, what a wealth of material this man has to choose from ... and people at every age know every word to every song. Without question, the most successful songwriter of our time. But President Obama made a spot-on statement that day. He said that pop music, by its very nature, isn't designed to last. It is popular at its time because it reflects that time, thus rendering it disposable (and forgettable) years later. So the fact that our generation produced not only popular music (of its time) but classic, enduring music that still captures the listener some 50 years later is REALLY saying something. Whether it be Paul McCartney, The Rolling Stones, Chuck Berry or Tony Bennett, these artists STILL have a hold on their audience and are winning over brand new fans every single day. Electronic Dance Music? If you can listen to it at all, you probably won't be ten years from now. In fact when I listen back to some of the '80's and '90's stuff I found tolerable at the time, I'm often amazed and asking myself "Did I really like that song?!?!?" Yeah, I did ... but probably because it was simply the best thing out at the time ... and not because of some overwhelming need to keep it part of my life's soundtrack. And therein lies the very difference that makes Forgotten Hits relevant. (kk)
Just a comment on your Chet Coppock / Keegan Goudie debate ...
I admit I haven't listened to any of the songs posted yet, but in my line of work have heard a lot of electronic music ... my objection to the whole scene is that everybody now seems to rely on outside goings on to put their shows on ... dancers, electronic feeds, overdubs, lighting, huge stage sets, and lots of fireworks, etc. ... are they covering up something that they can't or aren't doing themselves with their voices and instruments? What about the days of having a couple of guys on stage with guitars and drums, horns or whatever to accompany their voices? If some of the "music" I hear now is considered progress, then keep me back in the old days, too. Not saying that some of it isn't pretty good, but if you have to use lyrics and song titles like IDGAFOD or whatever it was to sell records (or MP3's or whatever they call them nowadays!), that's pretty sad. When did it become ok to use that kind of language in songs and everyday talking? I don't want my nieces growing up hearing that or using it. Sorry, I'm not an old fuddy duddy, but that just hits me in the wrong place. Have a little finesse, is what I say.
I agree with you. EDM will never have classics like good old R&R. EDM came from Rock and roll and all it's sub genre's, and though it has many interesting moments, where are the melodies and lyrics? Where are the great players and singers? It's hard to strut around a stage clutching your computer.
Can there be a Lennon McCartney of EDM? Can there be a Jimi Hendrix of the "computer keyboard"?
re: HELPING OUT OUR READERS:
Over the years, we've been asked some REALLY strange questions in Forgotten Hits ... and, incredibly, have found some unbelievable coincidences, helping people make connections with others they've lost track of over the past 30 or 40 years. Unfortunately, this isn't one of them! (lol) kk
Back in the mid 1980's I flew Remote Control planes with someone who looked very much like Gary Pike. I bought an old Chevette from him and then traded it back after fixing a mechanical problem. This all took place in the Gaithersburg / Germantown area of Maryland. It is possible, however, that it was his brother, Jim, but my recollection is more of Gary. It's been awhile, I could be mistaken all together but any chance you could run this by Gary and see if he remembers any RC planes and Chevettes?
I sent Pete's note to Gary (he of Lettermen fame) who gave us this response:
Well Kent, I have owned some rare and classic cars in my time and I did own a black with gold trim 2 door Chevette Sport with a 4 speed somewhere in the late 70's or early 80's but it never saw the light of Gaithersburg, Maryland, unless the guy I sold it to took it back there, but it was running fine when I sold it and I never got it back. I can't remember the name of the guy I sold it to and the name Pete Loevinger does not ring a bell (Sorry Pete). Donny, my younger brother was into RC and glider planes then and still is but he never owned a Chevette. He resides in Hawaii and has a great on shore breeze where he lives for flying gliders. Jim, my older brother has neither owned a Chevette or flown RC planes.
Kent, that's about as close as I can come to answering Pete's question, but there are some coincidences there. I did have a race (Drag) car at one time for many years and was my own wrench, and I did service all my own cars but you're right, this is a strange one for Forgotten Hits. Can't even relate it to "Little Deuce Coupe", or "409".. Hmmmm,
re: SIX GREAT SONGS YOU PROBABLY WON'T HEAR ON THE RADIO TODAY:
Kent,
Got a trivia question for you. In today's FH, what do your first two songs have in common?
They both were recorded by Wilbert Harrison. I figured you knew that.The second song, LET'S WORK TOGETHER, I believe he originally did back in 1961, later remade in 1969 on Sue.
The other day Scott Shannon did play the tune by Rocky Burnette as a listener's request. Occasionally on his show, you'll hear the tune by the Gentrys.
Larry
Yep, that's exactly why I strung those two together. "Keep On Dancin'" by The Gentrys is probably the most likely one on this list to still get played ... although Scott Shannon apparently wasn't the only jock to play "Tired Of Toein' The Line" recently. (kk)
I just played Rocky Burnette. Will that extra credit raise my Summer school grade?
Sure does. But some of the other jocks on the list will have to clean the erasers for not taking part in our little challenge! (kk)
It has been filtered out of some of the later collections, but every original copy I ever heard included the noticeable hum during the first 9 seconds of Mississippi Queen -- including the version you posted today.
It seems that this has come up once before but I had forgotten all about it until I saw your note today. Still a great track 'tho! (kk)
Good morning, Kent:
I can't guarantee I'm going to play them this weekend, but four of the six songs you posted Thursday under "Six Great Songs You Won't Hear on the Radio Today" are in the weekend music library at my station, Magic 98 in Madison. We do "Saturday at the 70s" and "Sunday at the 80s," and the libraries, especially on Saturdays, are pretty deep. the weekends also feature vintage American Top 40 shows from the 70s and 80s (as syndicated by Premiere and not hacked up a la Sirius/XM). We're streaming at
magic98.com
, so drop by sometime.
jb
re: YOU'RE GOING TO WANT TO GET IN ON THIS!:
Balloting has begun for the bi-annual Oldies Music Labor Day 500 -- the first since 2011 and 13th overall. It's a chance for the Oldies fans to let the world know they like more than Steve Miller and Fleetwood Mac (though -- horrors! -- John Cougar already has a vote).
This year, we've expanded the ballot to your 15 favorite songs from the '50s, '60s and '70s. In addition to OldiesMusic.com and Kent Kotal's Forgotten Hits blog (which cover a lot of ground), I'm even buying
Facebook ads to get a genuine cross-section of Oldies fans participating. So spread the word!
Vote now at:
Voting runs through Sunday, August 25 and those who request it will get a copy of the full list when it's out Labor Day weekend.
Need some memory joggers? Here are the songs that have made the list in the past 12 surveys:
- Ron Smith
Let me guess ... is it for "Jack and Diane"??? 'Cause let's face it, it's almost IMPOSSIBLE to hear THAT one anymore!!!
What do the REAL oldies fans want to hear? Here's a pretty good representation. Check out the past winners ... and browse around Ron's site ... one of the first dedicated to oldies music ... and one of the best! (kk)