Playing some serious catch-up again this week so please bear with me ...
Here's what I was able to get read for a Tuesday Edition of This And That ...
re: Funky Street:
Kent,
Great idea for Wednesday's FH. What would you call a gentleman who was taking a stroll down FUNKY STREET? Why, a SOUL MAN of course. FUNKY STREET undoubtedly has to be located in FUNKYTOWN. Of course, FUNKY STREET, I guess, could be located in FUNKY NASSAU. Those little patches of dirt coming out of the ground are caused by FUNKY WORMS. A popular dance would be the FUNKY CHICKEN ... just ask Rufus Thomas.
Kent, I'll think I'll stop with these for now. I know what you're thinking! Why did I start them to begin with. Have a great day.
Larry Neal
After a response like that, if I were the vindictive type, I'd probably tell you to Get The Funk Out Ma Face ... but I'll let it ride because I like your style. (Those other guys walking down Funky Street must be Archie Bell and the Drells ... because you they dance just as good as they walk!) kk
Kent:
Thanks for the wonderful mention about the 50th anniversary of the master FM antenna atop the Empire State Building. I didn't expect you to post it, but I see why you did!!!
Our afternoon star "Broadway" Bill Lee was on hand during the playing of "FM" by Steely Dan as it was simulcast on CBS-FM 101.1 in the Greatest City In The World.
By the way, the original King Kong film was made in 1933 when the Empire State Building was just completed. If you look at the film, there was NO antenna atop the building. There were connections to have blimps land there to float. But no antenna until the TV antenna was installed and the FM part added in 1965. By the way, that movie is my all-time fave. In fact, I purchased a CD several years ago of the original soundtrack -- all of it -- from the film ... music by Max Steiner. Here it is from Youtube!! Still gives me chills today. This is perfection.
https://www.youtube.com/watch?v=eB8X8CH3m7Y
Thanks again ... and keep up the great work you do.
BE BIG!
Big Jay Sorensen
This was a segment I did on my Tuesday morning WATD radio show. I am featuring Girls and Guys from the oldies era who had their first record go to #1 on their first try. I thought I would share this show with your readers. I am the youngest guy playing the Oldies.
Sincerely
Kevin Boles WATD FM
website:
www.kevinbolesoldiesfan.com
Here is a link to download the show if you like

:
https://www.dropbox.com/s/c5ne56i95sr40ka/At%20The%20Hop%20November%203rd.mp3?dl=0
Enjoy!
On my last three trips to Chicago, I've listened to ME-TV-FM for at least a couple hours at a time. To be honest, it would be a fifth option, at best, for me. It's too soft rock for me.
Jack
Song-for-song, variety-wise, it's still the #1 button in both of our cars ... the repetition gets to me sometimes (I swear I heard "Emotion" by Samantha Sang eleven times last week ... and I was only in the car about fifteen or sixteen times!) ... and there's still WAY too much "filler" that isn't either "timeless" or "memorable" (no matter what their slogan says) ... but I love the surprises. At least once or twice EVERY single day I hear something new that I haven't heard them play before ... which means they're still expanding their playlist regularly, adding new features. (What they NEED to do is drop the repeat circulation of several others in the same process to make each day a new and unique listening experience.) As I've said many times before, it doesn't even

have

to be what I would consider a "great" song ... just something DIFFERENT that we haven't heard in awhile. Two cases in point this past week ... "Penny Lover" by Lionel Richie (I don't think I've heard that since it was out) and "Peaceful" by Helen Reddy (not one of my favorites but different enough to get me to listen to it all the way through).
And, yes,

b

y way of these e

xamples, still

WAY too middle-of-the-road / soft rock for your tastes, I'm sure ... but I've always enjoyed VARIETY in radio ... I'm hearing more '50's and early '60's tunes and more "forgotten hits" all the time ... so it's our "go to" station ... but, as we've maintained all along, still in need of some serious "fine-tuning" and tweaking.
By the way, we've heard from several readers who say they have a hard time picking it up. We drove all weekend again and heard a crystal-clear signal until about 107 miles outside of Chicago ... pretty darn good in my book

!

We pick it up just fine in all our regular daily travels ... and wake up to it every morning on the clock radio (and quite often fall asleep to it at night, too, unless it's the Saturday Night Dance Party! lol) kk
re: Roy Orbison:
Last week we told you all about the new Roy Orbison box set being released covering his years with MGM Records.
We also told you about his never-before-released album "One Of The Lonely Ones", recorded in 1969, recently discovered by his sons and now available for public consumption for the very first time.
But what we DIDN'T know was just how personal this album really was.
FH Reader Bob Merlis sent us these two reviews / press releases explaining exactly what prompted Roy to record this LP.
When his boys died in a fire, Roy Orbison recorded a secret album
by
Rebecca Wilson, founder and publisher of Starts at Sixty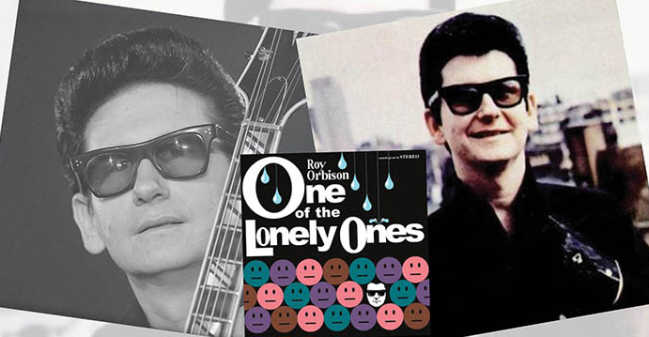 In 1969, two of
Roy Orbison's
sons died in a tragic house fire. Just months after they died, Orbison recorded an album that addressed the trauma, and was thought to have been lost forever until it was discovered by his sons.
If you loved Roy Orbison 50 years ago, then you'll be excited to hear that this month MGM are releasing a secret, "lost" album from 1969 that was never released.
Now restored by sound engineers, Orbison lovers can now experience the 12 new tracks digitally, on CD and on 180-gram vinyl. It is being released next month,
The album is a culmination of many dark years in Orbison's life. In 1966, just two years before two of his three children died in the house fire, his wife Claudette, who he married in 1957, was killed in a motorcycle accident. Two years on, when his Hendersonville house burned down, he sold the lot to his best friend, Johnny Cash (whose house later also burned to the ground). Roy found himself unable to write songs for a while, but maintained a positive outlook and continued touring.
It is coming to life at the same time as a massive release of Orbison's songs, as an 11 album box set featuring 152 tracks that were published by MGM from 1965 to 1973. It is a series of his songs that has been "out of print" for decades, and now it will be available digitally for the first time, as well as a 13 CD set, and a 14 vinyl disc set.
The new album is called One of the Lonely Ones.
It is being released by MGM, approximately 50 years ago after the rock legend signed with them.
The box set is being released as "The MGM Years" and includes all 11 albums the late musician recorded for MGM (from 1965 to 1973) as well as a collection of non-album singles and B-sides and the soundtrack to The Fastest Guitar Alive, the only film he ever starred in.
The first 500 physical The MGM Years box sets pre-ordered through Orbison's official store will be bundled with a copy of One of the Lonely Ones.
Did you know Orbison had been through such bleak years? Do you have his early albums?
1) There Is Only One Roy Orbison (1965)
2) The Orbison Way (1966)
3) The Classic Roy Orbison (1966)
4) Roy Orbison Sings Don Gibson (1967)
5) The Fastest Guitar Alive (Soundtrack) (1967)
6) Cry Softly Lonely One (1967)
7) Roy Orbison's Many Moods (1969)
8) Hank Williams the Roy Orbison Way (1970)
9) The Big O (1970)
10) Roy Orbison Sings (1972)
11) Memphis (1972)
12) Milestones (1973)
13) MGM B-Sides And Singles (2015) (2 discs in vinyl box set, 1 disc in CD box set)
One of the Lonely Ones Track List:
1) You'll Never Walk Alone
2) Say No More
3) Leaving Makes the Rain Come Down
4) Laurie
5) Sweet Memories
6) One of the Lonely Ones
7) Child Woman, Woman Child
8) The Defector
9) Give Up
10) Little Girl (In the Big City)
11) After Tonight
12) I Will Always
And, from Agence France-Presse (which we suspect was translated from French) ...
Tragic new album by the late Roy Orbison due out
'One of the Lonely Ones', a previously unreleased album from 1969, will go on sale on December 4
Roy Orbison, the legendary rockabilly singer whose life was marked by tragedy, has a new album coming out nearly 30 years after his death.
Orbison was best known for the 1964 hit Oh, Pretty Woman, but worked prolifically on music as he coped with deaths in his family.
Orbison's estate announced Monday that One of the Lonely Ones, a previously unreleased album from 1969, will go on sale on December 4.
The album was thought to be lost, but was found by Orbison's sons and restored by sound engineers.
Orbison recorded the album months after two of his sons died in a fire at his home in Tennessee while he was touring England.
His wife Claudette — whom he had married, divorced and remarried — had died in 1966 in a motorcycle accident involving Orbison.
Much of the unreleased album deals with the trauma, including the title track, in which he sings, "I'd rather be dead and done / Than to be what I've become / One of the lonely ones."
Orbison's estate is also releasing on December 4 a box set of 13 CDs, or 14 records, of the singer-guitarist's work on MGM Records.
Orbison had signed to MGM in 1965, when he was seen as a great hope for American artists faced with the British Invasion led by The Beatles.
He recorded frenetically for MGM, putting out 11 studio albums between 1965 and 1973 as well as a soundtrack for The Fastest Guitar Alive, a movie in which Orbison starred.
The MGM Years box set features restored editions of the previously released but out-of-print albums as well as singles and B-sides.
Orbison enjoyed a career revival in his life's final months as he joined the Traveling Wilburys supergroup that included Bob Dylan, George Harrison and Tom Petty.
He died in 1988 at age 52 of a heart attack linked to exhaustion.
re: Arnie Karr
Speaking of loss, we heard that our longtime FH Friend Arnie Karr passed away last week.
Hi Kent,
I'm not sure if you've heard the news or not, but our longtime friend (and FH reader / contributor) Arnie Karr passed away yesterday from liver cancer at the age of 62. I was just re-reading some of the comments regarding Last Kiss that Arnie had contributed to. I'll miss him dearly.
-- Tom Diehl
If Arnie wasn't one of the first 35 Forgotten Hits Readers, he was pretty darn close ...

seems like

he'd been a list member forever. We all met back in the old AOL Oldies Music Chat and Trivia Room (as did Tom and I when I think he was about twelve! Just kidding, Tom ... but you WERE the youngest ... yet one of the most knowledgeable ... oldies freaks in the room at the time ... and that's saying a lot since JacoFan was probably in his early 20's at the time and could already recite verbatim the entire history of rock and roll dating back to the 1890's!!!)
A few years later, Arnie (who played with a band that billed itself as "The Cavaliers" ... and sometimes J. Frank Wilson's Cavaliers) ... contacted me because he felt some inner turmoil about the fact that the band he was musical director of (although actually led by Leo Lucas, who claimed that J. Frank Wilson gave him the rights to the band on his death bed ... and also falsely claimed that he performed on the original recording of the

ir #1 Hit "Last Kiss"

) may, in fact, have had no legal right whatsoever to the use of the name ... and were, in the process, deceiving the public into thinking they were something that they were not.
It was Arnie's conflicted plea that got me to investigate

the true history of J. Frank Wilson and Cavaliers and their

timeless classic "Last Kiss"

in the first place ... and what a completely INSANE process that turned out to be. (At one point I remember writing something along the lines of "J. Frank Wilson and his 35-piece back-up band The Cavaliers ... based on how many musicians have since claimed to have been on that recording ... which also included the entire Philadelphia Eagles Football Team and The Mormon Tabernacle Choir" ... walked into a small Texas recording studio in 1964 and proceeded to record

t

he #1 Hit 'Last Kiss'.)
Y

ou can find the complete (and extremely hard to follow!) story of "The Last Kiss" here ... aptly described as "The Incredible Convoluted Story Behind 'Last Kiss'") Have aspirin handy ... you'll need it!
It is, without a doubt, one of our most-read and highly debated pieces ever published.
Over the years,

I

've been contacted by countless people claiming to have been involved with the recording of this hit and stating that they were one-time members of The Cavaliers ... we've even heard from TWO people claiming to be J. Frank Wilson's illegitimate children ... and reported on another guy who was going out making live appearances and performances as J.

Frank Wilson, YEARS after the REAL J. Frank Wilson had passed away ...

the list goes on and on and on. A few years ago we ran a feature by Sid Holmes, who published a book detailing HIS understanding of the REAL circumstances behind this recording ... and all of the twisted history that followed ... and Sid told us that our account was the most accurate representation of the actual events that he had ever r

ead.
Speaking of our FH Buddy Arnie Karr, Frannie also sent me this very nice obituary from Facebook. The fact that Arnie earned a living as a journalist ... and entrusted me to do the digging on the "Last Kiss" story is quite a compliment to our efforts here. We last spoke about two years ago ... I had no idea that he was even sick (and apparently neither did very many others which, from the sounds of things, was exactly his intent) ... although over the past two weeks I did hear rumblings about some concern

regarding

his health. Still I had no idea it was this far along.
We'll miss you, Arnie ... you were a good friend to FH. Thanks for including us in your life. (kk)
Here's a shot of Arnie Karr as WE knew him ...
Be

hind

the keyboards in

this

photo, we dubbed him "Smiling Arnie"!!!
Arnold J. Karr, senior financial editor at Women's Wear Daily, who spent the better part of his 40-year career at Fairchild Publications, primarily at WWD and its brother publication, DNR, died Friday from liver cancer. He was 62.
Funeral services were held Sunday in Rockville Centre, N.Y.
Karr, a highly respected and beloved editor with a keen journalistic instinct, prolific writing ability and well-rounded experience, was also an adjunct professor of journalism at the Fashion Institute of Technology and an accomplished musician known for his keyboard play, notably the accordion.
Karr held several posts and responsibilities over the years at WWD, most recently including coverage of the denim market, development of research pieces, and financial reporting.
"Arnie's colleagues at WWD are all heartbroken by his passing," said WWD editor in chief Ed Nardoza. "He was a bold, funny, high-powered force in our newsroom. A smart, consummate journalist, gifted professional musician and a natural teacher, Arnie had a rare instinct for mentoring inexperienced reporters who came to him with little more than a hunger for a career in journalism. Time and again, we saw Arnie turn WWD's young staffers into real reporters. We'll miss his patience, his empathy, his journalism and his irrepressible humor."
Karr was born on May 24, 1953, in Franklin Square, N.Y. After graduating from Valley Stream North High School in Valley Stream, N.Y., he received his bachelor's degree from Carnegie Mellon University in Pittsburgh in 1975.
He began his journalism career immediately thereafter, joining DNR in 1976 as shirts and sweaters editor, and transferring to the paper's Los Angeles bureau as West Coast editor the following year. After a brief stint as editor of Men's Apparel News, he rejoined DNR in New York as apparel and retail editor in 1980, and was subsequently promoted to associate editor. Karr was to subsequently return to Los Angeles to run his own public relations company, which included such clients as Bugle Boy Industries and the MAGIC trade show. He returned to Fairchild once again in 2007, serving as senior online editor and then financial editor.
During his career, Karr built strong relationships throughout the fashion industry thanks to his charismatic personality, friendly demeanor and strong journalistic standards.
"I am truly saddened by Arnie's death, and the world of fashion reporting has lost a true talent, someone who loved the industry and the people in the industry so much," said Chip Bergh, president and chief executive officer of Levi Straus & Co.
Emanuel Chirico, coo of PVH Corp., said, "Arnie was a great supporter and friend of PVH. We will miss his understanding and coverage of our company and his ongoing support to articulate our ever-changing story."
"Arnie Karr is one of those very special and very rare people," said Dana Telsey, chief executive officer of Telsey Advisory Group. "Always ready to help in any way, always full of optimism, and always a way of putting the situation into context and perspective that shows he gets it."
Allan Ellinger, senior managing partner at MMG Inc., said: "I always thought of Arnie as sort of a Renaissance guy because of his ability to write, his intuitive understanding of business and his love of music."
During his off time, Karr taught journalism for more than 25 years at FIT, proudly helping to mold the next generation of reporters and editors. With his booming baritone voice, he also played in a series of bands that generally focused on music from the early days of rock 'n' roll. He was adept at many instruments, had a vast knowledge of musical history, and exhibited the same passion about music that he brought to all his endeavors.
His father Norman, a fashion industry public relations executive who helmed The Fashion Association and initiated numerous industry charity events, including The American Image Awards, died in 2009. Karr is survived by his wife, Rhea; a son, Daniel; his mother, Selma, and a sister, Joanne Skop.
re: Danbury Fields Forever:
A couple of months ago we told you all about the special Beatles event "Danbury Fields Forever" ... in fact our FH Buddy Gary Theroux was one of the hosts for yet another one of Charles Rosenay's killer tributes to The Fab Four. Afterwards we asked Charles for a few comments ... but by then he was already off across the pond with one of his Liverpool Tours. However, he's back now ... and planning more special Beatles events ... and recently weighed in on Danbury Fields Forever ...
Dear Kent,
Yes, I remembered!!!
Shame on me. I love Forgotten Hits, and you are so good about printing what I send you.
For some reason I'm very good about getting the word out about my shows, but not following up with you. I think it's because I get so psyched for my upcoming events and can't stop thinking about them, and while the fan is me wants to talk about the show that has just taken place, the promoter in me has moved on to the "next big thing." After the August festival, I was already hard at work promoting a Lennon 75th birthday concert.
Anyway, below - better late than never - is a report on the "Danbury Fields Forever" Fab 4 Music Festival co-written by Robin Roberts.
Cheers,
Charles
The Fab 4 Music Festival "Danbury Fields Forever" took place at Ives Concert Park in Danbury, CT, on Saturday, August 15, 2015. Designed to commemorate the 50th anniversary of the historic first Shea Stadium concert, the festival was held exactly 50 years ago to the date. Produced by Liverpool Productions ("NYC Fab 50" – the Beatles fiftieth anniversary events in New York, the Magical History Tours to Liverpool), the extravaganza also served as a tribute to Sid Bernstein, who produced the Shea Stadium concert(s) and to Grammy Award-Winner Dennis Ferrante, who was John Lennon's recording engineer and passed away two months prior. Ferrante had come to past concerts in Connecticut, and was a friend of the festival. When fans entered the festival grounds, they were greeted by two banners with the faces of Sid Bernstein and Dennis Ferrante.
Doors opened at Noon and the star-students from a New York-based School of Rock began the day with a surprisingly tight set of rockin' Beatles classics. They were followed by Westchester's Strictly Beatles, who played the year before under the name BeatleHead. It seemed that there were a few member changes, and the band wasn't as dynamic as the previous year.
Some bands were invited back, and others made their debut. Two solo acts who'd never played this event before completely energized the crowd, delivering their Beatle covers from two separate spectrums. Soul / R&B powerhouse singer Nekita Waller totally owned the stage. Entertaining audiences since her debut at the Apollo as a child, her credits include sharing the stage with BB King, the O'Jays, Ruben Studdard and others. With such great pipes and such a terrific personality, why isn't she already a superstar?
Eric Herbst from the band Dizzyfish was the next soloist. The singer / songwriter / guitarist had recently opened for the Steve Miller Band, and his acoustic renditions were a joy to listen to. Eric actually had one of those six degrees of separation connections to The Beatles ... in 2008, he recorded an album of his original music with Alan White of the band Yes. Alan played drums on John Lennon's "Instant Karma" and on George Harrison's "All Things Must Pass" albums.
AfterFab
played rocking renditions of songs from the Beatles' solo years, proving that the music of John, Paul, George and Ringo fit in such a setting alongside The Beatles' group classics. The Massachusetts band were one of the day's two acts to specialize in solo material, and they were very well-received.
Two Connecticut bands,

The Navels and NumberNine

rocked the crowd as they played songs from the entire Beatles catalog. The Navels are fronted by a great female vocalist, backed by great musicians who not only delivered great versions of Beatles standards but also looked like they were true fans having fun on stage. Their repertoire spanned early standards right up to "Hey Jude." NumberNine were more like a Fab Faux-esque ensemble, recreating more intricate numbers with precise instrumentation and arrangements.
Next up was Long Island's
Penny Lane
, who performed songs from the "Sgt. Pepper" album, no easy task for a quartet, and they looked splendid in their colorful
Pepper
outfits. Their vocals were excellent, and the crowd responded enthusiastically.
The Blue Meanies

took the stage next and really got the crowd on their feet. After delivering spot-on versions of songs from "Help!" and other 1965 Beatles favorites, the Staten Island / New Jersey band, known for their tributes to The Beatles, The Beach Boys and The Monkees, surprised the crowd when they announced their special guest, Hilton Valentine. Rock & Roll Hall-of-Fame guitarist with The Animals, Hilton Valentine was the festival's Special Guest of Honor, but was not expected to perform. He spent the entire day meeting fans, signing autographs and answering questions about The Beatles, The Animals and the British Invasion. With the Blue Meanies, he played a rousing blues style guitar to some of the Animals' hits and other well-known blues numbers. The man can certainly rock, and well-deserves his place in the Rock and Roll Hall of Fame. This was the second year in a row that a British Invasion musician was Special Guest at the Fab 4 Music Festival. In 2014, Herman's Hermits bass player and founding member Karl Green made a rare appearance (but did not perform).
Connecticut's
The Hofners
closed the show with an amazing note-for-note recreation of the Beatles' August 15, 1965 Shea Stadium concert. The band wore the Shea Stadium jackets and ran up to the stage in the same manner as the Beatles did all those years ago. No one was sitting during their performance. This is the same band that has headlined "Danbury Fields Forever" every year, with drummer Mike "Ringo" Streeto, and they continue to impress audiences as one of the foremost Beatles tribute bands on the circuit.
In-between acts, host Ken Michaels (of the "Every Little Thing" radio show) and Beatles historian Gary Theroux (rewoundradio.com's "History of Rock & Roll") entertained the crowd with stories and trivia.
Scattered around the park were lifesize Beatles banners and artwork by the famed Beatles artist Shannon McDonald. Beatles authors Candy Leonard ("Beatleness"), Jere Hester ("Raising A Beatles Baby"), and Vika Winters ("The Little Girl From Yesterday") were there promoting their books along with other vendors selling Beatles merchandise. Food and drink were plentiful, with one vendor getting into the spirit of the festival using Beatles references to name the sandwiches offered.
There was an after-party at a local hotel, where fans had a sing-along led by Dave Pal from the band "Beatlemania Again," who also guested with The Hofners.
If you missed "Danbury Fields Forever" this year, don't miss the next one.
It's worth a trip from anywhere.
Or Call: (203) 795-4737
A

nd, speaking of The Fab Four ...
>>>Judging by the weeks listed column, it looks to me like KRLA just launched their new weekly Top Thirty Tune-Dex survey the week before. (How's THIS for getting in on the ground floor of things?!?!?) kk
Here's a KRLA survey from a year earlier. They hadn't just started issuing surveys.
Funny because the '65 chart we featured on Monday showed EVERY record's "weeks played" as either a 1 or 2 (or a brand new premier) ... so they must have "reset" the playlist or something.
But check out this chart from 1964!!! Frickin' AMAZING ... The Beatles hold an INCREDIBLE TEN of the Top 15 spots ... and many of these are LP tracks! Who would have thought that by September of '64 they would still be exhibiting THIS kind of chart clout!
You'll find The Fab Four at #1 with "I'll Be Back" (from "Beatles '65" ... or, on import "A Hard Day's Night"), #2 with "Things We Said Today" (from "Something New" ... or the "A Hard Day's Night import), #4 - "And I Love Her" (from both "Something New AND "A Hard Day's Night"), #7 - If I Fell (also from both of the above albums), #9 - "Matchbox" (from "Something New"), #11 - "Any Time At All" (from "Something New"), #12 - "A Hard Days Night" (from the United Artists Soundtrack ... and out as a single at the time), "#13 - "When I Get Home" (from "Something New"), #14 - "I'm Happy Just To Dance With You" (from both "Something New" and "A Hard Day's Night"), #15 - "Slow Down" (also from "Something New" ... and now out as a single) and then way down at the bottom at #31, "I Should Have Known Better", the B-Side to "A Hard Day's Night" and also featured on the soundtrack album. (In between you'll find "Ringo For President" by The Young World Singers at #5, "From A Window" by Billy J. Kramer and the Dakotas at #16 (a song written by Lennon and McCartney), "A Letter From Elaina" narrated by the one and only Casey Kasem (and all about The Beatles) and, WAY down at #57, "I Don't Want To See You Again" by Peter and Gordon, another Lennon-McCartney composition. A full nine months into Beatlemania and this is unheard of! (Then again they DO refer to themselves as "The Original Beatle Station" for Los Angeles. (In addition to moving on to "The Newlywed Game", DJ Bob Eubanks also introduced The Beatles at The Hollywood Bowl that year ... along with (former) Chicago's own Dick Biondi, the first deejay to play a Beatles record in America!!! (kk)
(Best Elvis voice): Thank you very much ...
for sending in this little tidbit, Frank! (kk)
FH Reader Tom Cuddy sent us this recent interview (pre-fire) with the 80-year-old music legend ...
http://www.rockcellarmagazine.com/2015/11/06/wonderful-wonderful-an-interview-with-johnny-mathis/#sthash.BAN1mzMu.dpbs
Big stories this past week about The Eagles postponing their Kennedy Center Honors until 2016 so that Glenn Frey can have some emergency intestinal surgery done ...
http://www.rollingstone.com/music/news/john-lennons-
And, speaking of The Eagles, Don Henley "shared the love" during a recent solo appearance ... check out THIS story, sen

t in by FH Reader Tom Cuddy ...
Don Henley

had an outspoken

Eagles

fan ejected from his solo gig Saturday night in Detroit. Henley is on the road supporting his first country album,

Cass County

.
On Sunday, Henley described the incident: "I was starting to introduce the band and was just about to introduce [guitarist]

Steuart

[

Smith

] when some guy in the front row, right in front of Steuart, yelled out '

Don Felder

.' So, I called him out. But he wasn't finished. He blurted out, 'Don Felder taught

Tom Petty

how to play the guitar!' I said, 'O.K., that's it. You're outta here' -- and I had security escort him out. The audience cheered."
Henley
said he "did exactly what

Glenn

[

Frey

] would have wanted me to do in his hometown. Told them that (Friday) was Glenn's birthday and that that was my birthday present to Glenn. They went wild."
At the show, Henley made sure to call the guy a rude name and promised him a "full refund...in dollars and in karma." He told the audience, "I have three teenagers at home and usually I'm a pretty patient guy, but sometimes you go over the line."
Smith replaced Felder in the

Eagles

' touring band after the band severed ties with him in 2001
.
If you've seen the Eagles documentary "The History Of The Eagles", you know that there's no love lost between Frey and Felder ... explosive moments captured on stage are shared in the film ... kind of ironic in a way, isn't it Don ... that The Eagles were so willing to share some of their OWN Dirty Laundry??? (kk)
A star-studded celebration has been announced for Sam Moore's 80th birthday.
Sting

,

Jon Bon Jovi

,

Michael McDonald

,

Randy Jackson

and

Don Henley

will take the stage November 21st at the Fillmore/Jackie Gleason Theater in Miami Beach. Besides the milestone birthday -- which actually took place October 12th -- this is also Sam's 60th year as a recording artist and performer.
Bon Jovi dueted with Moore on the track "Lookin' for a Love" from Sam's 2006 album

Overnight Sensational

.
The show will benefit the Soul, Arts and Music Foundation. THE SAM was founded with the goals of engagement, education and inspiration of children.
A couple of weeks ago we were invited to a special studio session with Dion, who was working on his new album, scheduled for release in February. Unfortunately, we couldn't go (it WAS, after all, in New York City!!! lol), but here's the latest word on that new LP ... which also features a brand new duet recorded w

ith Paul Simon!
Bob Merlis tells us ...
DION DIMUCCI RETURNS TO RECORDING:
"NEW YORK IS MY HOME' DUET WITH PAUL SIMON
SET FOR RELEASE THIS WEEK ...
FULL ALBUM OUT IN FEBRUARY
Never one to rest on his laurels, rock 'n' roll legend Dion (DiMucci) recently returned to the studio to record a new album that will be released this coming February.
Produced by Jimmy Vivino, seen nightly leading The Basic Cable Band on Conan, the album will be issued by Richard Gotteher's Instant Records through The Orchard on February 16. "New York Is My Home," the album's title track, will be available this Friday, November 13. It's a duet with fellow New Yorker Paul Simon. He is seen with Dion in a video for the song that was shot on the streets of New York in late October by David Niles.
The song was written by Dion and initially recorded as a solo effort. He noted, "Early on, I knew I had to sing it with Paul Simon. We share a love for rock 'n' roll street music, the say it was done when we were kids. I knew Paul would 'get' this song. And he did. Soon after I sent it to him called and said he'd become obsessed with it and added his own distinct touches to the production. He's from Queens, I'm from the Bronx; we're both at home in New York. This was a labor of love for us."
Dion, who was inducted into the Rock and Roll Hall of Fame in 1989 by the late Lou Reed, commented on the new track, "It's my 'street rock 'n' roll song," my love song to the city and my girl." He continued, "What can I say? For me, God's country is never gonna mean canyons and forests. Its gonna have sirens and subways and crowds of people. I love the style and the way the city moves — all acceptance and love — the music seeping up from the streets. To my eyes the city is pure; it lifts me to a higher reality. I experience the fullness of life in New York. It's all here."
re: Wanna Go See Richard Marx?:
Forgotten Hits Readers who are part of our "Locals List" just

l

earned about a chance to score free tickets to see Richard

Marx, live in concert at The Genesee Theatre on Friday, December 4th.
If you happen to live in the area and are able to attend this show, we'd like to invite you to play along, too! Full details are below. (And then be sure to send us your name and email information so we can add you to the local list for future concert oppor

tunities!)
Here's The Scoop:

T

hanks to Colleen Rogalski of The Genesee Theatre, we've come up with an interesting way to give away several pairs of tickets to

see
Chicago-born and bred Richard Marx when he hits The Genesee Theatre on Friday, December 4th, for an 8:00 show ...
We can't wait to see it ...
and we'd like to take a few Forgotten Hits Readers with us to the show.
So ...

i

n order to do so ... we've put together a

good

old-fashioned contest ... with a twist ...
Tell us ... in 25 words or less ... why you'd like to attend The Richard Marx Concert ...
But somewhere within those 25 words you have got to include the title of one of Marx's fourteen Top 20 Hits. (clever, eh???)
Between 1987 and 1994, Richard Marx hit Billboard's Top 20 an incredible FOURTEEN times ... and THREE of those hits went all the way to #1. (In fact, Marx's first seven chart hits ALL made The Top Five! And he'd do it again ... two more times ... after that!)
Get your entries in quickly because this show is just a few weeks away. (And, as always, please don't enter if you can't actually attend the concert ... we hate giving away unused tickets ... nor is it fair to deprive someone else the chance of going.)
Email me here at
ForgottenHits@aol.com
... and we'll announce the winners by November 20th.
This should be a great show ... don't miss your chance to see it.
Here's my all-time favorite Richard Marx song ...
Which, by the way, now makes "hazard" ineligible for your official entry!!!
You can
p
urchase tickets for Richard Marx ... or several other great up-coming shows ... here: