Reminder ...
That brand new six-week summer music series "Greatest Hits" premiers tonight on ABC. Check it out! Rick Springfield and REO Speedwagon are among the first guests.
http://abc.go.com/shows/greatest-hits/about-the-show
Some great music here in the Chicagoland area over the Fourth of July Weekend ...
Catch The City Lights Orchestra at Centennial Park West in Orland Park on Sunday, July 3rd, from 5 - 7 pm. Bring a chair and enjoy a very enjoyable evening of music. Bruce Mattey is a regular member of this 32-piece orchestra / ensemble and this weekend you can catch a special appearance by him and the rest of The New Colony Six performing their Chicago Gold Medley as part of the festivities.
And, speaking of The New Colony Six, thanks to all the buzz about The Cornerstones Of Rock shows (the September 3rd show at The Arcada Theatre is yet another sell-out), the group has pressed another run of their A Live And Well CD, available at their live shows as well as through their website.
http://newcolonysix.com/main.html?src=%2F
And then on The 4th, Peter Cetera, formerly of Chicago (although you wouldn't know it by his refusal to be inducted into The Rock And Roll Hall Of Fame with the rest of the band) will be appearing in Elk Grove Village for a free Fourth of July Concert at Lions Park, 200 Rev. Morrison Blvd., with a fireworks display after the concert. Yes, he's been QUITE the dickhead! ... but that's OK, we're still going! (kk)
Think about this ...
Jim Peterik has written two songs that can be recognized anywhere in the world by just the first four or five notes. The five notes that open "Vehicle" and the four that kick off "Eye Of The Tiger" can literally be played anywhere, worldwide, a

nd people will know immediately what song is playing. That's quite an accomplishment for a young kid from Berwyn!
Steve Sarley
It's absolutely true ... most songwriters would make a deal with the devil for just ONE song of this magnitude ... and Jim has created two ... plus countless other gems we all know and love over the years. He is quite the musician

and songwriter. (kk)
Last weekend on Long Island, fans attending a Big Shots concert (a Billy Joel tribute band that features three members of Joel's real touring band) were treated to a surprise appearance by Joel himself, who took the stage to perform three songs ... the Joe Cocker version of "With A Little Help From My Friends", The Rolling Stones classic "Honky Tonk Women" and his own "You May Be Right".
(video here):
http://www.vintagevinylnews.com/2016/06/watch-billy-joel-surprises-billy-joel.html
Speaking of Billy Joel, FH Reader Tom Cuddy sent us this article ...
BILLY JOEL: The Ballad of Billy the Kid and Captain Fantastic
Five years ago,

Elton John

made some negative comments about

Billy Joel

and his drinking. Many assumed that ended their habit of touring together, but Joel says that's not what happened. He told The Daily Mail, "I got tired of doing the same show over and over again and I think his agent told him we were going to do more dates that I never agreed to. I kept seeing in the press, 'Billy canceled the tour.' I didn't cancel it; it was never booked. I asked him, 'Why didn't you call me? Don't talk to my agent, talk to me.'" Joel says he also needed to have hip-replacement surgery. "The last few gigs I did with Elton I could barely walk. I had canes. And canes on stage is not good."
He admits, "I have had drinking issues in the past. So did he. I think at heart he meant well. Elton had a terrifying lifestyle when he checked into rehab. I didn't have that problem. My drug was booze. A couple of years ago I went to a fundraiser for his AIDS Foundation and I said, 'Don't throw your friends under the bus.'"
He also has something to say about Elton's criticism that he doesn't write or record new music any longer. "I guess he wants to remain relevant, but if they don't sell, what's the point? I hate to think I'm a nostalgia act, but we all are, anyone who's going to sell out arenas."
Billy is back on stage Friday in Pittsburgh while Elton does shows in Norway on Thursday, Friday and Saturday.
>>>Don't miss today's SWEET 16, Lonely Hearts Club Edition (kk)
Where's Eleanor Rigby?
Hil
Hadn't you heard? She died in the church and was buried along with her name.

Then again, m

aybe not ... nobody came.
Unfortunately there is a major down side to our new SWEET 16 feature ...
There's only room for sixteen tracks! (lol) kk
Good reason. Sweet Seventeen is just wrong!
Hil
We declared 2016 "Sweet Sixteen" and have been celebrating ever since ... twice a month on the 16th and 29th (since, being a leap year, EVERY month has a 29th this year!) kk
Don'tcha just love it when all this stuff ties together ... right before we got Hil's email we received this from Gary Pike, formerly of The Lettermen ...
Even when you've listened to Eleanor Rigby a million times, this is still very interesting ...
[CLIP WOULD NOT LOAD - SENT AS AN ATTACHMENT INSTEAD]
Hya Kent
Here's my entry for your Forgotten Lonely Hearts Club.
It was the first one that came to mind when I read your headline.
This classic pure do-wop song by the Dubs has always been one of my favs and we finally got to see them four years ago at the Keswick Theater in Glenside PA.
Rock on Bud!
Rich
RVB442
Click here: Don't Ask Me to Be Lonely by the Dubs 1957 - YouTube
We lost another legend this week ... Scotty Moore, Elvis' first guitarist (and an inspiration for millions), passed away on Tuesday.
Winfield "Scotty" Moore, the original guitarist with Elvis Presley who -- along with bassist Bill Black -- were known as the "Blue Moon Boys" (after the B-side of the King's first single, "Blue Moon Of Kentucky") died Tuesday (June 28) at his home in Nashville at the age of 84. Born in Gadsen, Tennessee, Scotty led a country group called the Starlite Wranglers (that included Bill) when Sun Records' Sam Phillips asked him in 1954 to work with Elvis on establishing a "sound". Though initially unsuccessful, it was an impromptu jam between Elvis and Scotty during a session break that caught Sam's attention and led to their first single, "That's Alright (Mama)". Scotty continued playing with Elvis through his move to RCA Records and million sellers like "Heartbreak Hotel", "Hound Dog" and "Jailhouse Rock". He appeared on TV with Elvis in the '50s and on his celebrated "comeback" TV special. Scotty also appeared in four of the King's movies. As a producer he is best known for Thomas Wayne's version of "Tragedy" from 1958. Scotty was inducted into the Rock 'n' Roll Hall of Fame in 2000 and the Memphis Music Hall of Fame in 2015.
-- Ron Smith
Kent ...
Elvis -- The early days.
Frank B.
http://scottymoore.net/interview_by_Douglas_Green.html
SCOTTY MOORE: Fellow Musicians React
Scotty Moore

, the guitarist on

Elvis Presley

's early recordings, died yesterday, and other musicians have offered their thoughts about him.
Keith Richards

: "It's with great sadness we say goodbye to Scotty Moore, my first inspiration. The work he performed on those incredible early Elvis tracks stays with me forever. Farewell old friend."
Graham Nash:

"What a player, what a sound ... he helped create a revolution in the early days of rock and roll. His work with Elvis,

Bill Black

and

D.J. Fontana

changed my perception of the power of music ... May he rest in peace."

John Lodge

(

Moody Blues

): "Scotty Moore was THE inspiration for a generation of English rock guitarists. I remember ears to my transistor radio listening to Radio Luxembourg and thinking, 'Where on Earth did that guitar solo come from?' There was no one in England who could play like that. Thank you, Scotty."
Tommy Shaw

(

Styx

): "Scotty Moore will live on in the music he left behind. Music that changed the world."
Sammy Hagar:

"I had the opportunity to play with him at the old Sweetwater in Mill Valley, California in 1988. It was a jam session with Scotty,

Elvis Costello

and

Jerry Garcia

. His guitar tone was amazing. We played 'Going Down.'"
Bryan Adams:

"RIP Scotty Moore. I had the privilege of playing with Scotty in 1994 at the

Elvis Now or Never

tribute. What a legend."
In other Elvis-related news, daughter Lisa Marie announced this week that she is divorcing her fourth husband. Meanwhile, Elvis' grand-daughter continues to show her titties on "The Girlfriend Experience". (kk)
Yo Kent!
Greetings from Philly!
Thank you for an exceptional interview with Bobby Rydell. Besides being a local boy here, he's always been one of my faves with, in my opinion, the best voice by far of any of the teen idols. His recording of "Sway" served me well as a DJ when I needed a cha-cha song.
Also, here's my late entry for the biggest tear-jerker song ... "I Can Never Go Home Anymore" by the Shangri-Las. When foxy Mary Weiss cries "momma"! it's all I can do to keep from sniffling.
I hope you're well, Kent :)
Hi Kent,
Funny ... I've sung "Roses Are Red (My Love)" at many weddings. I guess the song's feeling overwhelms the lyric:
"Then I went far away and you found someone new." ;-(
PS My first manager, Stan Cooper, who sure knew his Sinatra (he was responsible for "Learning The Blues") passed away over the weekend. We stayed friends all these years. (He was also responsible for "When" in 1957.)
I've been very busy and missed a few days, but its good to be back where my cares melt away.
I was told that the Beatles 'Butcher Album' had various values in its original state, with the overlay solidly attached, and partly detached, but the most desired piece of trivia was the letter issued by Capital to dealers to withhold from sale the original issues.
And I know I'm late to the party but two of the songs I find the most heartfelt are country classics.
Carson Robison: 'There's A Bridle Hanging On The Wall'
Another is Jim Reeve's: 'The Blizzard'
Certainly our childhoods were filled with Westerns and we all loved our Cowboys and their Horses so maybe that is why I find these song to be tearjerkers of note. Or then again 'maybe I'm crazy, it keeps me from going insane' ha ha
Have a great 4th of July, crank up the Oldies.
Joel Whitburn's latest edition of his "Top Pop Singles" book is now available and starting to ship. (Hey, I think that's MY copy that Paul Haney is holding!!! lol)
Joel has extended his $10 off offer thru July 31st ... so be sure to order your copy today!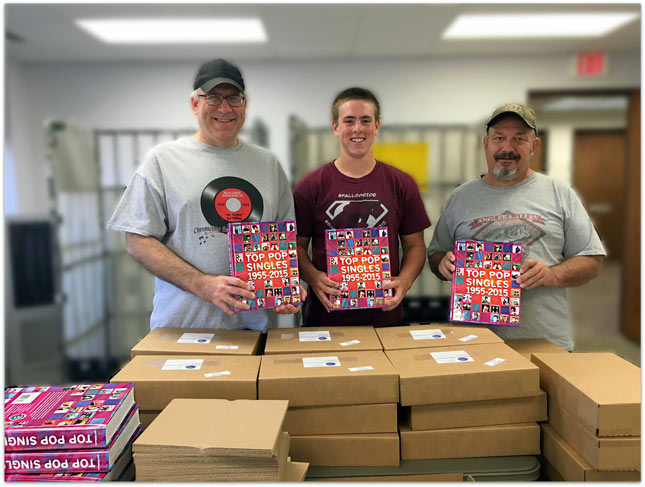 We are so excited with yesterday's arrival of the BEST EVER

TOP POP SINGLES!

It's fresh off the press and LOADED with information.
Paul, Mason and Jeff above, along with Jeanne and Brent (not pictured) are busy filling all pre-orders, some of which may reach their homes before July!
Our $10 off sale extends through July 31, 2016, so it's now $69.95 and will be $79.95.

ORDER TODAY!
FH Reader Tom Cuddy has sent us all kinds of goodies this week!
Barry Gibb will release his first solo album since the deaths of his brothers.
Just days after his newsworthy appearance at Britain's

Glastonbury Festival

, the last surviving

Bee Gee

has signed with
Columbia Records
and announced the album

In the Now

. The project will be a family affair, as he wrote all the songs with his sons

Stephen

and

Ashley

. Expect it this fall.
The 12-track album was recorded in Miami with the same musicians Barry assembled for his acclaimed 2014

Mythology

tour.
Saying it's "a dream come true for me," Gibb calls

In the Now

"a new chapter in my life... I will never forget my brothers, they will always be a part of everything I do. Our dream came true."
Just a few nights before, Gibb closed the show at a Coldplay concert by performing "To Love Somebody" and "Stayin' Alive". Looking forward to hearing some new music from this legendary performer real soon! (kk)
https://www.youtube.com/watch?v=Oe4nZwOyasg
(Check 'em out quickly ... these links are disappearing as quickly as they hit the site!)
Randy Bachman talks about the origins of "Takin' Care Of Business" and "American Woman", two tracks born out of necessity while filling in a gap on stage. (Read all about it via the link below ... and then listen to Scott Shannon interview Randy on his WCBS-FM Morning Show!)
http://radio.com/2016/06/23/randy-bachman-wild-origins-american-woman/
Don Henley
returned to the
road
this week, starting his summer tour in Stockholm, Sweden.
Despite him sometimes being a bit of a curmudgeon, he appeared to be in a good mood, even thanking the audience for not filming or using cellphones. He prefaced it by saying that if they promised, he would let them film "that hotel song."
It was his first show since the death in January of his

Eagles

bandmate

Glenn Frey

, but he never mentioned his late friend during his 20-song set, 19 of which he sang on. He turned the stage over to his female background singers on "I Don't Want to Hear Anymore."
Henley is in Europe through July 3rd. The North American leg starts on July 13th in Penticton, Canada. The U.S. dates start on the 17th in Washington State.
Don Henley's
Stockholm Set List
:
Words Can Break Your Heart
It Don't Matter to the Sun
Everybody Wants to Rule the World
All She Wants to Do Is Dance
Hey Kent,
Your reader, Steve Sarley, said that his favorite tear-jerker is O. C. Smith's, "Daddy's Little Man". The song was written by Mac Davis, and is included in his great debut album I discussed earlier, "Song Painter". The title of the album comes from a quote by Glen Campbell, who stated, "Mac Davis doesn't write songs, he paints them". What a nice compliment from Glen!
Speaking of tear-jerkers, I forgot one biggie. It's Gene Pitney's "I'm Gonna Be Strong". His explosive vocal ending is simply amazing. Gene could have been an opera star.
Oh, and one more thing about Bobby Rydell. He said one of his heroes is Steve Lawrence. I caught Steve's show in Lake Tahoe many years ago. He was teamed up with Don Rickles, of all people, but it was a terrific evening in the ballroom! You really can't appreciate Steve's vocal quality until you hear him in person, and not on TV. Then you can experience the wonderful baritone resonance he has.
- John LaPuzza
https://www.youtube.com/watch?v=7VoWTXUQaQM
Susan Cowsill and Etta James -
What would these two ladies have in common? Nothing probably, but I saw The Cowsills on last year's Happy Together tour and they stole the show then, too. I even got to meet them and tell Susan that I had a crush on her when I was 10 or so. I believe we're about the same age.
They couldn't have been more fun and nice.
Next, I'd Rather Be Blind by Etta James ... somebody put that on their tear ierkers list. I never understood that one. After all, I'm bBlind and it's not so bad.
If you're on a date, the woman has to drive, and when you're in high school and she wants to park she gets to make that decision.
It's really not a bad thing. <grin>
Bill
>>>Mike Vale sent me a copy of their "Legacy" CD, where they recreate a dozen of the best known Tommy James and the Shondells hits. The musicianship is outstanding throughout but they've got a big challenge in front of them in that whenever you hear a song like "Crystal Blue Persuasion" (best track on the cd, by the way) or "Crimson And Clover" or "Mirage" start, there is a certain special sound you expect to hear next once the vocal starts ... it's just been engrained in you after nearly fifty years of airplay ... that doesn't come across on these new recordings. Folks will look at this two ways ... these guys were the heart and soul of the band (think Creedence Clearwater Revisited, featuring Stu Cook and Doug Clifford) but the guy who wrote and sang all those hits isn't there to sing them. Some will say it's a wise decision to stay as far away from that sound as possible ... others will say they should have gotten a sound-alike vocalist to head up the troops ... and still others would complain that "all they did was get a Tommy James clone." It gets even tougher when the lead act is still out there performing these hits as well.
That being said, I'd love to hear some of the new material you mentioned. I think having been The Shondells gets your attention ... and will get them some immediate bookings ... but showing folks that you've still got the creativity and the chops to back it up is what's really going to help sell this band. (Hey Mike, if you've got a couple of these new tracks laid down, I'd be happy to share one with our readers and see what they think.) kk
Hey Kent,
In response to your comments regarding The Crystal Blue Band and the Legacy CD (which I agree with by the way), and your invitation to share a new song, I thought I would send you this MP3 of a song I wrote which will be on the next album we release. The Title is "Lo Que Queiras" (whatever you want)
Though it is not quite final, it is close enough that we have no problem with you sharing it with listeners to gauge response.
Just by way of info, we experienced a great deal of soul searching regarding whether to have a remake of our hits be our first project or to go directly to new material. We finally came to the conclusion that since our individual names had been detached from the Shondell brand for so long a period, it was necessary to make that re-connection in the minds of both former fans and new ones. After all, it was the three of us along with lost drummer Peter Lucia who recorded, co-wrote and, in the case of the Crimson album, co-produced many of the songs and we felt that legacy was important in launching our new effort. You hit it on the head when you pointed out the pros and cons we had to face no matter the option.
I continue to appreciate your help in spreading the word!
R & R,
Mike
Here's a brand new, unreleased track by The Crystal Blue Band ... yet another Forgotten Hits worldwide exclusive ... showing what the band is capable of today in the way of new material. Thanks, Mike ... I like it! (kk)
Beach Boys Examiner / Endless Summer Quarterly guru David Beard just ran a column celebrating the 40th Anniversary of The Beach Boys' "15 Big Ones" album ... a big step in the "Brian Is Back" campaign at the time ... and an LP that yielded the group their first Top Five Single in ten years thanks to their remake of the Chuck Berry classic "Rock And Roll Music" ...
http://www.examiner.com/article/the-beach-boys-15-big-ones?CID=examiner_alerts_article
Speaking of The Beach Boys, watch for a brand new release next month featuring every take of every track they recorded for Hite Morgan back in 1961.
More details here ... along with a link to listen to the earliest known version of their future hit "Surfer Girl" ...
This fall will mark the 55th anniversary of the
Beach Boys
' first-ever recordings together, and in honor of the occasion, Omnivore Recordings will release a new two-disc set collecting their early demos. The set,
Becoming the Beach Boys: The Complete Hite & Dorinda Morgan Sessions
,
due out August 26th, contains every take of every song the group – which was originally known as the Pendletones – recorded between September 1961 and March of the following year with producer Hite Morgan.
http://www.rollingstone.com/music/news/hear-beach-boys-rare-somber-surfer-girl-from-first-sessions-20160628